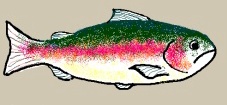 A bit of formalities and some fishy tales to set up the scene.

Great wilderness of the north and heavy weights in the water.

Skeena is Mecca of steelhead. Variety of games in the Pacific.

Hunting the elusive lake trout in deep lakes far and away.
North America is big enough to defy any attempt of generalization. From Alaska's arctic ocean down south to the semi-tropic Gulf of Mexico, there are a whole variety of fisheries and targets to vie for. I have so far fished in Alaska, Canadian West, Montana and Conneticut - mostly in fresh water only. Admitting my narrow field of coverage, allow me take you through some highlights in the waters of every angler's dreams - Alaska, Yukon and B.C.