November
Paid one last visit to the valley of Yoshiwa, without a fishing rod in hand this time.
The water is low and few signs of life in the shallows. The first snow will fall soon, to mark the arrival of a long mountain winter.
-
lakes & reservoirs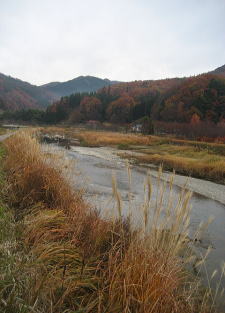 . . . as well as some late-run Pinkies.

It is unusual and worrying to see pre-spawning pinks in October though . . .
Early October

Flew to Hokkaido to fish the Autumn run of 'Sake', or Chum Salmon.

A month since our previous visit, the river was in an autumn attire, with strong run of these bigger sibling.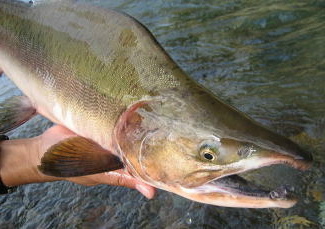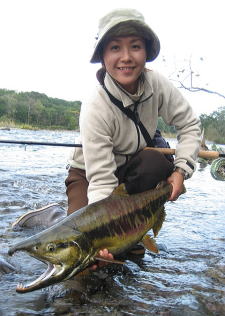 Visited 'Chu-rui river' to fish the fresh run of 'Karafuto masu', i.e. Pink salmon.

Normally we expect the 1st peak of their summer run by mid Aug, but because of El Nino, the timetable appeared to have received some 2 weeks delay.

Not many fish around but not many fishermen either. All in all we had a good day out.
The streams in Shiretoko carries a glass clear cold water (9c) even at the height of the summer. The 'Oshorokoma' char unique to Hokkaido, is our favourite playmate.
Mid August

After 7years' long interval, visited Hokkaido, the northern island of Japan, for 2 weeks' holidays.
The fishing beat is only a short mile up from the Pacific ocean, therefore the fish, of this season anyway, are mostly fresh without humps yet.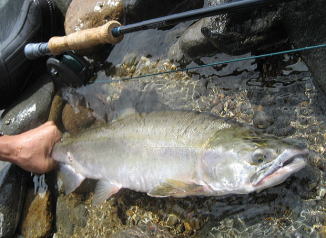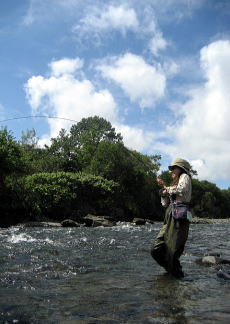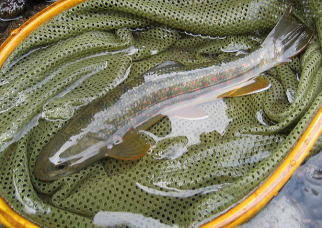 My fishing pal Ron brought up a spinning tackle for a change, so we can cover the stream differently.

This strategy worked out well, in fact, more in his favor! He caught this stunning beauty, a 12inch handsome char to the delight of the both of us!
Early August

An expedition to the very upper end of a Togohchi's stream.

This was a trip I had been planning for some time, into the remotest areas right at the foot of 'Osorakan', the tallest peak of Hiroshima.

July

Depressing to admit but 90% of Amego trout in Yoshiwa are from hatcheries. With so many people still wanting to eat, there is no other way.

On this day we decided to visit a remote stream almost forgotten in the fishermen's mind - not because it is so very remote but simply because no fish are put in to appease the visitors. Here in the forgotten river, with hard work and some luck, we can meet the original type of Yoshiwa's Amego - slimmer than hatchery boys, a local old man said running his finger to show the location on my map.

Indeed it took us some hours of serious scaling before we managed to greet one in the end, even which slipped away insisting on her right of privacy!
I hear it takes up to 20years even for leaves to completely decompose. A log like this should take up a century. The nature never rushes, just never stops.
Early August

Fun day out in the middle section of Ohta river, near Kake.

When it's hot like this, more of swimming than fishing.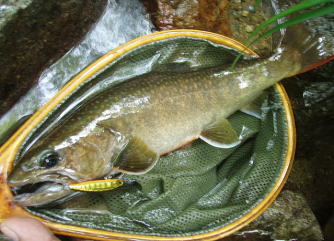 A week later.

This is another tiny stream with width of a meter or two. Fisherman of reasonable skill could destroy this whole river in a day. Any visitor who dare venture into thus far must be mindful of that.

Water fountain near the upper end of fishable section. Until we come again a year later, so long.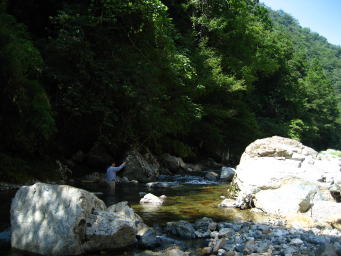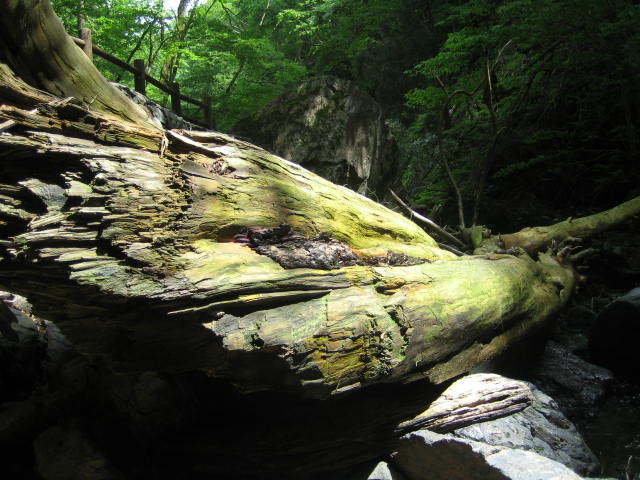 A member of Char unique to the region, called 'Gogi'.

Catching big fish is surely a pleasure. But here for once, size does not matter!
They are not putting in as many hatchery fish here as they do in Yoshiwa, which results in poorer fishing in terms of quantity.

But this works in favor of the naturally bred wild fish, and their presence albeit thin is enough to make every small pool a worthy challenge.
End June.

Visited a stream known for Gogi char. The largest for the day was 25cm, that deserves celebration with a cold beer.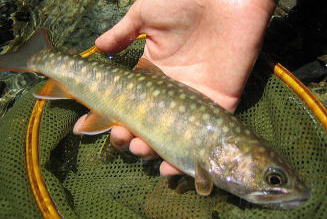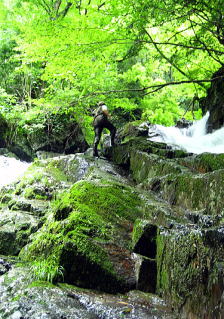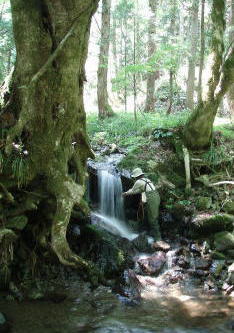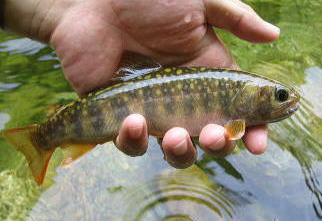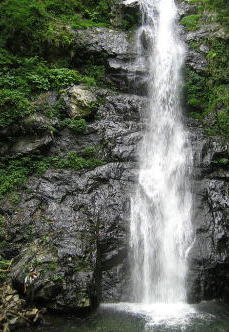 Mid June

Again off to a stream in Yoshiwa valley.A tiny stream with a fishable stretch mere half a mile - unless you manage to climb up this waterfall and go beyond..

On this day we met 3 fish. Almost 5 in fact - if you count the two big fish I almost caught, on top of the three small fish Sayuri took care of!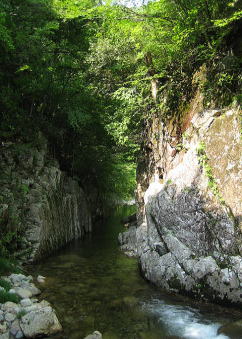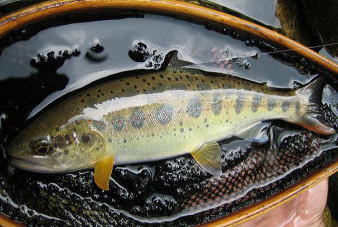 Early June

Togohchi, some 20 miles north east of Yoshiwa is another areas where Ohta river originates. The landscape is even more dynamic here, with sharp chiseled gorges cutting through the rocky Chu-goku range.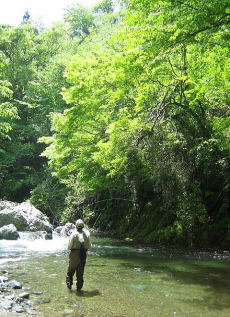 May 21

Our 'home stream' in Yoshiwa, north Hiroshima

Many of the rivers in the area opens up on the 1st of March, but mostly to entertain the crowds of bait fishers, large portion of whom kill to grill.

We waited for a good couple of months, to enjoy our reunion after so many years' interval, in due peace and solitude that we always remembered her in. On this afternoon we only saw a few small fish, enjoyed the day immensely nevertheless.

'06 rivers & streams