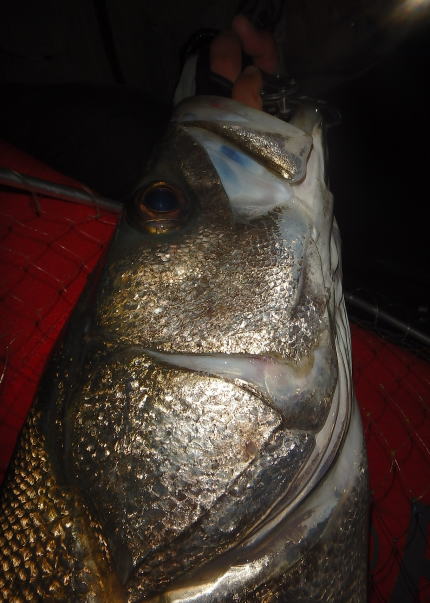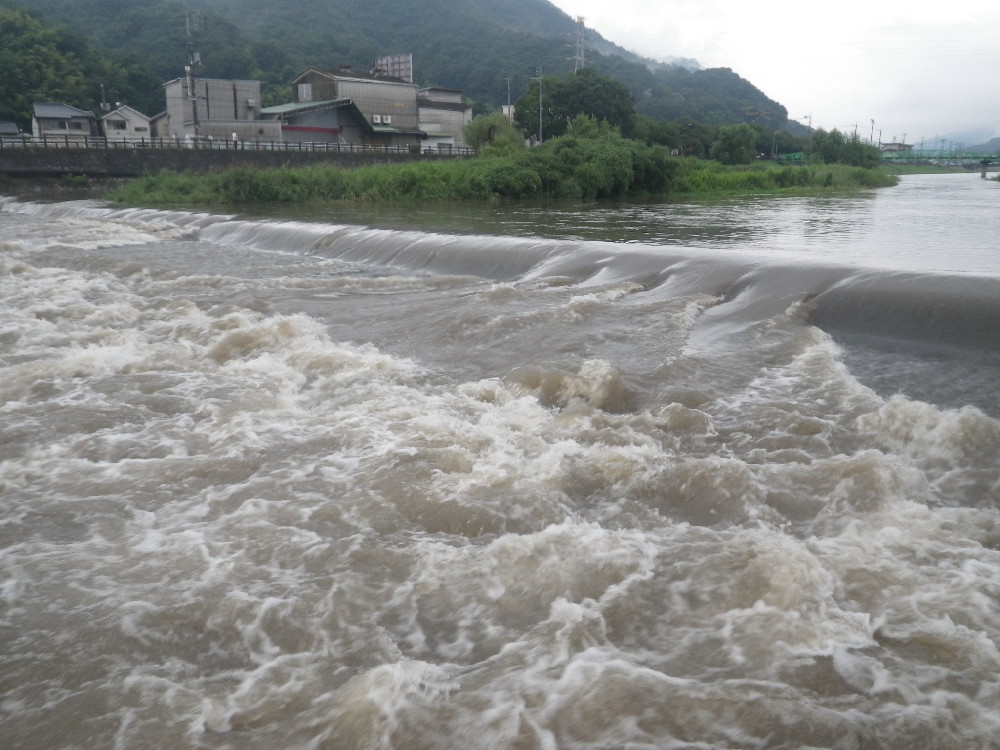 Another fun thing about it is once seabass are onto Conoshiro, they lose all demunity and they become fixated to big lures. I usually fish with lures around 8'' but some folks goes up even to 12''. See their mouth that can swallow my whole fist no problem.
In 2014, I made 119 seabass outing to catch 106 fish. This compares favorably against the previous year 2013 (107 outings for 73 catches).
The shortage of rain in autumn tested my patience but Conoshiro pattern toward the year's end made it all up. We counted 16 lunckers (80cm+) this year, including 2 by Sayuri - doubling the record of 2013. The biggest was 88cm. I am looking forward to seeing him again next year +2cm bigger by then.
-
Bream Games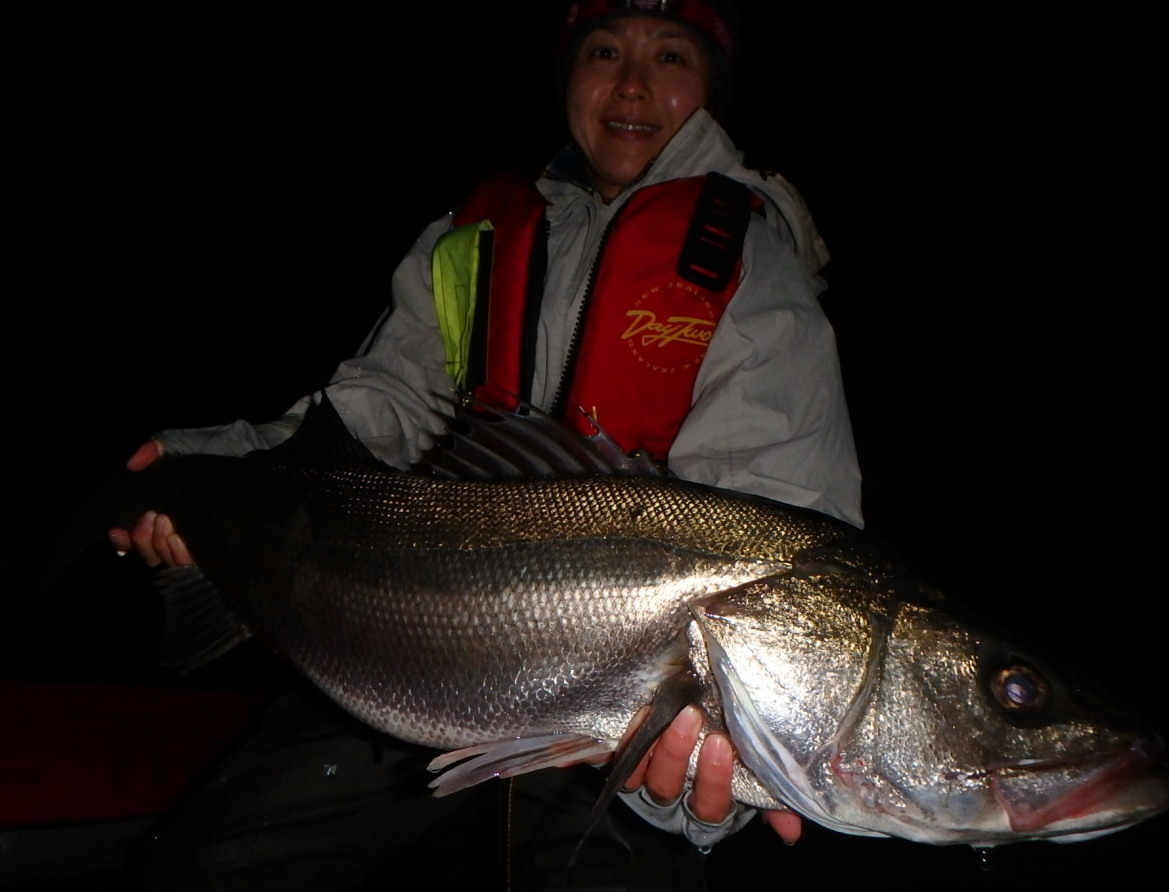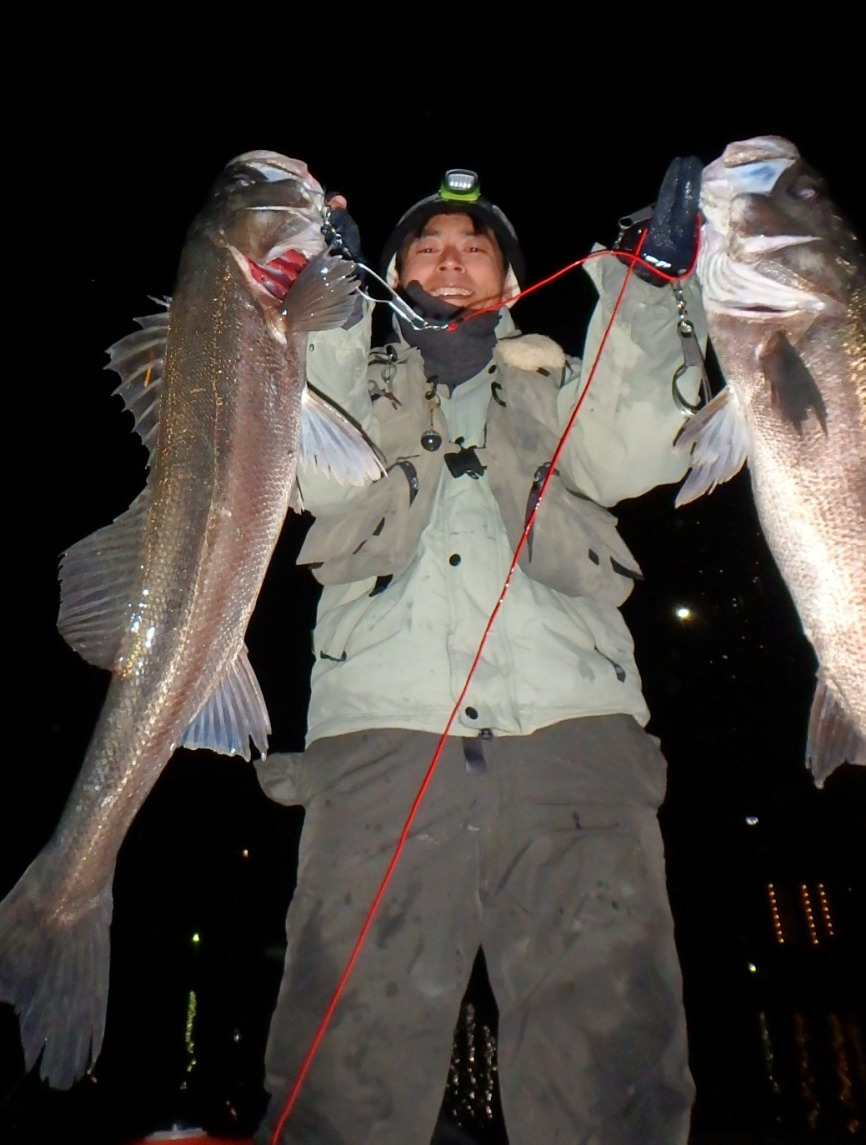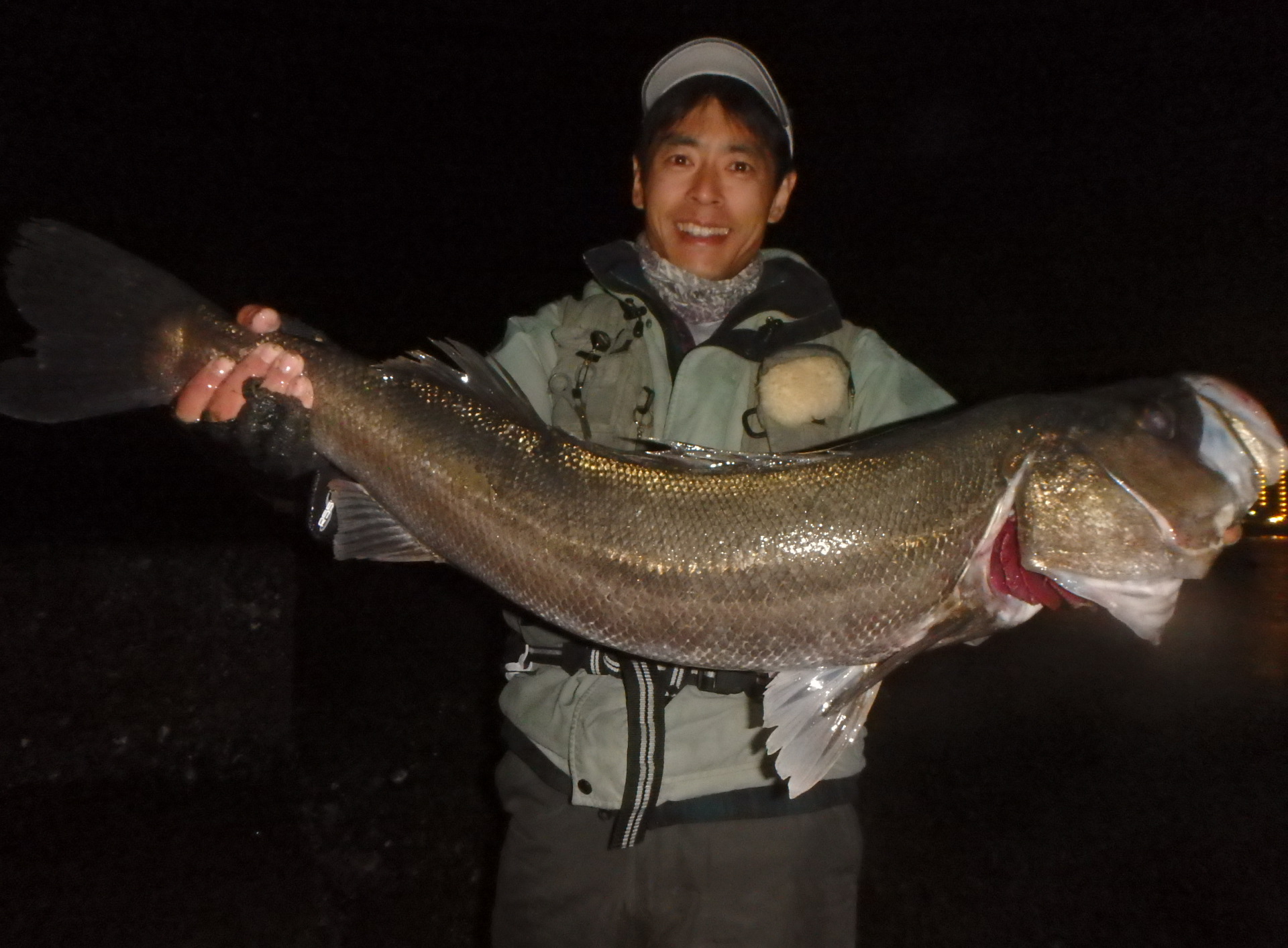 As Spawned out Ayu pattern fades out, the last and probably the most explosive pattern fishing starts - Conoshiro pattern. They are an oceanic fish but they too run up the river to spawn. And this takes place as the water temperature goes below 10degrees usually in November.

Compared with Ayu, Conoshiro prefers deeper, central part of the river and having a kayak improves the success rate dramatically.
Once you manage to locate the school of Conoshiro, you are in for a big game. Often big seabasses are lurking several meters their downstream.

I had fished 90 some days this year from January till October, only to land 2 trophy seabass above 80cm. But in November to mid December, I often caught 2 or 3 trophies a night. Such is the explosive nature of Conoshiro pattern fishing.
Conoshiro fed seabass are silver slab of powerful muscle. While mid sized ones around 70cm are better acrobatists, the big ones fight like a bull, shaking the heads violently in the water. A first class game fish by anyone's book!!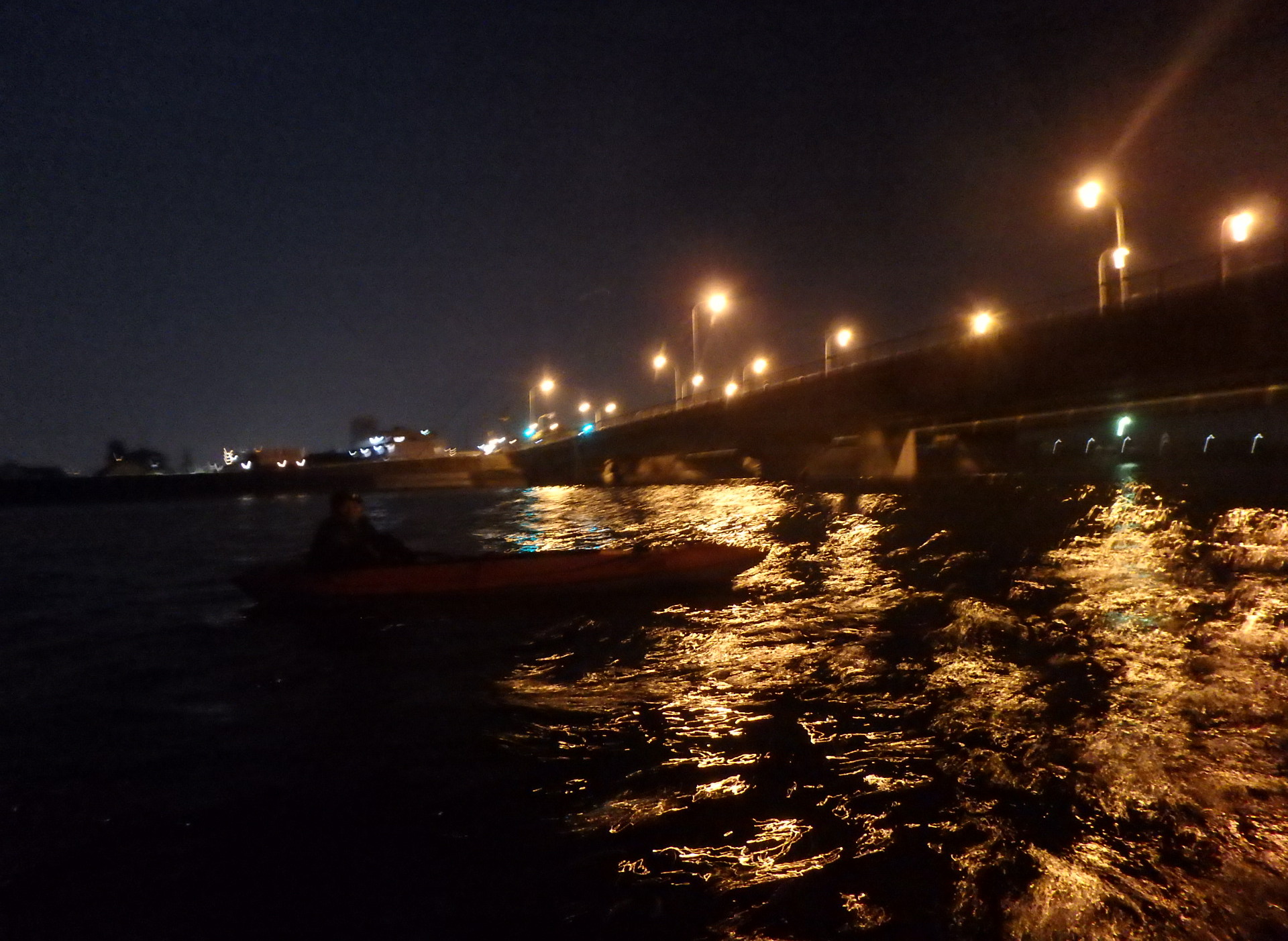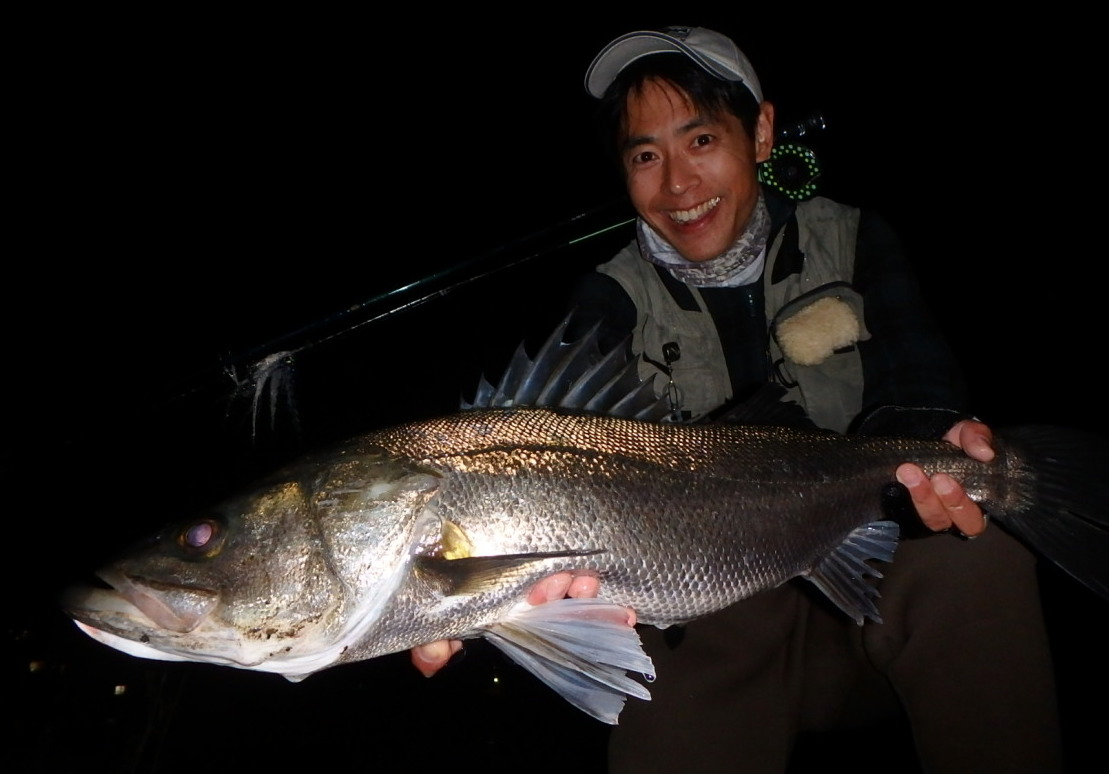 October was annoyingly dry. What we need this time of the year is plenty of rain that washes down the spawning Ayu to the hungry mouths of big seabass. We prayed for typhoon rain but they either bypassed us or passed over us too quickly to create a flood. Many outing was wasted on the banks way too dry.

We were deeply thankful for the precious back up alternative - baby mullets pattern fishing. They are so abundant in the urban waters downtown Hiroshima, and seabass, tired of waiting for Ayu, agreed to do with this alternative menu.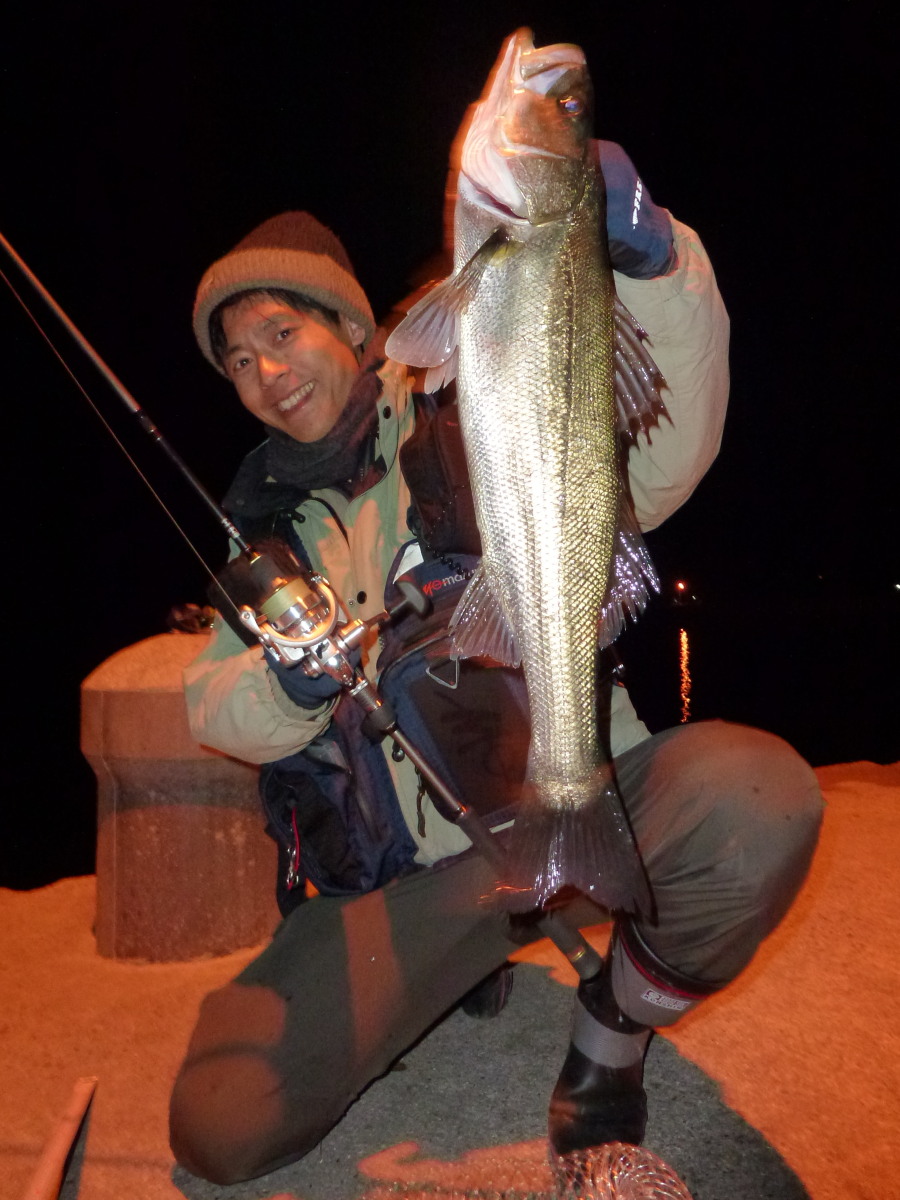 To catch a big seabass on fly, Ayu is probably the most important bait fish. First of all, Ayu is a very tasty fish (for humans too). Secondly, they are not as numerous and when seabass find one, they generally fight for it. Thirdly, and importantly for us flyfishers, Ayu are anadromous fish that spends their short 1 year life migrating from river to the sea and then back up.

In their migration, they tend to drifts down or swims up particular part of the river and once you manage to read their routes, and wade near enough to make up for the relative lack of casting distance against the spinning rod, you have a good chance of landing a lunker on fly.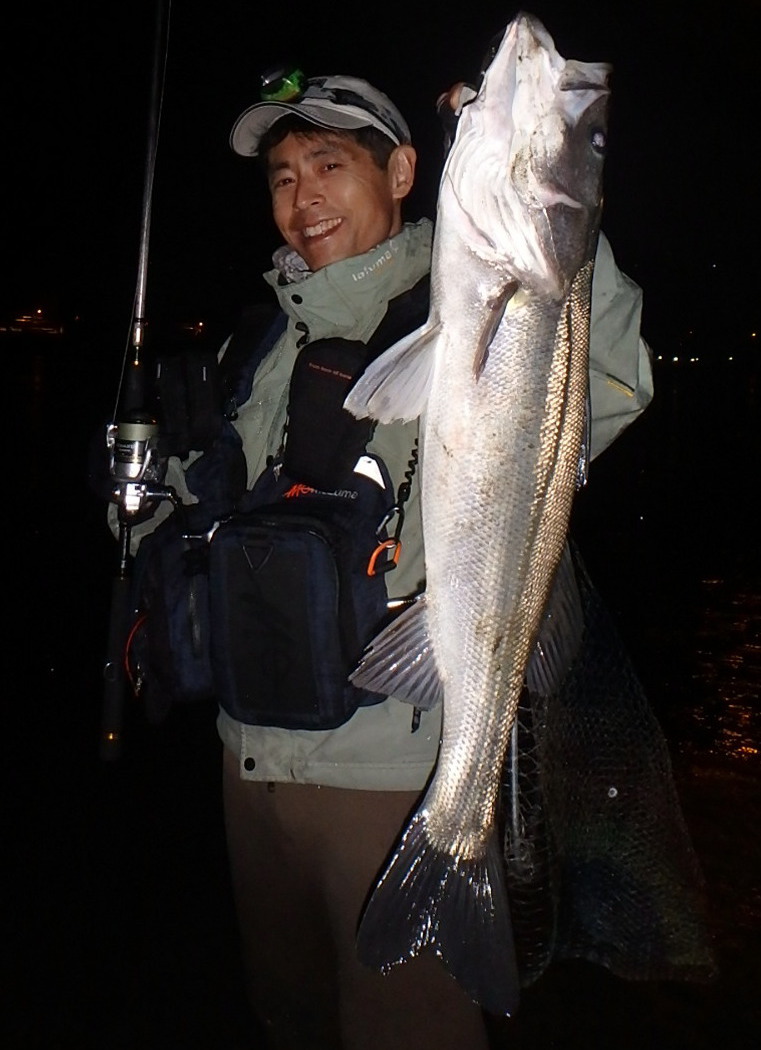 Seabass are nocturnal fish by nature. But, floods makes them active more during the day than after dark. Probably easier for them to sight the bait.

Even small stream could turn into a roaring whitewater and, though very few neighbors know it, seabass love it. Almost as soon as the river floods, seabass swim up as far as they can, to hunt down the hapless bait fish flushed down from the upper reaches. I had half an hour of hot action pulling out multiple good fish out of the mess.
Ayu, after spawning, drift down the river to die. But the all too important element is a flush of autumn rain. which didn't come this year.

After 7 successive unsuccessful outings even my persistence was almost worn out. Knowing the modest rain that fell in late November was to be my last chance, I ventured out though midnight weekday. And finally, managed to nail down this beauty of 75cm on fly.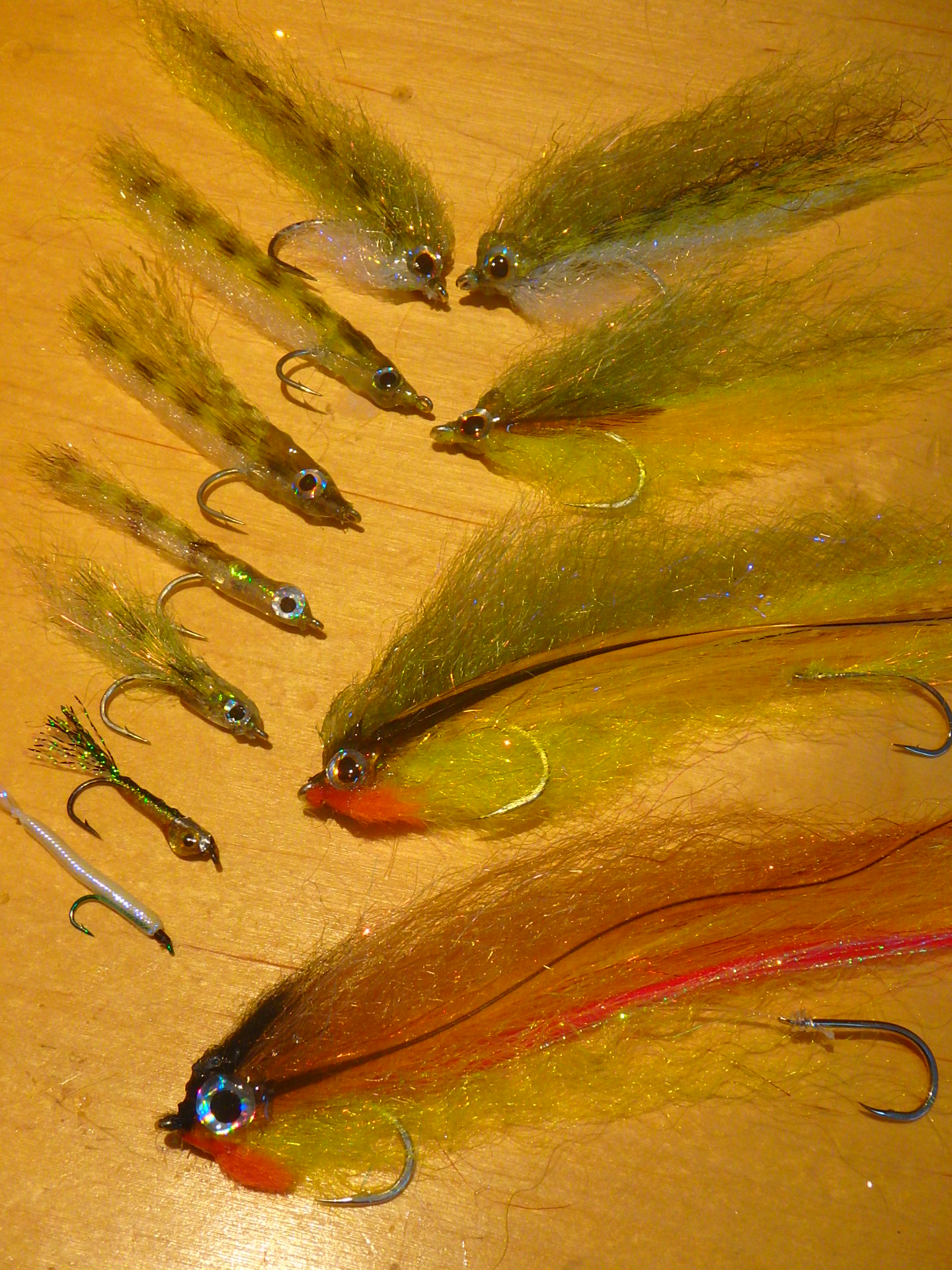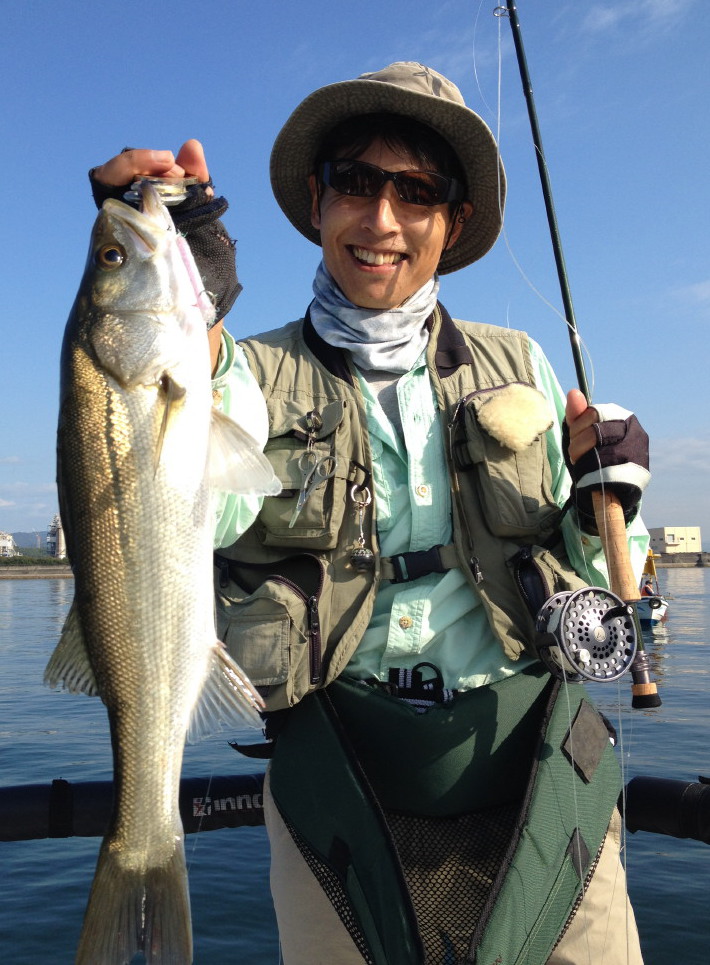 On Largemouth bass games

Kayak fishing for largemouth bass was the main subject of fresh water games this year. In the man made reservoirs which tend to have steep shorelines putting down FRP boats is not easy. That's where our inflatable kayaks come handy. I managed 3 good fish above 20'' - not bad for a casual basser like me.
Next comes my favorite pattern that uses monsoon flood as its catalyst. And it is very timing sensitive fishing. When a good rain falls and the river swells, you have to be there right on time!

I managed to make the best of such opportunities this year. Here's a testimonial - 83cm brute that fought like an angry bull!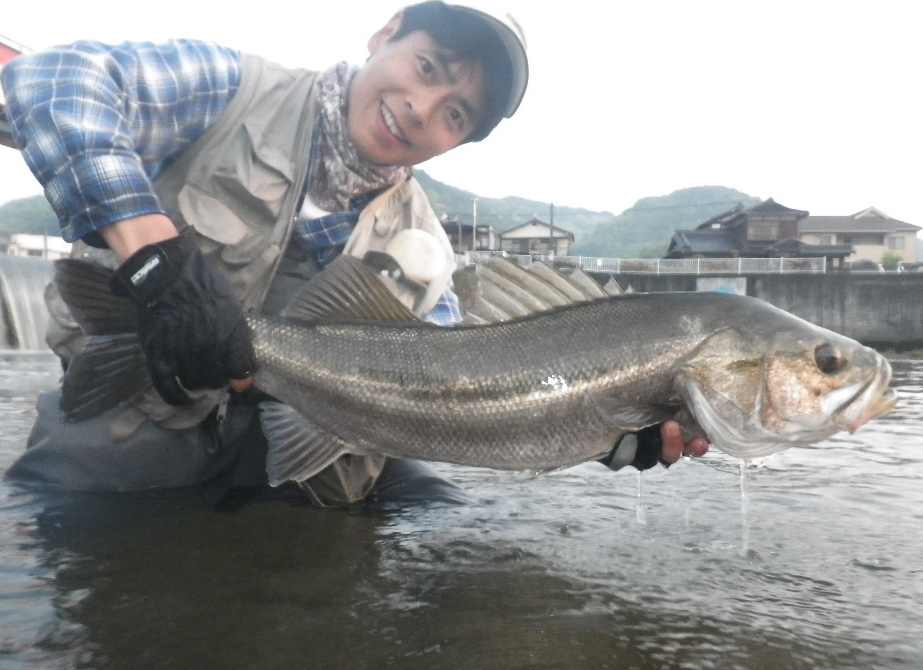 Monsoon clouds normally clear up by late July, but they somehow stayed on throughout August. Good that we could continue to enjoy the seabass games, though it wasted several good tides for the breams.

Finally in September the sun came back. And the shallow waters off the coast of Iwakuni was filled with millions of Iwashi, a pilchard like small bait fish. The scene was set for fun top water games, and for once quantity did make up the relative lack of quality.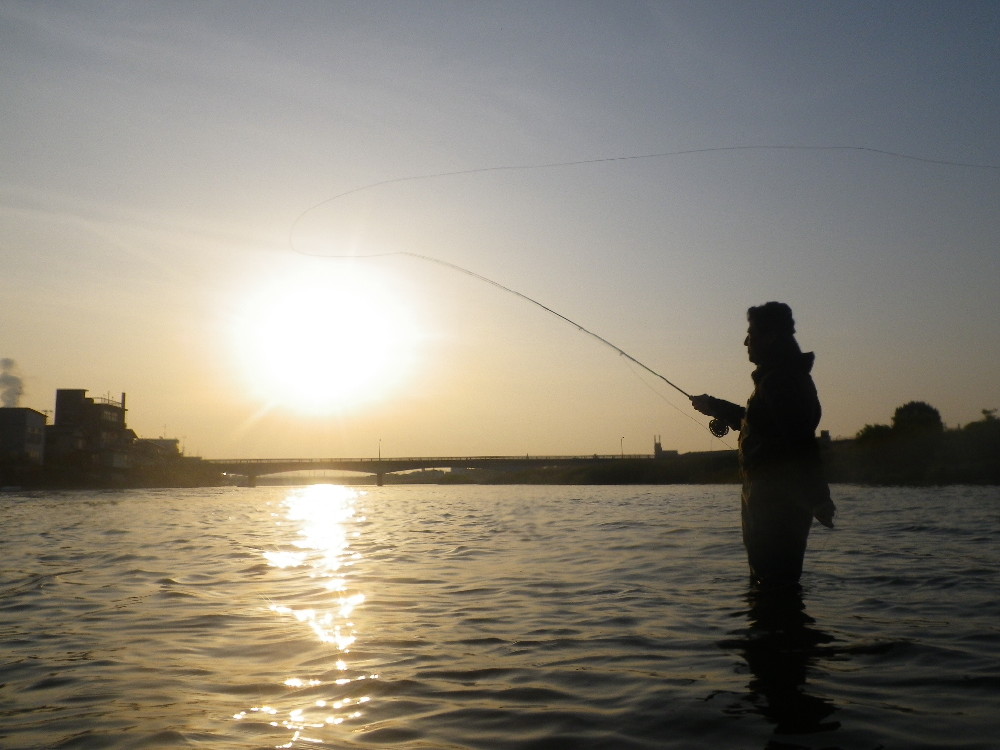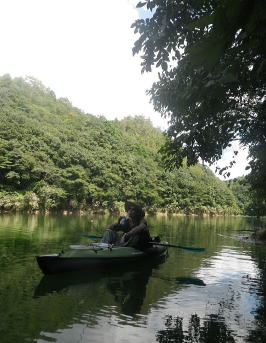 As the sakura blossoms go and the scent of summer comes, we anglers welcome the high season of ''Baby ayu pattern''. Ayu is a distant family of trout and they migrate up the river in late spring. Young ayu are still fairly thin, place your pointer on the pic and see how they look.

Both my friend and I managed to hook up on a good fish, but alas, the hook was not strong enough to subdue the beast. Better luck with stronger hook next year.
On Seabass Games

My 2014 season opened up with a capture of 76cm seabass in the night of new year's day.

The early part of the spring passed mildly, enabling me to enjoy the ''baby squid pattern'' typical of the season. Strictly night fishing from lighted jetties where baby squids flock on the surface, inviting their deadly nemesis from the deep. Most of the fish are in the 60-70cm range and trophy fish are rare. But it is fun checking one jetty after another, as long as you are ready to brave the chill.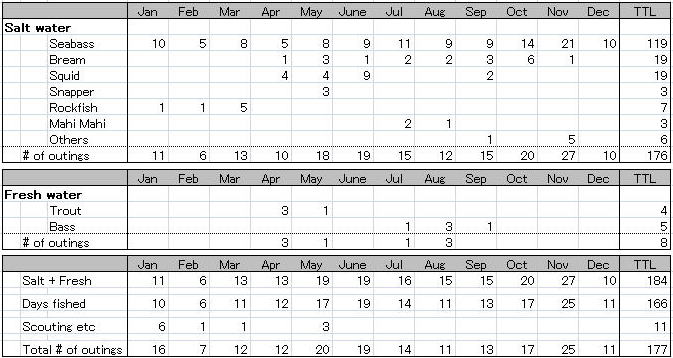 The biggest share of my outing was, again, for seabass. No surprise as they are so near, and can be fished night and day in almost any weather condition. New this year was the addition of rock fish games in early spring and, regrettably, relative lack of bream games due to the unstable weather at the height of the summer.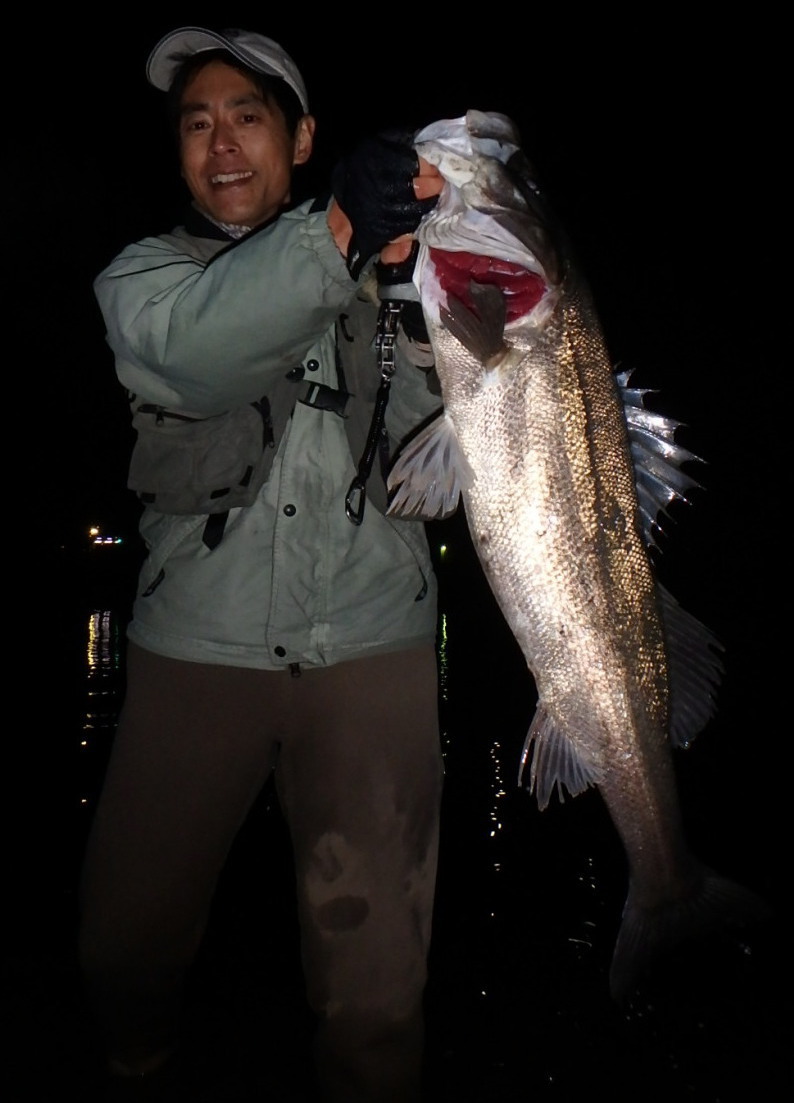 2014 again was full of actions & memorable captures.

Like any other worthy theme, you encounter more unknowns as you learn more. Different faces of fields in big tides, small tides, and in different seasons, so many more mysteries to uncover. Let me look back on those 166 eventful days that I went out fishing in 2014.

'14 Journal