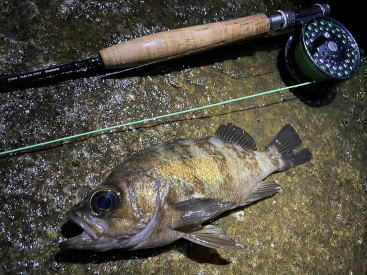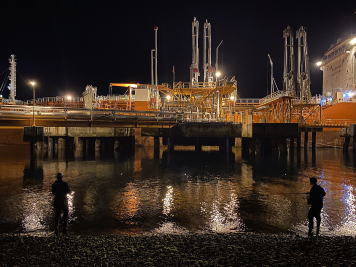 Global warming jumps to our minds. Checking the past log, indeed, water temp in early Nov has risen from 18c back in 2013-14 now to 20c, i.e. up 2 degrees over the decade. Likewise that in early Dec has also risen by 2 degrees from 12c to 14c. Absence of rain only exacerbated the trend - baits won't come up rivers, neither the seabass.

That said, seabass stocks remain healthy down in the sea, chasing whitebaits and squids in the cooler sea water. I must only hope, or pray, so that the climate may revert back to the ''normal'' and big seabass resume their annual migration to our urban waters.
Incidentally, this is the micro streamer that imitates whitebait, 4-5cm in length.
With different size of the dumbbell eyes matching depth can be explored.
The best of Seabass season should unfold from here on. But wonderfully sunny spell continued and persisted from late September thru to November, this effectively canceled out Ochi Ayu - spawned out Ayu feast for the big bad seabass, to the disappointment of us Hiroshima anglers.

Sure, I did venture out in my Kayak scouting any sigh of seabass activities - if only to enjoy the pleasant autumn evening breeze.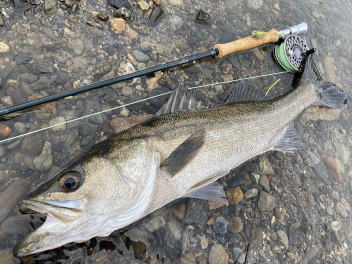 I asked around but fellow fishermen only confirmed my disappointing observation. They cannot all disappear - where could they be!?

My friend & I chartered a game boat and went checking out the port of Kure. The brightly lit shipyard is a fish magnet, where whitebaits and baby squids flock together, in turn, inviting up their predators. And sure enough, we caught many a seabass, a fish a cast almost. What a stark contrast, though mostly around 50cm range.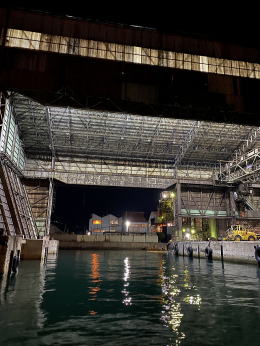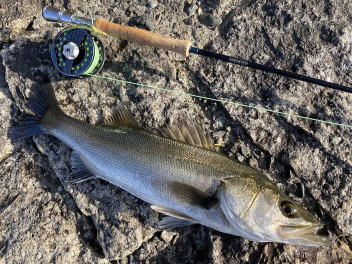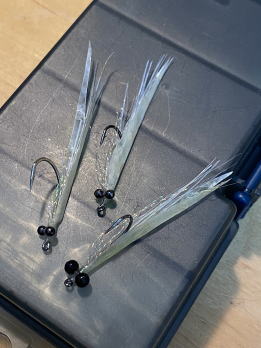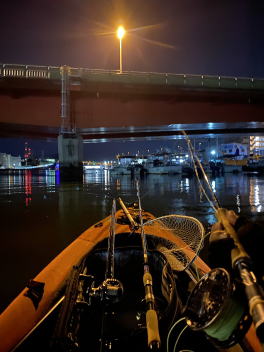 All in all it was a difficult season.

I do not like such cliche ''Fishing used to be better'', but for once I must face it - the numbers tell the truth.
We still do catch them alright - in terms of numbers. But the decline of the size, particular those lunkers above 80cm mark, is worrying. In fact, I as well as my avid fishing mates scored zero, none at all this year. Why!?
Hiroshima's urban waters in early season i.e. mid March to mid April seabass as well as solid Mebaru, a tasty rock fish swims up en masse. The biggest one this year was 26cm but there always is a chance of trophy mebaru 30cm.
-
Bream games
As the tide starts running down, there occasionally were boils and splashes. But the baitfish were either sardines or small mullets, not chunky Konoshiro that triggers hunting instinct of those fully grown big seabass.

I did score limited success with big bait, the tested and proven Jointed Claw 178.
Some solid fish but only up to 75cm, not reaching the 80cm mark.
Late April is the first of seabass high season, when they come up rivers chasing baby Ayu. Thanks to the snow melt up in the mountains the water level stayed reasonably high - looked promising.

However, the sight of Ayu was far and between almost non existent. I managed to catch some juveniles up to 60cm but, alas, no trophies.
The most memorable catch of mine this season was the 77cm solid one in late Nov.

Noticing a small, modest boil a few yards in front of my kayak, I cast a small clouser almost dismissing it being a juvenile chasing sardine. Zoom!! The weight in my hand exceeded my expectation. After thrilling bout I managed to land this beauty to my midnight delight.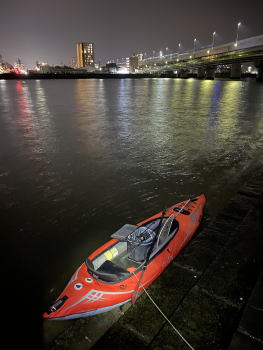 In May, due to the increase of planktons, rivers become murky and day game picks up. With my lure fishing pals I worked our local rivers with some success, though the typically muddy urban stretch is not a pleasure to wade in.


From mid June to July, we usually receive solid monsoon rainfall, but that was totally absent in this unusually dry year. The 2nd peak of seabass game sadly ended, without even opening at all.
We tried wading games in the lowest stretch of Ohta river also. Only then and there we did witness sizable school of Konoshiro and big seabass feasting.

My friend scored a giant killing that night, a giant flounder of 70cm+ now that's a trophy by anyone's book! (Pls. place the pointer on the pic)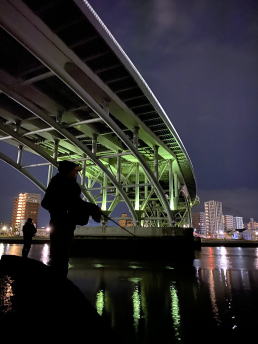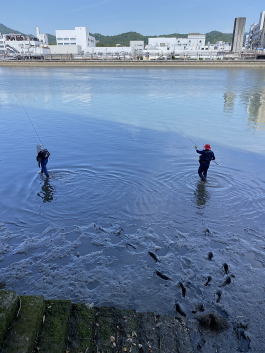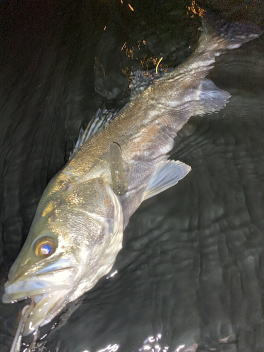 When the drought was reaching the limit, God be blessed, we received 80mm rainfall in the middle of August at last. I managed a catch, only a young fish of 60cm though.


Following which, the one and only typhoon this year hit us in mid September causing a flash flood. I took advantage of it, catching a few good fish up to 73cm in length.
So we shifted our focus on the well lit, industrial structures. Not many such are accessible by land, but where there is a fish, there is a way.
Seabass game

The proximity of venues and the 'flextime' work hours, Seabass fishing is the reliable pillar of my fishing life. The output is dwindling in the recent years, made me to kick off the season with a degree of anxiety though.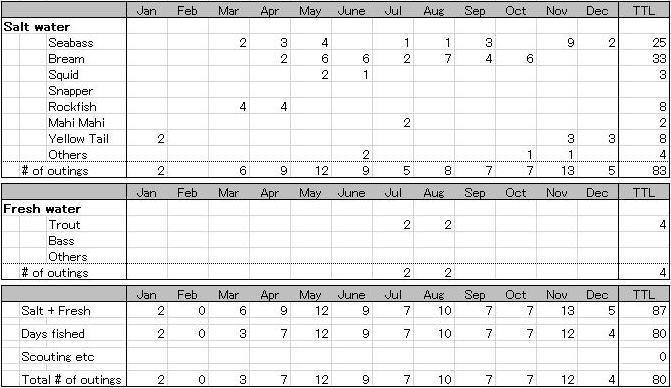 Against 129 outings I made last year, the 2022 season's 87outings were some 30% less. Short of rainfall in the spring, and not receiving typhoon in autumn kept the river low. Continued absence of early summer squid was a disappointment, but resurgence of Mahi Mahi in the Pacific was a delight to make it up. Revisiting streams in north Hiroshima was, as said above, something to look back on with fond memories.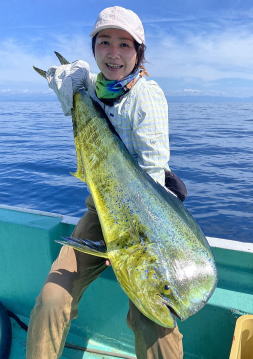 3 years into the COVID life, some limitations, but thankful I must be living in Hiroshima that offers enough accessible playgrounds nearby.

That said, too much focus on seabass & bream is something I should think twice. With the encouragement of my fishing friend I renewed my interest in mountain streams - which spiced up my 2022 season greatly.

'22 Journal