Small fish generally take to the buoy itself, while bigger fish like dolphins swim about in 50-100 meters away. The real big ones such as tuna and marlins are said to circle around in a great radius, say, 300-1000 meters.

It amazes me how they navigate, and can locate any particular spot in the wide open sea.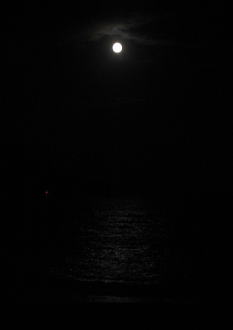 Close up of a 'payao'. Unlike those in the inland sea, this and many others along the Pacific coast are made for the sole purpose of attracting blue water fish, which travels just too fast.

The buoy is not more than a pin dropped on a ballpark, but they say it somehow attracts fish passing by, like a magnet.
Capt. Matsumoto teaching us how to fish.

Later he took us to other points to catch rainbow runners, mackerels, amberjack, etc.

A boat ride of an hour and a half took us to the fish attracting buoy, a.k.a 'Payao'.

As soon as we started casting, a pretty nice dolphin gave me a passionate reception. In a matter of second all the 300m backing melted away. . . No, that's a fish tale. To be honest, 50m max, but the sheer impact at the hook up and the hair raising speeeeedo felt as if!
Sadly the world's turtle population is on a declining trend and the waters around Japan is no exception. As recent as in 1990 they counted 200 mother turtles laying egg in this beach, but the number fell down to 42 in '05, and an alarming 2 this year in '06.
Scientists are studying the exact reasons but evident the planet is suffering from human activities. We have to acknowledge the fact all the sewages lead to the sea, and all our actions, whether good or bad, have their consequences.
A bright full moon was shining, lighting up the white waves breaking on the beach.
-
Back
As the name of the inn suggests, the sandy beach in front is a nesting ground of turtles. In normal years we expect them from June to August and during the season local wildlife rangers take turn serving a night watch. Registered guests will be guided by the ranger to observe them laying eggs.

For those not lucky enough to meet turtles in wild, there is a very informative Turtle Museum 'Caretta' right next door.
We couldn't catch a real trophy by the Pacific standard, but not bad for a day in September.
The fish here are at least two ranks bigger than those little brothers in the inland sea.

Earlier in the season, i.e. mid June to July you see fewer but much larger fish here. I'm talking about monsters up to 1.5meter - no kidding!
Shortly after our outing in the inland sea, we ventured out to Hiwasa, Tokushima pref. to chase the full size Dolphins in the Pacific.

The area in the south of Shikoku island is washed by the warm 'Kuroshio' current. From mid June to early September a great number of dolphin fish drop by on their migration from the far south.

Five hours' midnight drive is tiring especially after work, but to know the next daybreak will be had on the Pacific is one hell of an encouragement.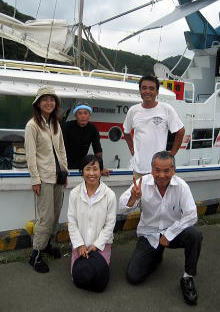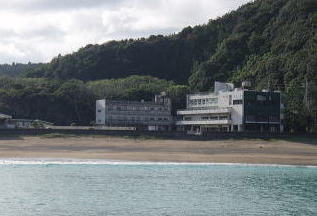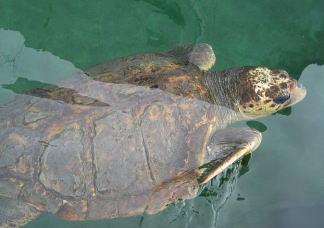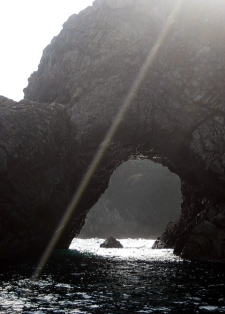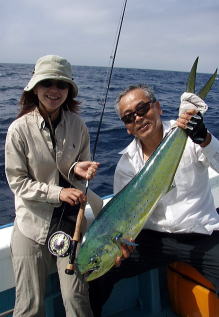 We stayed the night at 'Umigame So', or 'Turtle Inn' right by the beach.

A run-down old place but it somehow feels fit in the laid back rural atmosphere. Anyhow it's great to know a hot bath and a cold beer are standing by at a sea side location only 5minutes from the harbor.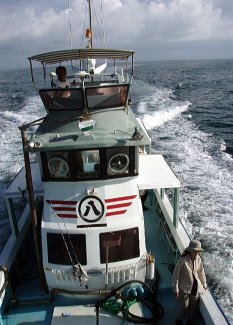 The rugged shoreline is a blue ribbon fishery
for 'hira-suzuki', a close kin of snook.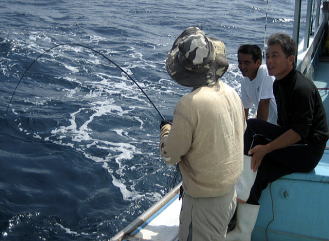 '06 Dolphin fish in Pacific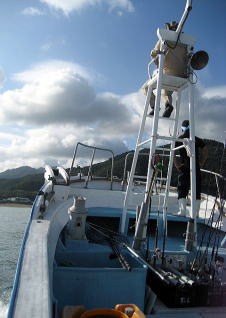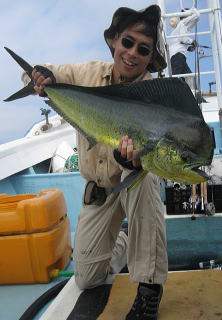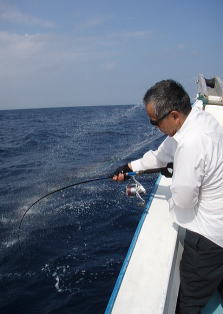 Many of the boat around here are designed with commercial fishing in mind, equipped with a water spray to lure up bonitos, their primary target.

The device works well with dolphins too, and we could spot occasional big bulls, dashing through the artificial rainbows. Ah yes, my old man deserves his share of fun too.