Hats off to our revered Sea-ra!

At times fish are so numerous that you may lose focus. Not a must but it is far more enjoyable to aim at one specific (bigger) fish, estimate her path and toss the fly a few yards in front. Nowhere near as delicate, but the same principle as sightfishing for trout.

She will notice, turn and dash up to the fly. Then the moment she stops and hesitates, which they do very often, strip the line quick!! When it works out, the golden arrow shoots at the fly like a guided missile!

Dolphin is a precious few game fish prolific in our waters. Every summer they come in great numbers from the south. While most stays on the Pacific highway, some, albeit smaller ones in most cases, swerve into the inland sea right off where we live. This time I joined my fellow fishers, a hard core 'fishin' brothers'.

As our boat steered out of the harbor,
the sun was already up on the skyline.
We knew it'd be another hot day.
Fishn' brothers is a role model for all brothers in the world - the big brother is a lure expert who does all the teasing for his fly-purist young brother. Next time I go home I'll ask Mum for a big brother like him.
A giant jelly fish seeing us off.
This giant streamer, tied on a #4/0 hook with 1/4oz ball eyes, which I once tied for Nile Perch, proved to be the fly of the day.

10fish landed, with thrice more bites on, and this junk was never left alone even after practically destroyed. If anything special, it must be the nose-dive vertical action.
Their bright body stands out so much that it appears as if they're feeding right on the top, but in most cases they're cruising a few feet deep in the water. More successes with sunken fly, at least on this day anyway.

I used 300grain sink tip line on a #10wt rod. An #8wt could be more fun though.
Teased by the hookless lures and agitated by the fish on the hook, the dolphins started a jolly ball. With streaks of thunder speeding by the boat, gentlemen, it's show time!
Off we went with all sorts of flies but couldn't get them excited. It happens often those fish biting at lures pay little respect to our elaborate flies.

We ran down another 20minutes south. With no traffic jam our travel was very smooth. We were almost reaching the far flung edge of the Pacific.

There we spotted the second buoy of the day. A sight of such a big ship, in a broad daylight on a mirror calm sea, felt somewhat surreal.

A pleasant cruise of one hour brought us to the first of the fish-attracting buoys, a.k.a. 'payao' as we call them in further south.

This is a miniature lighthouse tethered by a long rope fixed to the ocean floor. They are set to guide the vessels but the disturbance they create in currents attracts planktons, small fish, and then the predators. First off, we sent our top water plugs for scouting.

Hofu harbor in Yamaguchi pref. west of Japan. Early morning of Sept. 2

Summer has not left us yet and you can tell that in the moist warm morning air. Neither has our target of the day, dolphin fish, called 'Sea-ra' in Japanese.
Was a great day out.
Till we meet again next summer.
-
Back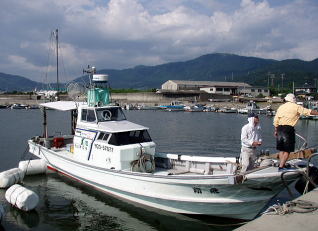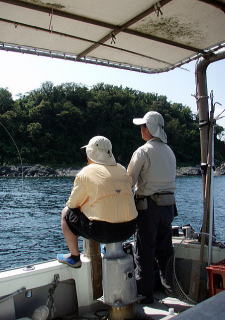 The great battle of the inland sea is over!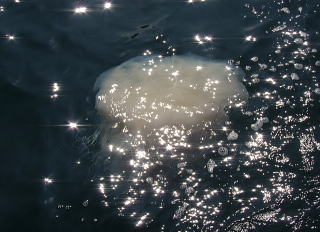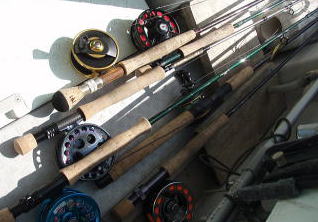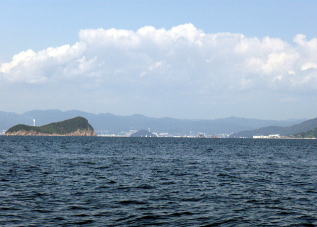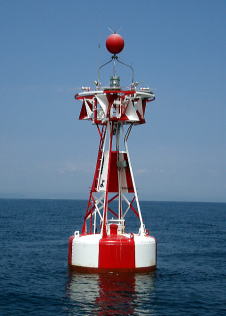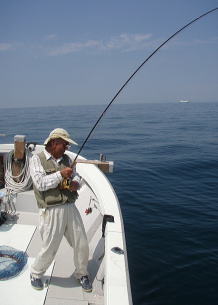 A pathetic portrait of pointless arms race? Or a lofty self-sacrifice to mitigate the US-JPN trade imbalance?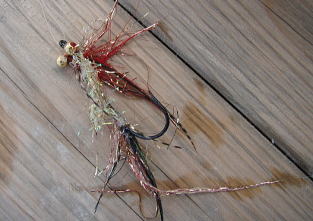 Biting frenzy went on for quite a while.

The average size here in our inland sea is around 40cm, or 50cm if you count the tails too. A modest size by the saltwaterstandard, but then again, how often would one catch a trout of the same size?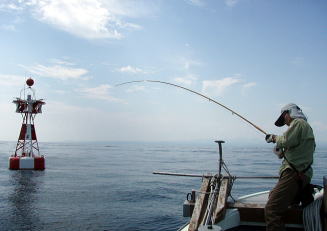 '06 Dolphin fish in inland sea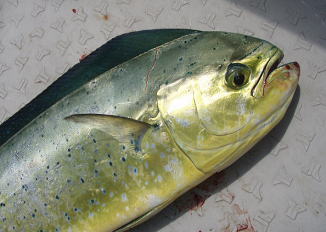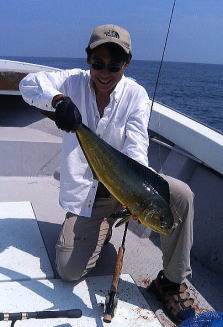 We threw an assortment of top water plugs, and soon enough, there was a bite on one of the hookless poppers. Dolphin fish!!

And here you go, the first dolphin on a fly went to my fishing friend Misago.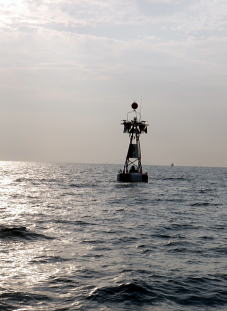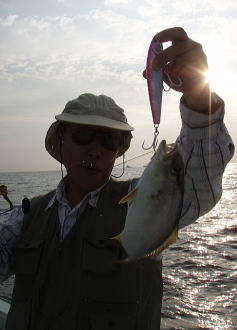 The day's first fish was a baby amberjack.

Only such youngsters came asking for diversion on the top. As they grow bigger and smarter, they go deeper to dwell in the rocky bottom.