Cake of sulphur for sale.

Recommended usage: 'against slugs'.
Hmmm. . . interesting but how?
Finally up at the rim of the volcanic cone. The boiling liquid in the bottom of the crater is a testament to the living earth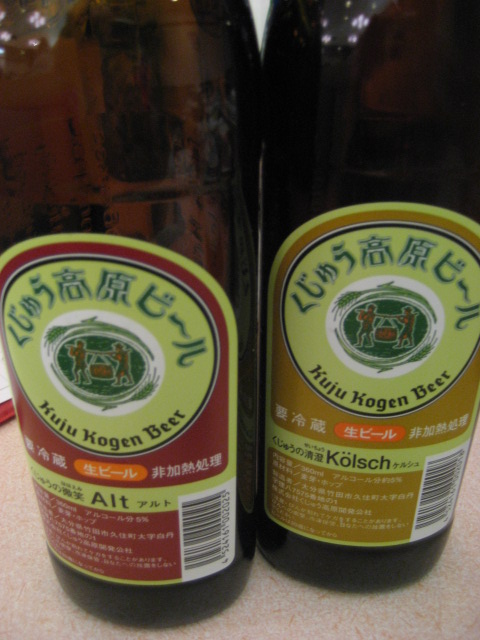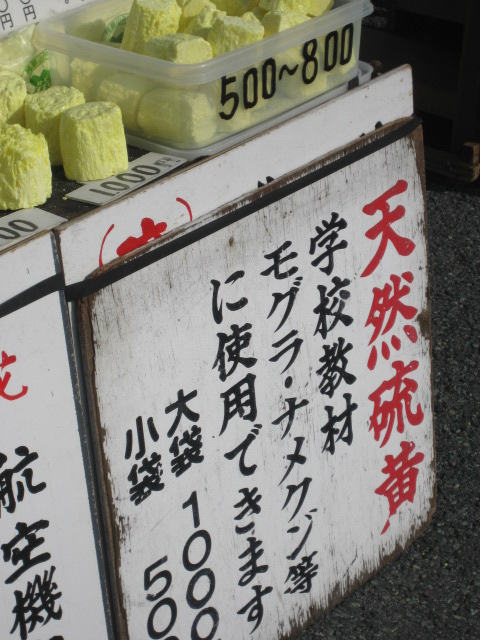 The prime fishing season is March - April, and as we visited in May, the river was not quite fishable due to the agricultural run off.

To make it up, we had a fun driving around, including a stop at Shirakawa train station, famous for its lovely poetic architecture.
Through the city of Beppu, hot spring capital of Japan, we drove up over the rugged mountains of Kujuu, which rightly means 'nine-folded'.
Our first stop was Bungotakata, Oita Pref.

To appreciate what this small shanty town has to offer, you need to learn a bit about Japanese modern history first: On top of the western one, we have a calendar named after the ruling emperor of the time. For instance 2007 is Heisei 19, i.e. 19th year of His majesty Heisei's rein. The previous era was called Showa, and with the memories of all too many dramatic events such as WWII happened in his time, the name, Showa, evokes powerful emotions in the heart of us contemporary Japanese.
Once you've come this far, the famous volcano of Aso is not too far. But before that, we first skirted around to Shirakawa natural springs.

The rain water that travelled thru the limestone aquifer comes out as a crystal clear water here in the headwaters of Shirakawa river. And she supports a most remarkable strain of Yamame trout native to Japan.
We took lodging in a Ryokan,
kaze no sato
. In the center of Japanese style living room sits a traditional fireplace.
The iron carving of a fish poses with striking resemblance to Tarpon though I'm sure it can't be.
Kunisaki peninsula stretches out in the north east of Ohita, and there you'll find one of the historic Buddist trails where we can worship old temples and statues.

And when we Japanese say old, mind you westerners, it's veeeeeeery old.!!
In the era of post-war recovery, Bungotakata, once thriving trading village, was gradually left behind. Almost half a century later, the town was 're-discovered' as a living museum of those good old Showa days - when we all lived poor, but could afford hope.

Look here! This is the very vivid image of Showa household as fondly recalled by all Japanese (above certain age).
Japan's annual holiday week in May, a.k.a. 'Golden week', kicked off under a bright blue sky to the relief of the entire nation. This time we headed for Kyusyu, the southern most of the 4 major islands.

Japan being so small, travelling distance is not that great anyhow. Leaving Hiroshima early morning, we reached Shimonoseki channel 2 hours later already. Linked with great Kanmon bridge, Kyusyu seems almost a stone's reach away.
Taking advantage of the limestone water, the area has a small but thriving brewing industry. At a hotel up on the Kuju heights we could even treat ourselves with German Alt - and it didn't taste bad even for us who had lived 5 years in Duesseldorf.
-
Kyusyu in May - 2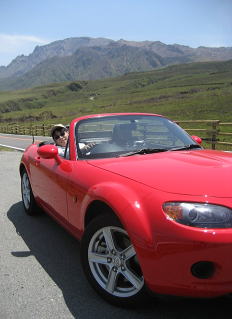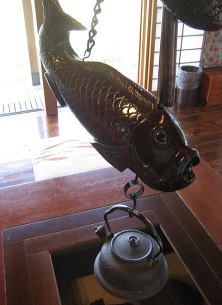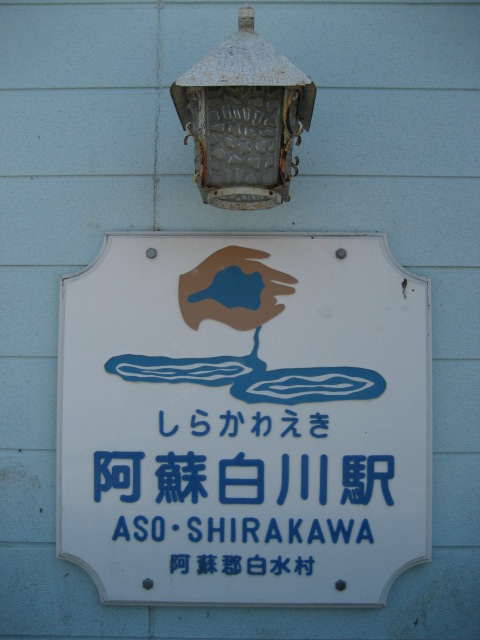 A happy drive up in Mt. Aso.
This spring alone produces one ton of water each second. (See the sandy floor looks as if boiling!!). The temperature remains 14c throughout the year, and a tad too warm for Yamame trout to naturally reproduce.

We owe it to a group of local flyfishers who stocks the stream, and thanks to the rich nutrients, fish grows remarkably big, well beyond the 30cm mark.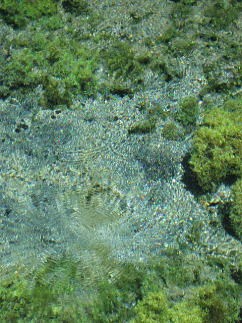 Kyusyu in May '07 - 1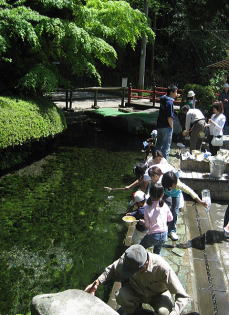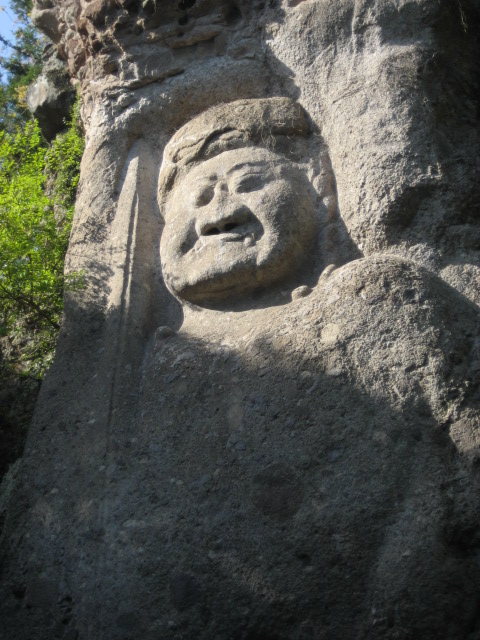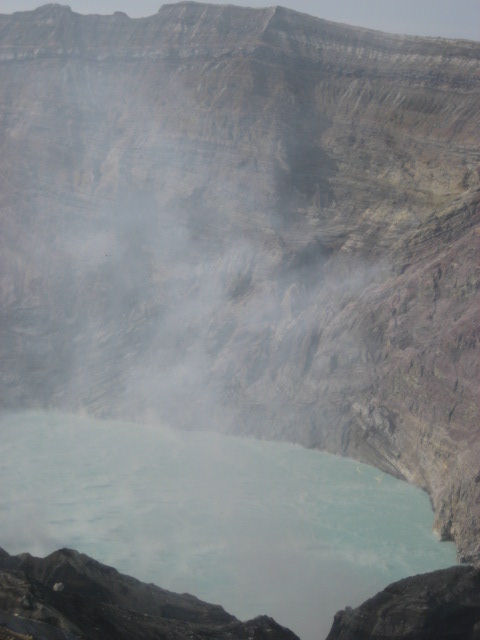 Kumano-magai-butshu, or Carved budda of Kumano is one of the must sees for visitors.

Compared with the aesthetic perfection you easily witness in Kyoto, here the expression is coarse, the technique primitive. But it is these bold touches that send my heart back in time, when Kyushu was once ruled by the 'Kumaso' , a feared tribe of warriors.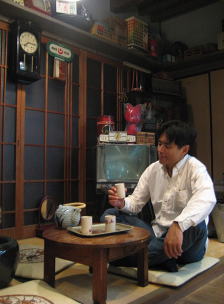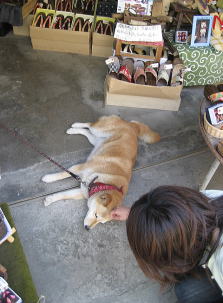 The lovely tiny tea table once was a most handy object for ill humoured fathers to topple over, so they can prove his micro supremacy in the household he presides. Those were the days my friend . . .

In a shoe shop around the corner greets a watch dog Yukichan - when not asleep. Unlike those hybrid cuddly dogs in Tokyo, she's a dog-incarnate of Showa era.