So we had to make do with these little beauties whole day.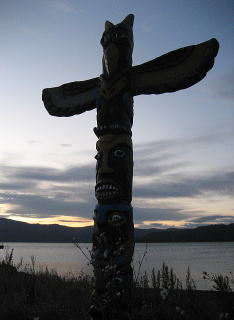 The gravel lakebed was lit in a bright sun. Cruising Himemasu were sighted everywhere. More curious ones could not resist a small dryflies sitting on the surface film. With a small nymph and streamer, we could enjoy brilliant sight fishing games.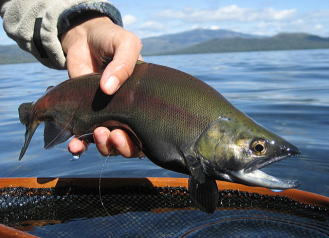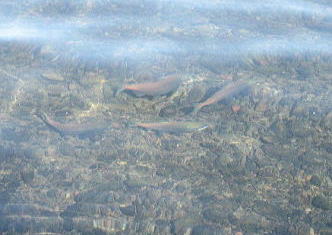 Meanwhile unlike our previous visits, we didn't have any number of beetles buzzing in the air. Accordingly there was little sign of rainbow trout within our casting range.
. . . and yet another of the few options.
It was Himemasu, or land locked sockeye salmon called ''Chip'' in the language of the Hokkaido's aboriginal ''Ainu'' people.

They are plankton feeders, but when they come into the skinny shallows in search of spawning grounds their curiosity perhaps get the better of themselves.
Getting out of the airplane at Nakashibetsu airport, we were welcomed by a big blue sky for which east H'kkaido is famous. Loading the car with our arsenal, we headed off first to the Kaiyodai, a scenic lookout.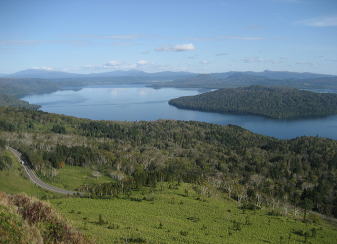 Thus the first day's session ended in a relief for the both of us. We took a good bath in the thermal hot spring, and here it goes, Cheers!
. . . never mind.

We carried on hoping for some more palatable encounters. And sure enough, Sayuri was into something a little feistier.
As soon as we unpacked our baggage half way, we rambled down to the gravel shore right in front of the hotel's courtyard.

The overhanging trees were making fishy shade as well as setting up an atmosphere typical of H'kkaido in autumn.
The lookout is located in the middle of a grassy plain, and known to be one of the few places where one can command an unobstructed view to the horizon. Not a big deal for continental dwellers, but it is for us living in the small island nation.
October is the month in the company I work for to use up the remaining annual leave, or else throw them away. Being the type of person as I am, I have to go for it - a long vacation which many of my colleagues associate me with.
No such thrill as having furious rainbow on a backing, but Himemasu fishing was also a enjoyable experience in its own right.
Another fun autumn day in Kussharo.
-
Next
The storm passed thru over the night, leaving a fresh blue sky behind for us. We drove up to Bihoro pass, to breathe in the grand view over the lake.

The unpretentious ''grilled potato pudding'' sold at the food stall was a real shocker. This can claim the title for the world's greatest grilled potato pudding. No joking.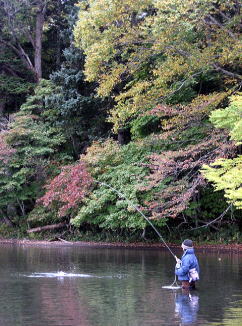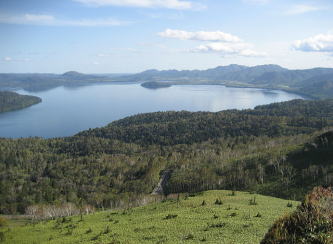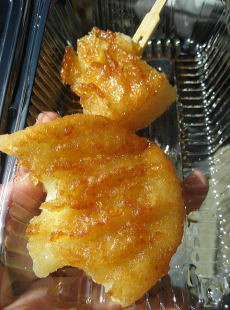 The next day we got hit by one of the year's biggest typhoon. (point at the pic to see the same lake in a different mood.)
Having no other choice, we drove back west to Shibetsu, to visit the familiar
salmon museum
once again.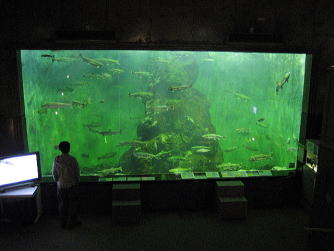 '09 Hokkaido in Autumn - 1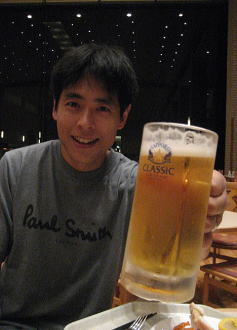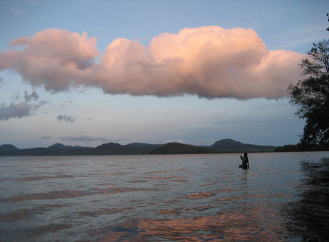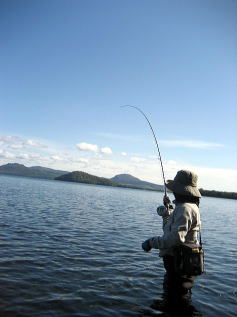 As we waded waist deep and took our positions, we noticed some surface disturbances all around us.

Following the local practice we cast our beetle imitations gently to answer the invitation. Soon enough, my rod was bent on a decent weight. Happy was I till I discovered who my friendly companion was.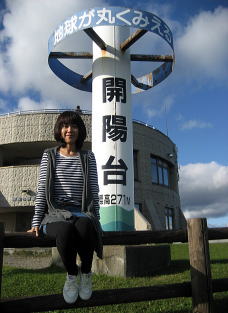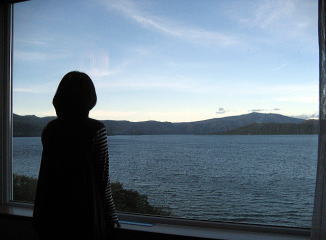 Then we drove east to lake Kussharo. The hotel
Kussaro Prince
stands right on the water's edge and offers range of special little services to the fishing visitors, such as preparing a free picnic lunch. But above all, the grand view of the lake says it all