As the afternoon wore on, the wind dropped somewhat. The lake surface was calming down, presenting an ideal condition for Monkage to hatch, and for Amemasu to come up.

After some tense minutes of tug o war, the biggest fish of the day, 25 incher reluctantly posed for a quick snap shot.
Sayuri's 5Wt bent on a solid weight. A good fish we could tell. But unlike me, Sayuri was merciless and won't budge.
What makes the lake so special for us the flyfishers is its phenomenal mayfly hatch. Mon Kagerou, the largest of mayfly species in our territory come out in great numbers around the summer solstice, igniting the annual pageant of trout extravaganza.

On the last weekend of June we flew in. Luckily for us, the hatch for this season was somewhat delayed, to welcome us right into the heat of the action.
A band of locals and tourists with torches make a nightly march on the high street Akanko, to the eerie melody of ''Ainu', the indigenous people of the north.
After traveling the lake up and down a while, we managed to spot a nice lee shore where the party was on. Even such juvenile fish does pull hard, and in the oxygen rich cool water, they won't stop unless you stop them.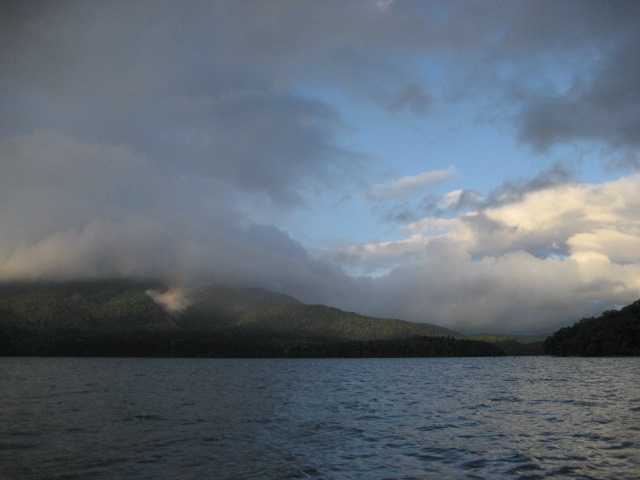 The first fish was a 20incher in champagne gold. A dirty fighter on a light tackle!
For the first evening we asked for a company of a seasoned guide,
Mochizuki san
. He took us in a boat to a shallow channel where the lake flows out to form a river of the same name.
Time spent waiting for a rise is a luxury especially in such a lovely location.
Akanko, or lake Akan, is a jewel in the far east of Hokkaido. With circumference of mere 30kms, it is not a large lake even by the modest Japanese standard. But the picturesque set up with two comely mountains towering nearby makes it a very popular tourist destination.

Here on the right, the view of Akanko from the summit of Mt. Meakan.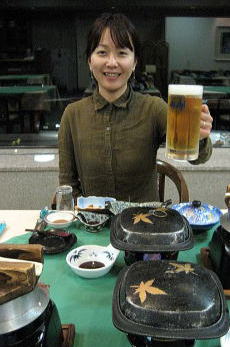 We took lodging in Hotel Gozensui. Not a luxury resort on the Michelin guidebook, but its reasonable charge ($70 a day) and absolute waterfront location (5meters from the shore) are hard to beat.
-
Next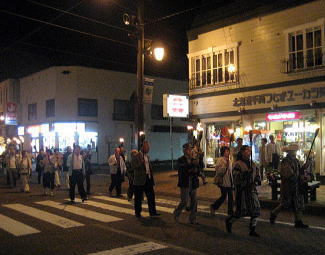 '10 Akanko in summer - 1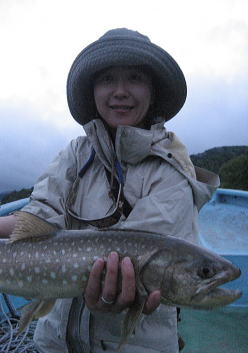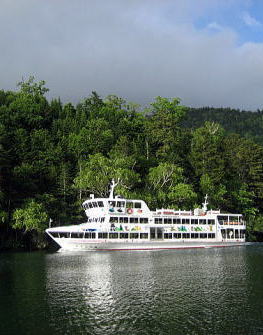 The only other visitor in the otherwise secluded channel was the sightseeing boat blaring melancholic songs. Pity those who don't know how to fish.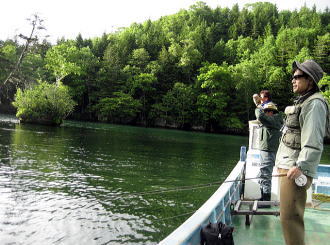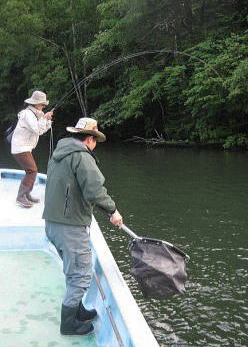 Short after 5p.m. the first of the fluttering monkagerou was sighted. Then another.
And sure enough, in the ill lit shadows beneath the overhanging trees, Amemasu, a.k.a white spotted char, started their feast.

They are 100% wild fish with nobody to teach the table manner. An accurate presentation of a XL size Monkage dun imitation quickly induced a savage take.