Another reason of our home coming was the summer festival of the town of Aji.
Shinto chariots are carried aboard the boats, ritual chanting and dances are offered to the sea goddess. Very atmospheric summer night..
to the
2nd
July 20th, we drove to my hometown in Shikoku, to try snapper fishing in a game boat
SevenGods
.
We had a mild breeze and, helped by the not too powerful tide, managed to enjoy a decent day out. It was the very first snapper game for Sayuri and the sea God rewarded her with 3 fine fish.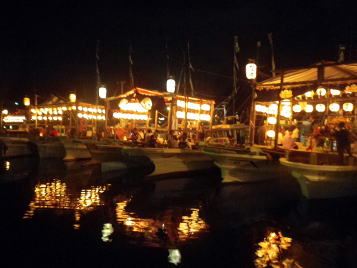 July 17, I went to Yokohama again to fish in the game boat
Seakuro
. Target this time was black bream that comes to the shallow during the summer.
In fact, this was my second challenge - I only hooked up but lost one on my previous visit. I had to do better this time if only to make the hard working Cap. Okamoto a happy man. After several hours of serious work, look here - the job's done.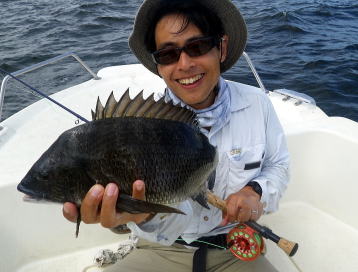 Breams come up higher along with the tide. They feed on the clams, shellfish and crustaceans washed in the waves.

Seakuro regularly let the clients catch trophies in the 50cm class so this one is still a modest game. Very satisfying sightfishing it was anyhow!
Relentless pressure in the critical first few minutes is the key to land those big ones. If you fail to net the fish on your first attempt, they often began to play it slow lunging down deep. Sayuri hooked up a giant that refused to come up and, after 40minuts tug of war, got away leaving the saltwater hook half open.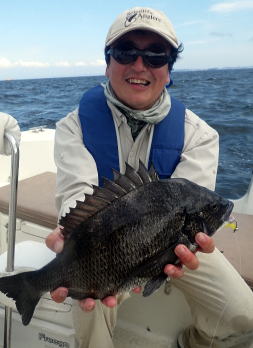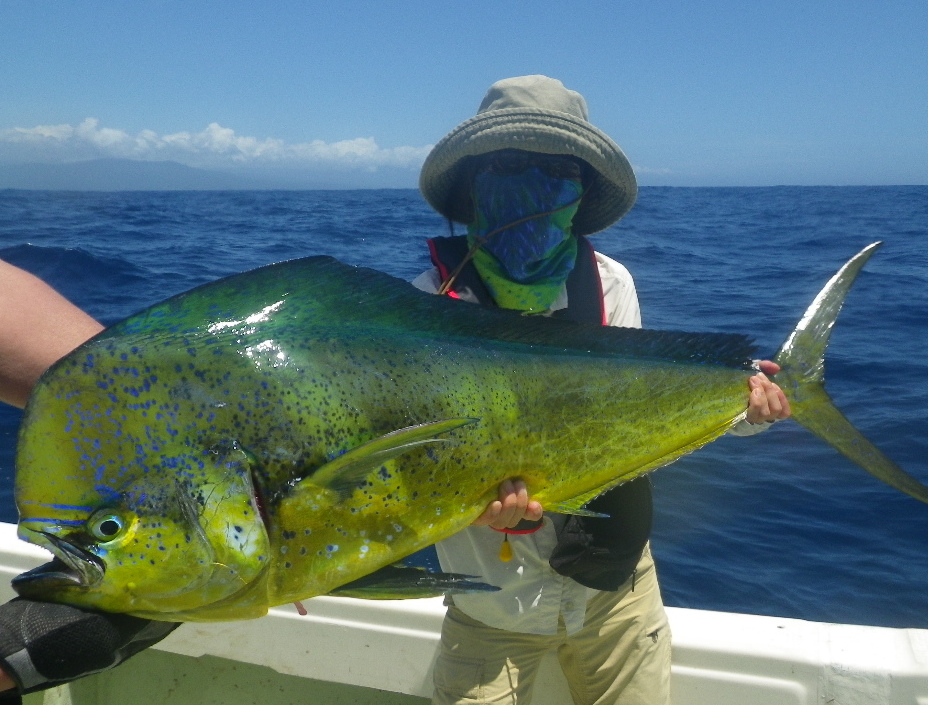 The sea had some mild swells up to 3meters on Day1. We had to pay attention to our footings but the constant sea breeze made it a pleasant day. The sea calmed down on Day 2, leaving us sweating like hell. But no worries, that's a happy hell if there is such.

I caught small to medium Mahi on a fly rod, while Sayuri took care of the bigger fish on a spinning.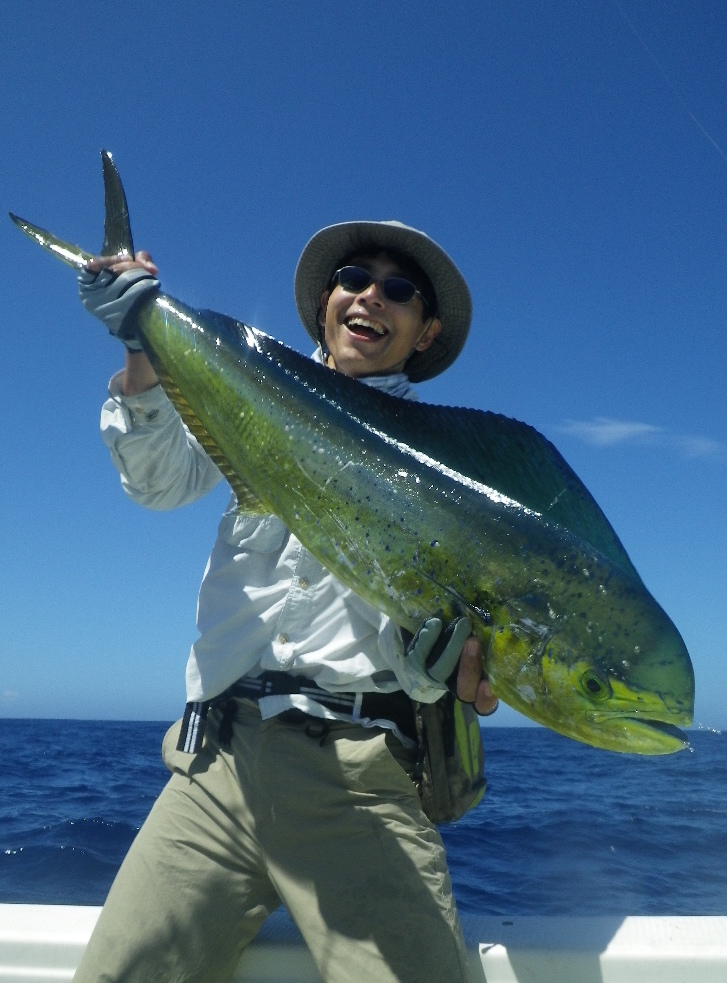 Back in Hiroshima on May 9th, two fishing pals and I again chartered the
Feed
boat - this time it's a day fishing for snappers.
Snappers come near shore in early summer to spawn. And the run usually starts in the middle of May. While fishermen of older generation use bait, we prefer rubber jigs as they demand more finesse.
Snappers average 40 to 50 cms, around 4lbs. On a fine tackle they provide good sport..
May 26, the same friends of us went for a second round of snapper game. It was a nice warm day, with a hint of approaching summer in the air.

Like any worthy hobbies, you can go as simple or as complex as you like. One of my friend took to handcrafting the rubber jigs, painting the led balls in variety of colours.
The air temp was 6c and it was bitterly cold when the wind was up.

The shipyards in Kure lit the otherwise pitch dark night bright as day. Lured by the light, baby squid come up to the surface, so do the predators. I managed a good seabass on a slow retrieved deceiver.
I had 6 takes, netting - not a bad day for this game.

The tidal movement in Seto inland sea is not to be underestimated (much more powerful than in the Pacific), and it took some concentration of the captain and the angler to work in the fast running current.
The sandy bottom in the depth of 50 to 70m is the main venue. To ensure constant contact with the jig, we use very fine PE line and a solid weight 60-100g.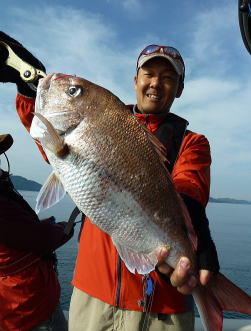 April 30, went to Hiwasa, in the south eastern corner of Shikoku, to fish in
Daigo Yachiyo Maru
.
Several times we had fished with Cap. Matsumoto for mahi mahi in summer but never in spring before.
The ocean was too calm for the oceanic seabass that loves whitewash, so we reverted to a back up option - bottom fishing for the deep sea dwellers.
March 11, another round of night game in Kure. My wife Sayuri and my father joined me. Thankfully it was a little warmer at 7degrees and very little wind.

This time I chose 200grain sink line suspecting the feeding range was a little deeper. Two good seabass and numerous Mebaru gave me a vote of confidence.
Slight change of family status made extended holidays difficult. Shifting the focus nearer, I tried to explore more of the saltwater scenes in the neighborhood. Detaileds of my pursuit for breams and seabass in the 'Journal' part. Here are quick summary of boatfishing to complement it.
The first game of the year was a night fishing on Feb. 23. One of Hiroshima's well known pro shop,
Feed
, operates a small game boat taking us out. Seabass and rockfish, called Mebaru are the prime target this time of the year.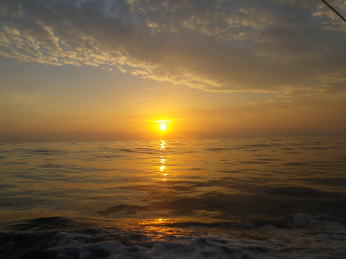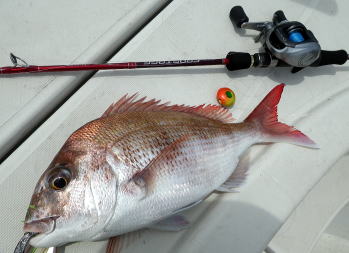 July 9th. Monsoon clouds left us 2 weeks earlier than average. Summer has come.

July 13-14, we went out to Kohchi, where we expect our annual event - Mahi Mahi fishing. The burning sun rises over Cape of Muroto in what soon becomes yet another hot day.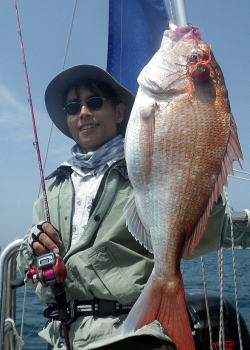 Boat games of the seasons '13 - 1st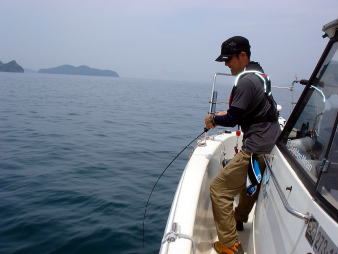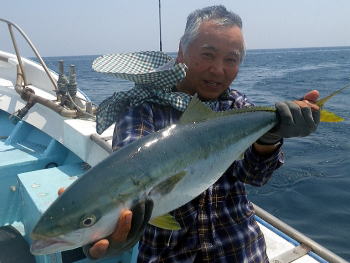 Most of the fishing was done within the sight of Hiwasa's harbor. And the towering cliff was a sight to admire in itself. This blue runner made a good day for my father.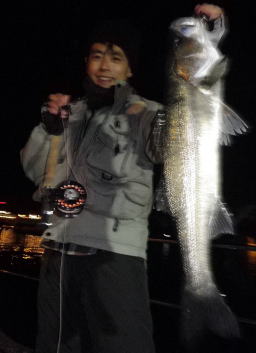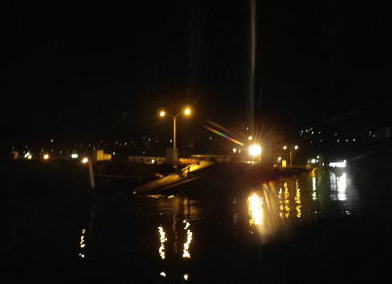 The port of Kure has a long maritime history and today it serves as a home for Japanese self defense force, with a couple submarines moored to the jetty.

We had cast to various funny things in Tokyo bay, but not to submarines anywhere else.