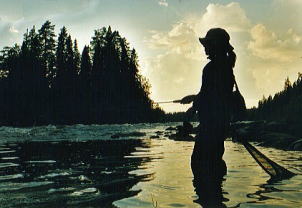 National angling licence can be bought at a post office or some tourist information centre. In Finland and Sweden, there are quite a few places where you can fish with this licence alone.
When it comes to salmon fishing, you most certainly need an additional licence. Some are outrageously expensive and may cost up to $1,000 a day, but it is not impossible to have a sport in less exclusive beats costing $50. Apart from the catch, the beautiful environment of northen end of Europe is worth the trip.
Scandinavia has something unique to offer in terms of culture and the way towns look. On the right is a medieval castle in Turk, the ancient capital of Finland.

Why not treat yourself with yet another taste of Europe, and of course, some exciting fishing.
Scandinavia at the height of summer is a lovely place. The sky is blue, the sun generous, fields all covered up with blooming flowers and wild berries.

Travelling on the open road, spotting reindeer or arctic fox is not rare. Scandinavia is the one of the last wildlife haven in old continent Europe.