Also amazing are the platforms which are built on, and even sticking out of the cliff. You can walk around on them enjoying the roaring waters right under the feet. What a walk!!.
to
the Argentinean side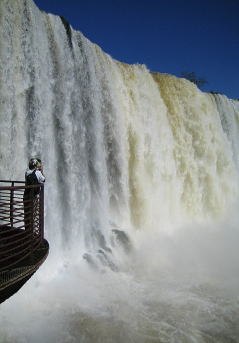 The spectacle of Iguazu can be enjoyed both from Argentinean and from Brazilian side.

Citizens of most nation require visa to enter Brazil, but they seem to offer a loop hole - taxi drivers charge US$30 a person to take care of the border formalities. Very dubious charge really, but on the other hand, way cheaper and quicker, than to get a visa at the consulate. So a small donation and off you go. In 20 minutes, you'll be on the Brazilian side, in Voz do Iguacu.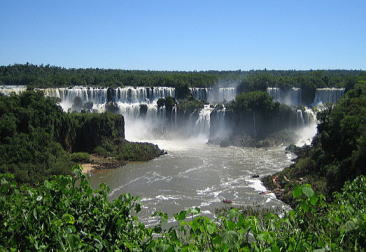 The area are home to many wild life - tropical birds, beetles and butterflies..

From the gate of the national park, through the jungle you will ride in an open top bus. Then you get dropped off at the beginning of a nature trail, where a pack of raccoons will soon greet you. They are very cuddly but you're not allowed to feed them for conservation reason. Sorry mate!!
4kms across and 80meters high, Iguazu, the giant collection of 300 waterfalls, is one of the three greatest waterfalls of the planet.

Situated in the north eastern corner of Argentine, right on the border with Brazil and Paraguay, the location is not really convenient. From Corrientes, it was still 500kms north east, meaning another night to sleep in a bus. But sure worth a trip.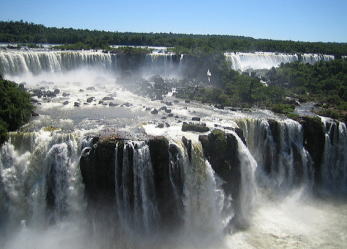 At the end of the narrow gorge you see a particularly spectacular waterfall spraying up a cloud of water. Called ''The Devil's Throat'', it is one of the Iguazu highlights.

40 thousand tons of water drops off every second, which increases to 65 thousand during the summer floods. If you assume a passenger car weighs roughly 1.5ton apiece, it's like 30 thousand cars diving off every second!!