There the only realistic target are (small) perch. Though we do hear of rumors of occasional pike, there are no greyling and salmonids at all - what a shame, with this much water appearing a perfect habitat for trout.
For us, this is the nearest weekend getaway within the Moscow city circle. Here we can at least wet our lines, without worrying about the traffic jam home.
-
Back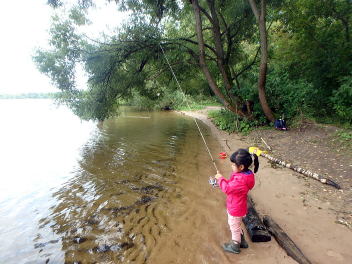 * Moscow
Here in Volga, there are hardly any salmonids. In the absence of sexier target species, Greyling, Pike and Perch make flyfisher's grand slam up here. Very well, when in Rome, , ,
This time we took a lodging in a nearby town of
Rjef
, so we could not fish the golden hours in the evening and the morning. Perhaps next time we will bring a tent and sleep by the river, to do Volga a due justice.
Another thing we must put up with is a traffic jam on our way back. Many Muscovites have a country house (Dacha, which was given by the government during the Soviet era as a basis of subsistence) and they love spending weekend there in peace. Not so peaceful is the traffic to go home though.
In fact Volga is the longest river in the European continent. It originates in the Valdai hills in the north west of Moscow, slowly flows down to the Caspian ocean some 3,600kms south east.

Worth noting is its elevation, or the lack thereof. The highest point of Valdai hills is about 220meters above sea. Caspian sea lies some 30meters below sea but the total difference is still very modest 250meters. It tells how flat the topography around here really is.
Another option nearer to us is Moscow river which, as I wrote earlier, is one of the tributaries of Volga. There are hardly any current and at places it looks like a lake than a river. But the water is clean, and wading is fun on a sunny day.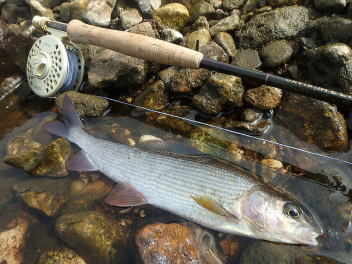 The volga here was still of a manageable size, say 30-50meters in width. Wading was easy with flat gravel river bed, and only the center of the river too deep to wade, at least now in September.

Anton warned me, in spring and early summer, you often see big flood here, when the both banks and sprawling pastures, woodlands will be drowned altogether.
While the flat flow made good waterways and irrigation canal, for us flyfishers it doesn't help much. Most of the stretches look like a still water, and there are few salmonids in Volga system if not none at all.

There a new Russian friend of mine, a flyfisher Anton gave me an interesting tip - some stretches in Valdai hills offer venues suitable for drifting a fly, and they host healthy population of greyling. Well, we had to go check it out!!

Russia is enormous. So much so, when you go fishing you first have to fly. That's a handycap we had not expected before coming to live here.
That said, Moscow does offer fair amount nature, and some water access along the Moscow river, which is one of the tributary of the mighty
Volga
. In summer you see big cruise ships departing for a voyage that could literally go thousands of miles.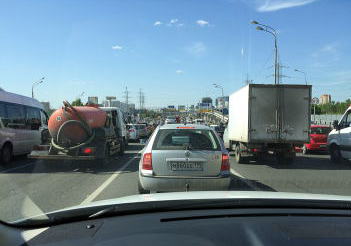 Volga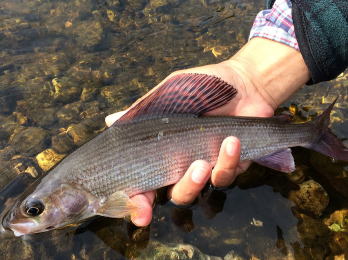 Anton explained, if you time your visit to a warm evening, there should be active hatches of mayflies and caddis, and dry fly fishing can work well.

This time our visit, over the first weekend of September, it was already cooling down with a scent of autumn in the breeze, and we had better success with a nymph, such as #14-16 hare's ear.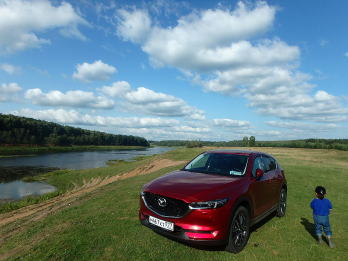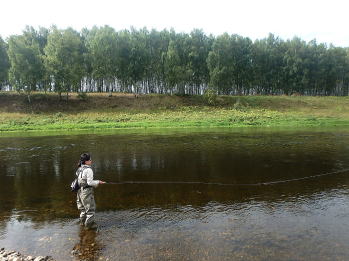 The area he guided us looked promising - with dynamic bends, sand bars and nice shallows here and there.

The 250kms drive from Moscow was not overly exciting, but this is one precious few playground for the flyfishers around the Russian capital - where you can go without airplane.