In winter, temperature could go down to -40 and all this will be buried in thick sheet of ice. Only for a very short summer, Varzuga brightens up in a warm sunshine.
Place the pointer on the pic to see high street Varzuga.
-
Next
The truth is, I did have one fish on and played it a while, but lost him on his second jump. Failing to catch the first fish, in a situation like this, was disappointing to say the least.

Anyway, as a husband and as a father I cannot be fishing all the while. I spent the afternoon on baby-sitting duty while my wife Sayuri fished.

Soon I realized this wasn't an easy job. Because of those millions of mosquitos that infested the riverbanks!! For a relative peace we had to wade out. Doing so with 15kgs of weight on the shoulder wasn't a task taken too lightly.
The good thing of the summer up north is the long daylight. Especially in late June right around the summer solstice, it stays light even at midnight.

After everyone had gone to bed, I covered the same pool where I lost my first fish earlier, and at last, managed to nail down my first Varzuga salmon.
In such way the first two days of ours ended without a single fish landed. Meanwhile our little daughter Misa was - despite being harassed by the clouds of mosquitos - keeping her good temper. As a guilty father I had to offer some moments of entertainment till she fell asleep.

In mid June, the northern land was enjoying the arrival of short summer. At 14degrees, the air was cool - a welcome change from Moscow already heated up to 30degrees.

Varzuga, our destination is not far from here - only an hour's chopper ride if you can afford. The story is a bit different for those who cannot - place the pointer on the pic to see and decide if you want to rough it like we did - 8 full hours of road trip!
The next day, we had to move out of this lodge and settled into another one - a local family's house in the village of Varzuga. From there on, no luxury of fishing guide, therefore fishing won't become easier. But the cost is much more reasonable and there we planned to fish 4 more coming days.

For a better turn of the fishing condition, we could only pray in the village's Dormition church, built in 1674.
Meanwhile Sayuri was facing a challenge of her own. She had never been a fan of double hand rod, and a complete beginner when it comes to spey casting. Having to learn the casting, switching casting hands every time the wind changed direction, must have been a frustrating thing.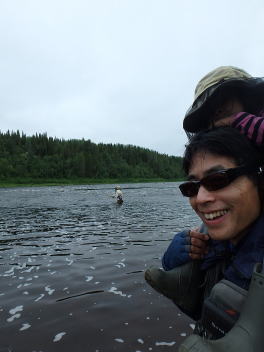 The beat is located at some 20kms up from the river mouth. Generally shallow, with a width of 200meters on average.

We started fishing at the instruction of the guide (who works for Roxton during their operation but guides individual visitors like us after they close the season and move upstream). No actions happened in the morning session.
Anyhow we arrived and checked in, to the fishing lodge Sobachy Porog where we were to spend the first two days.
This is the lodge that a very popular British tour operator
Roxtons
use as its base of operation. And the level of comfort leaves nothing to be desired. Meanwhile it costs about 4,000GBP per person for a week's stay. Somewhat hard especially for a family fishers like ourselves. Besides, this lodge has been already booked for all coming years from mid May to mid June by Roxtons therefore individual booking is possible only after they finish their season in mid June. For that reason, we arrived here on June 19th.
Half a year since moving to Moscow, I had lived an appalling fishless life. The metropolis does have its share of nature, but alas, not a worthy flyfishing quarry in the murky muddy Moscow river!

Therefore you can imagine my excitement as the airplane descended to Murmansk, the gateway to the Kola peninsula. On this trip, we were joined by Mike, my old fishing friend from Brussels.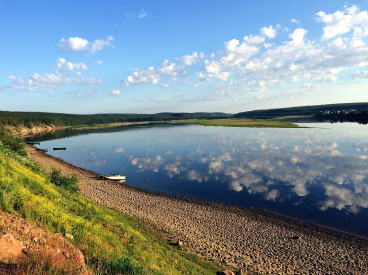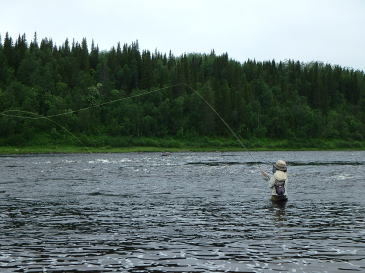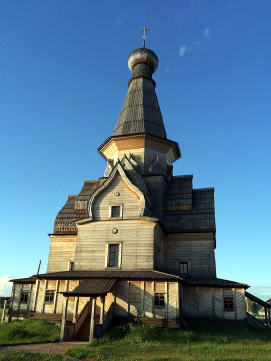 Varzuga in June '16 - 1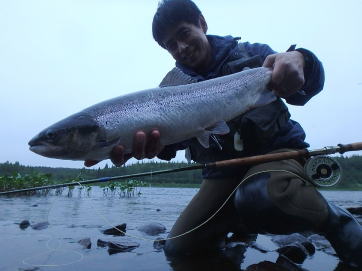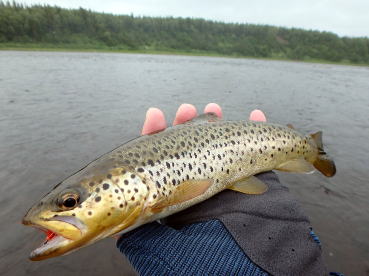 Spring came too early this year, said the guide. The ice broke on April 28th already - one week too early than normal season. Because of that, fish ran up the river early too, most of the school passed through this beat by the end May. Water temperature was warm - at 15degrees already, which may also be affecting the activity of salmon if there still were any.

We only had occasional bites of small trout and greyling. As the guide admitted, the condition was not good.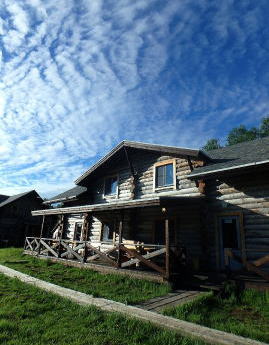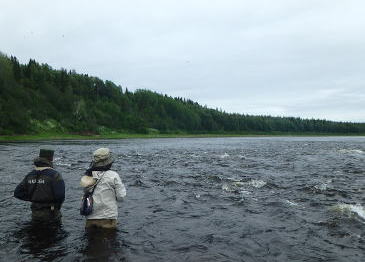 We stretched our budget to stay at this lodge for the first two days, so we can gain the basic knowledge of the river from the guide.

The water was running lower than usual - compared to how it should be in normal years. But not to the extent of low water. There were strong current at places, making fishy looking runs and glides.