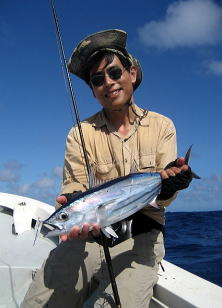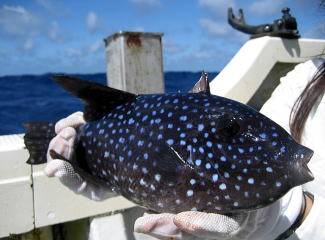 The captain threw in a handful of whitebaits, and sure enough, countless colourful fish rushed to the boatside savouring what they deserve.

It was like a snap shot in an aquarium. Two dozen cheeky leatherjackets kicked off the party, and a school of rainbowrunnders swirling underneath. It didn't take long before dark brown shadows appeared out of blue and began flying through it all. Here they are, the Tuna!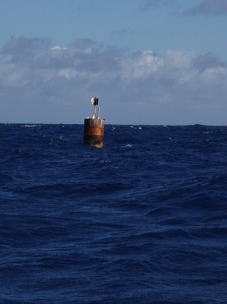 The only challenge of the day was sea sickness. Except Sayuri, myself and the captain, all the rest were suffering bad sea sick and not fishable most of the afternoon. Well then, it's not for us to claim bored and take a rest. The captain keeps throwing chums, with many more fish eager to bite, we just had to carry on!
Though we didn't catch any noteworthy trophy, it was a great first day on the Okinawa sea. And do we believe it? We still have yet another day to fish!
-
Day3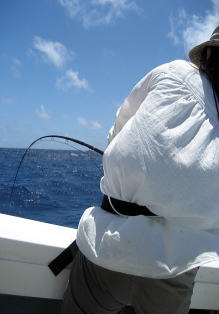 An odd dolphin fish, or Mahi Mahi came around spicing up the day.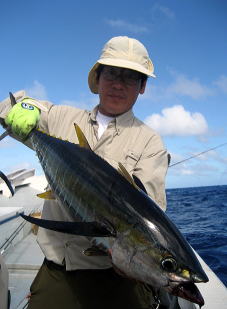 But it's too early to sit back and rejoice. These tunas are still baby tunas, in fact, the professionals in Okinawa wouldn't call anything below 30kg a tuna. Also for the Somura brothers who had fished Okinawa many times before, the focus is on those elusive grown-ups which may appear without pre-warning.

But for us the uninitiated beginners, the first battle was sweet enough. Even a shark about 1meter joined the party chasing our games!
The rough sea must have slowed us down, it took us full two hours (and a few sour stomachs) to reach our playground. As in Hiwasa, tuna fishing in Okinawa is done almost exclusively relying on these buoys - most are visible above the water, while some submerged. The best hours in the early morning are reserved for professional fishermen, but from 9a.m. onward the venue is left for us the recreational fishermen.

As soon as the gear got thrown into neutral, strong swells shook the boat and all that aboard. Despite the picture looking rather calm, the waves were around 2.5m and we had to hold onto something, anything, just to stay on foot. Trotting up and down balancing with rod in hand, we assumed our positions upright.
Amazing in a way to see such a big climate change after a short 2 hours flight. Much of that is attributable to the fact our nation is situated right where the Oyashio cold current and Kuroshio warm current collide. A big blessing for fishermen.

This time we were a team of five - led by the locally famous Somura brothers, joined by the flyfishing purist Misago, and the two of us!
Some peak times and slow times, but actions continued well into the afternoon at least to an extent not to bore us down. Or rather, almost enough to bore us down!

This fishing style is totally dependent on the Kibinago whitebaits, and except the occasional boatside extravaganza when you can cast to your choice, most of the time you just leave the fly dangling and just wait.

Of course it is a hair raising moment when a violent shock set the spool spinning like mad. And there won't be no easier way to land such decent fish other than this. But sadly we flyfishers are such a wretched bunch, we need just a bit more of challenges in the way to please ourselves?
Soon thereafter a big school of skipjack tuna joined the party sending everyone into a temporary state of chaos.

Unlike those extremely picky brothers we encountered in Hiwasa, these skipjacks in Okinawa were easy tempered or perhaps just hungry. They hit our whitebait imitations on the surface, or left dangling half a meter in the water with gusto. Great Fun!!

Having completed my self-appointed mission as a photographer, I discreetly proceeded to taste my share of enjoyment. With both my feet tightly secured against the gunnel, here I go! Or, I was about to go, when I received a pretty decent whack on the back!

The investigation later reported Sayuri, having lost balance on the shaking deck, slammed into the back of me. I grabbed the rim of the boat and managed not to fall off, but in doing so, Alas, my brand new toy the whole set of it, was thrown into the open sea! Thanks to the good visibility I managed to dive to pick it up. But boy, if one needs an initiation for offshore game, I say I've got one!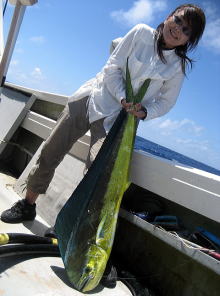 Now come take a look at my lovable flies! While many are leftovers from our earlier trips, I did tie some specially, like the ones below the 100yen coin. Point on the pic for a close up.

Tuna fishing in Okinawa is all about Kibinago, similar to what you call a whitebait. The fish chummed up around Payao are all preoccupied with this frozen dead bait, they hardly show any interest in other types of flies. Not the most interesting type of game, but when in Rome . . .
We decided to spend the day 1, or what's left of it, fishing from the shore nearby. Somura brothers had visited here before and had fun catching small trevallies on small poppers.

Our tensions ran high but, well, fish weren't overly hospitable. Misago managed two rock cods and we happily called it a day.
Our base was Nikko Kume island resort. We found the place spotless clean and well managed while the charge in the shoulder season very reasonable or in fact cheap.

Another great thing was the hotel management being used to fishing / marine sport visitors, and the shower / cleaning facility provided adjacent to the building made our tackle maintenance a breeze.
End of June.

Leaving the mainland Japan with monsoon in full swing, we flew to the small island of Kume, off the coast of Okinawa.

Down there the monsoon front has just past thru, leaving the sky in gorgeous blue. Even as we changed planes in Naha airport, the tropical sun nearing the apex extended us mainland visitors a scorching welcome!
Nice chunky yellow fin for Somura the little.

A rather modest start for Somura the big?
Here even leatherjackets don up in colourful attire. And unlike those living in the reef that have unappetizing flavor, these offshore dwellers are tasty, said the captain.

But surprising is their agility. As soon as whitebaits hit the water, these guys dash or even jump onto it, savagely devour our offerings including our intricate flies. Often they gathered in such great numbers that we had to gun the engine just to get rid of them.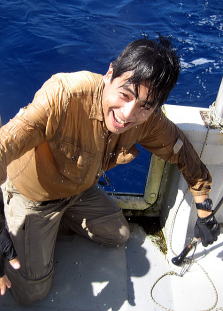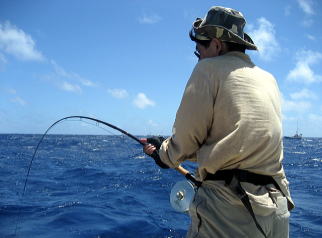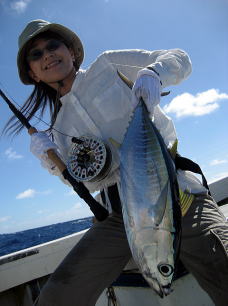 Day 2 dawned in a blue sky.

We hurried to the port of Kanegusuku, where the fishing boat Kunimaru was waiting for us. Jumped in, and the boat shot out of the channel, and headed down to the Payao, floating some 40kms south.

Out on the open sea, what felt like a breeze on land blew harder shaking the boat sideways. Every now and then the boat dived into a valley of swelling big waves, splashing water all over us. A becoming prelude of a manly adventure, though damn cold to be honest!
Nicely chilled down, finally fishing.

With the sea so fertile, I only needed short few minutes to get back on track. And of course, the highly acclaimed Tibor didn't seem to mind having got soaked.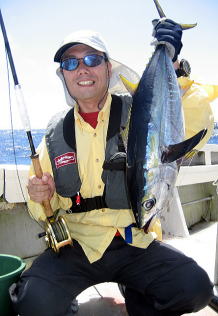 Happy capture for both Sayuri and Misagosan.
Our very first casts received violent thugs, and an instant crazy run toward the earth's gravity center.

In a matter of seconds, all rods nicely bent, and the big offshore reels started churning out a sweet metallic quire. Sayuri was also doing fine, with our new toy Tibor Pacific that I procured specifically for this trip, and in which I had reeled in (spending half the night before day of departure) 700meters of 50lb backing.!

Now the boat is nailed down solid to the cobalt blue ocean, with long tight lines running and diving.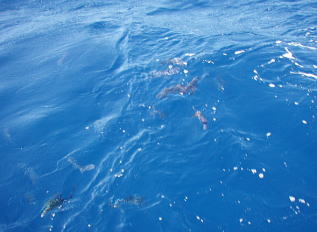 Okinawa in Summer '07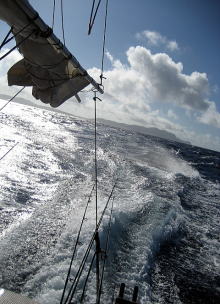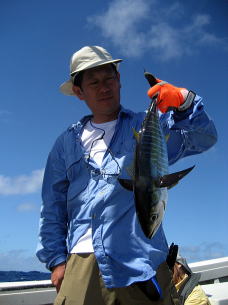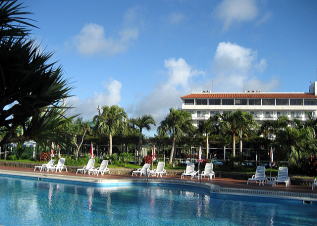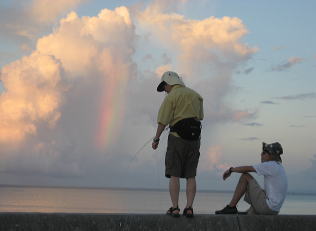 The courtyard gives out a true tropical feel, with phoenix and banana trees lining up.