Kibinago fishing is a deadly method that lives up to its reputation. If skipjacks and small yellowfin are what you are after, a fabulous day is guaranteed for a reasonable charter charge of US$600 per day per boat.
But it has its weaknesses too - Kibinago attracts just too many smaller fish. In the swirling mix bag of fish after fish, there simply is no way to pick up a specific fish. The key to catch big(ger) ones is how to avoid those smallies flocking by the boat side, pay out the entire length of line to probe deep..
Let me think on how, over a cold can of Orion beer.
-
Back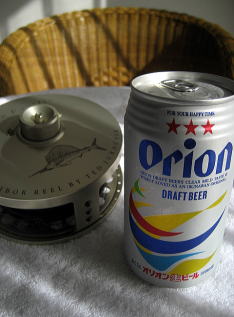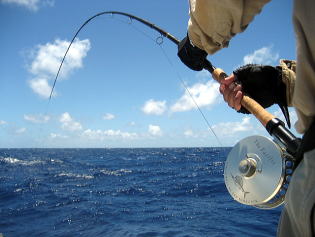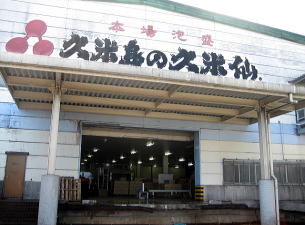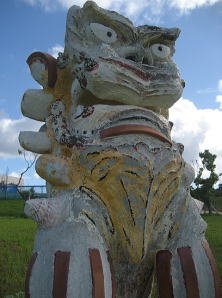 I was knacked and ready to call it a day, when a big school of skipjacks started yet another banquet some 30yards left of the boat.

Sayuri cast a popper on a light spinning rod, and hey watch out!! In the waves we could clearly see the skippies come following by twos and threes. Sayuri worked the lure as fast as possible, only to prove skipjacks are much faster. But in irregular moments they do strike. And geeeeez, that was fun!! Sayuri and I took turns and landed two each, and that was a superb fun!!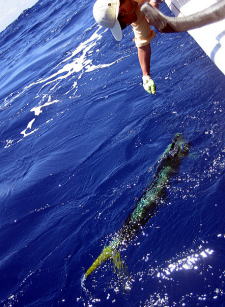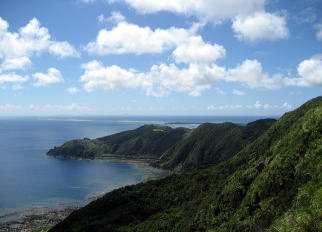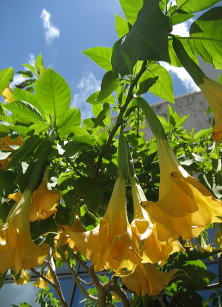 Our fishing was now over. We could capture no monster maguros, with that the captain and Somura brothers were a bit disappointed. But for us, it was a great outing with full of excitement and lessons learned.

We sped back to the Kanegusuku port, over the calm afternoon sea with dozens of flying fish whisking by.
After catching a couple more on Misago's masterpiece, we experimented other options.

Most of my gaudy flies were presented in vain, none but the toothy shark bothered to munch on them. Fish skin deceivers invited occasional reaction, but even that was limited only during high times when fish were on a feeding frenzy.

The real kibinago worked of course the best. But the popularity could work against it when there are just too many smaller fish around. Before it sinks down to reach the depth where tuna prowl, the hook was often bare naked. I also tried various soft plastics. They worked nicely too but also easily damaged by the sharp beaks of leatherjackets.
The Hiya jo cape, northern tip of the island. Beyond the tip, you see a long stretching sandbank, Hateno hama, which is a popular SWFF field for trevallies.
There is a small but famous distillery, producing popular rice-whisky, Kumesen.
Ruins of Ue-gusuku (Ue-castle)

From the island's highest point (309m above sea) you enjoy an unobstructed 360degree panorama.
!!!
GYRRRRRRRRRRRRRRRRRRNN
RRRRRRRRRRRRRRRRREE!!

It was like all hell broke loose, and the hair raising heart stopping looooooong run!!

Meanwhile, the one and only dedicated lure fishermen in the group, Somura the big, has been casting big poppers and jerking heavy jigs, without getting distracted by the smaller fish near by.

Though the catch rate was poorer, the size one class bigger. Above all, the by far more active fishing style appeared so much more fun.
As for the fly, the kibinago imitation ruled the supreme. My mediocre attempt with sil-skin received reasonable success too, but the thin silicon film was soon torn to pieces. Of the 15 flies I tied (glued), 13 were shattered on Day1, while the remaining 2 in the morning of Day2.

There came my savior, flytying master Misago. He bestowed me a couple beaut flies (place the mouse on the pic), and they proved far more durable thanks to its material 'EZ body'.
Day3. Again we were blessed with a blue sky. Even the southerly winds typical toward the end of monsoon season eased off a bit.

With the sea a tad calmer, the trip to the same Payao took only an hour and half today. Not betraying our hopes, from the very start fish after fish gave us eager welcome.

On this trip we only managed to work out a fraction of Tibor's true value. But even when playing such modest sized fish, the big diameter thereby high retrieval speed was a big help.
The Gargoyle a la Okinawa.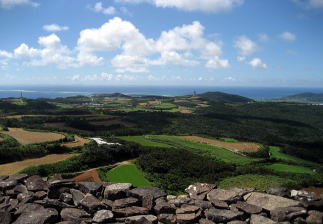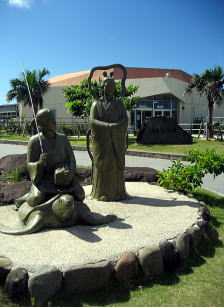 Day4

Having satisfied our fishing urge for now, we decided to spend our last day visiting the islands' tourist attractions.
I wanted to give him a good hug but he was too big to be netted. There was only a conventional gaff aboard so let him go at boatside. They worth so much more alive in the water than dead in the boat.
This island is also known as a home to nesting turtles. They are cooperating with conservation groups in Japan and abroad, saving turtles in less protected areas in other part of Asia.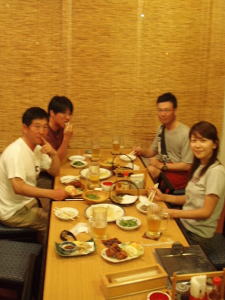 Of course we had to celebrate our landslide victory (?) with delicious Ryukyu cuisine.

Ryukyu is an old name of Okinawa, whose history as a stepping stone and trading route between Japan and the continent dates back more than two thousand years ago. The millenniums of traffic left its footprints in many aspects of Okinawa life, including some novel cuisine. The fried frog legs that I dare ordered met as many polite declines as reluctant bites.
Very rare to feel more enjoyment catching a certain species on a lure than on fly. This must be a tell tale testimony that the formula to measure the fun of fishing heavily depends on how much input you give, not only how much output you receive from the playmates.

Not that kibinago fishing offers zero room for input. But the most of your work is done at home - tying flies. Once in the field, not much to do. By contrast lure fishing is what you do out there - to invite that BANG!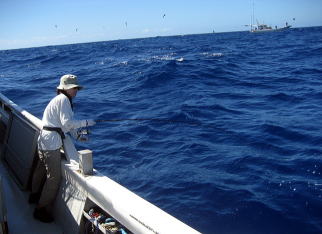 Okinawa in Summer '07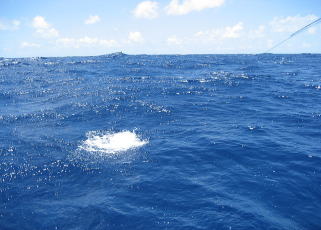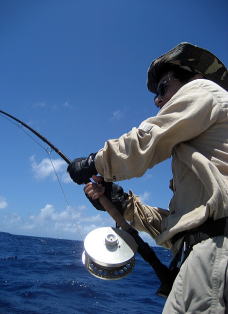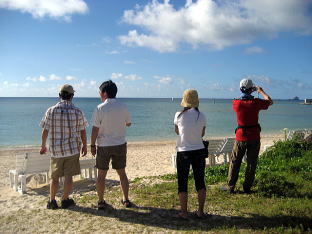 Main rod was G.Loomis Cross Current, 15wt! A true derrick reserved for mega maguro, and even in Kume, the tuna fishing mecca of Japan, you won't have opportunities to bend its backbone so often. But with steady reports of 50kg+ tuna and even giant marlins (though mostly with livefish rigs), Kume is not a bad place to hold onto a bazooka and dream on.

I also brought 12wt and 8wt aboard. I in fact found 8wt less fun. Not having good control of the fish, it was only more tiring both for the fish and for the fishermen. Yes, light rods are fun in two dimensional bouts, but in tuna fishing which inevitably involves 3D tug of war, simply go heavy.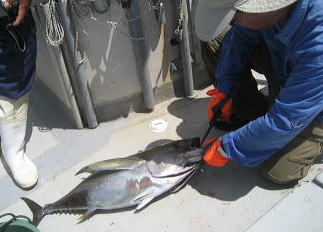 Every now and then we spotted a massive Mahi enjoying a leisurely cruise. Of course we cast all our flies & lures but they were all educated blokes, and swam away scoffing at our blatant fakes.

Hey, wait a sec! Having eaten so much free meals, having taunted us as if idiots, you can't walk away like that no you cannot!

I put on a whitebait and let it drift right into the nose of a prowling Dolphin. He examine it, and after a moment of hesitation, yeah, took it.