Our day 2 was blessed with a welcoming weather - chance to make a trip off shore.
The charter boat,
YuRyoMaru
had enough fishing space for 3-4 anglers, cabin to take shelter in, and just as importantly esp. for a female angler, a small bathroom also.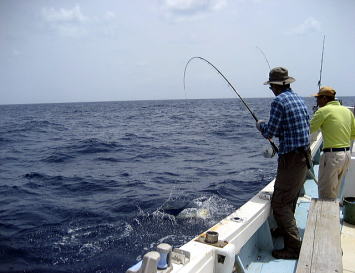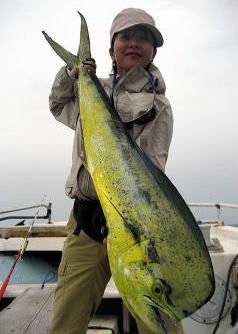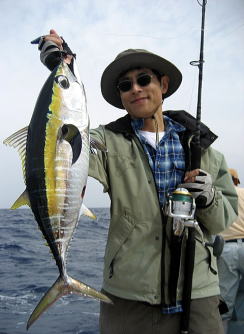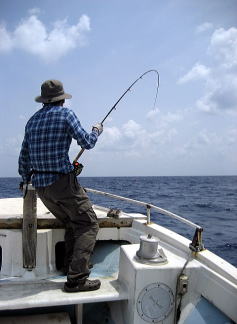 We kept one coral trout and took it to a local sushi restaurant. A very worthy reward for the two tired fishermen.
Sayuri thought she was taking it easy, casting a popper for the fun of it. What she didn't know was the presence of odd big Mahis around.
As ill luck would have it, our first day out dawned in a stormy weather. The captain took us to the lee shore but even there pretty rough - up to 4meters of razing waves.
We had a full day of eventful fishing. Drifting flies, casting poppers and jerking jigs. . .
The great thing about Payao fishery is you end up catching fish whichever way you fish - once you manage to get out there.
-
Next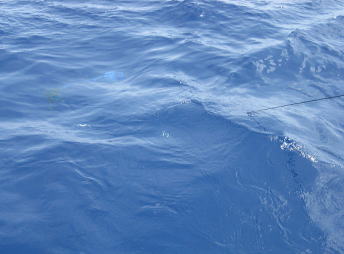 And some serious work out for Sayuri.
At the height of the feeding frenzy, the boat was surrounded by Mahis lit up in emerald. Hooking them up at a point blank range is a most exciting moment by anyone's book.
By far the most exciting fight of the day. Amberjack of 17lb reluctantly showed up.
A good sized spangled emperor.
Not a flyfishing proposition. We decided to make the most of the situation jigging. Thanks to the waves rocking the boat, we only had to wait dangling the jig. Enough coral trout and other hungry fish to keep us entertained.
The annual holiday season in early May. After much consideration we headed out south again to Okinawa - this time, Miyakojima island.

A big statue of guarding lion, locally called Seesaa, gave us a warm welcome.
Once the party got kicked off, none of them appeared to mind. The cobalt coloured speedsters snatched up one anchovy after another, and the well placed imitation in between.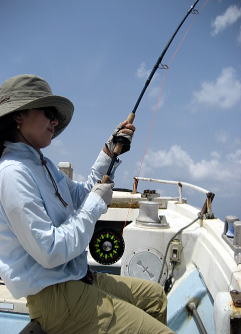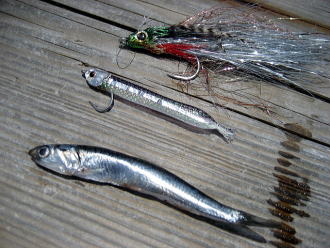 The ''Pacific'' is a tad overkill I must admit, but then again, there are enough stories of unstoppable Leviathan in the deep blue water of East China Sea.
The winds dropped later in the day. With the waves calming down, the captain took us to a hot spot. After some serious jerking in the 100+meters of water, the 200g jig got a hard strike.
The sea was teeming with numerous Mahi Mahi most of which above 1m mark, and twice as many Yellow fins up to 4-5lbs. The bigger tuna are shy and they didn't come close to the boat on this day. But we had enough fun with the little boys anyhow.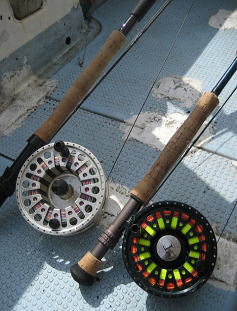 Miyako's Payao (FAD) are located some 1 - 1.5 hour's boat ride away from the island's main harbor. As soon as we slowed down our boat we noticed schools of agitated flyingfish fluttering about. A good sign.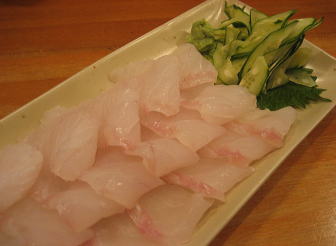 Okinawa in summer '10 - 1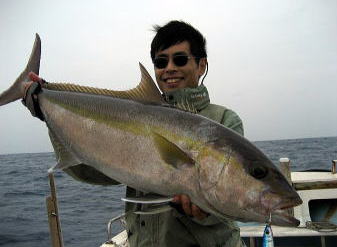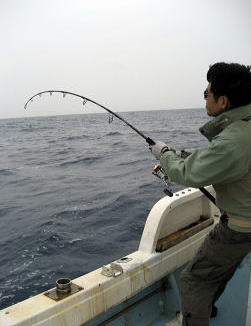 Unlike in Kume island where they use Kibinago for chumming, here in Miyako they use much bigger Katakuchiiwashi (anchovy) instead.

The Kibinago imitation I tied for the past Kume trip was some 2sizes smaller but, well, see how they like it.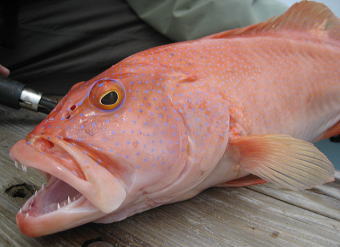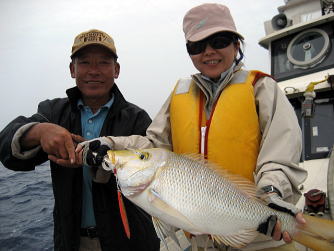 The rocky bottom at about 60meters depth was a home to various light game species. This green job fish hit Sayuri's 140g jig.