Our two days' outing ended with a lot of laughter and adrenaline lush. Not quite as many fish as on our previous trip, but then again, every trip to Tokyo bay is something special for us the country folks.
-
Back
Eventually my persistence paid off. Not everyday, to catch a fish of 72cm on a surface floating minnow.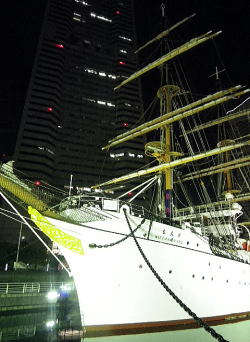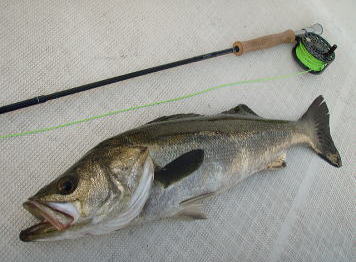 As the afternoon progressed, the tide started moving, inducing the sea bass into a feeding mode.

Here my fishing mate Dr. K (He really is a dentist, an university lecturer and a hopeless fishing fanatic) hoisting a good seabass. (Note: his wife doesn't know why he often comes home several hours late. Having an affiar? Yes, a serious one.)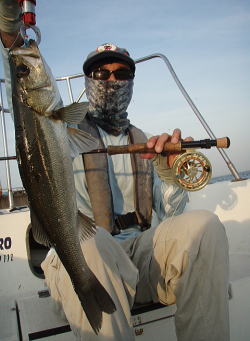 Sayuri impressed the captain with this fish, arguably the smallest seabass you'd ever encounter in Tokyo bay!
For the day2, I was joined by my fishing mate in Tokyo, ''Dr. K''.

The early half of the session went just as slow, but odd few baby Mack tuna gave us a consolation prize.
And sure enough, Sayuri had to harvest her definition of Yokohama entertainment.
This time we chartered the super popular game fishing boat,
Seakuro
. Once we had an misfortune not being able to go due to windy condition, but this time, we had a better luck.
Tokyo bay being one of the largest trade port of the world, numerous giant ships parked in a long queue. And you guessed it - those cover-loving seabass are lurking right next to them.
Day 1 ended without the degree of success we anticipated. But the good thing about fishing trip in Yokohama is its abundant entertainment at night also.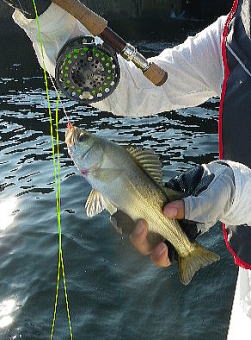 A small seabass, yet presenting an exciting surface strike.
The ''Baybridge'' is an unchallenged landmark of the populous waterfront city. Quite amusing is the fact their feet make good holding covers for our coveted game, Suzuki, aka ''Seabass''.
Early September. The grueling heat of the high summer had somewhat eased off. To repeat the exciting game we had in the previous season, we visited Yokohama in the popular waterfront town, Minato Mirai.

Looking down out of the high rise hotel room, it's hard to believe the existence of such hard fighting fish right down there. But believe me, there they are!!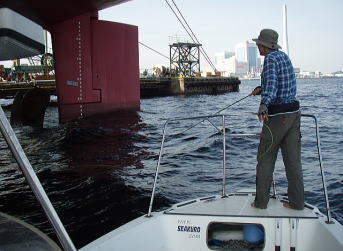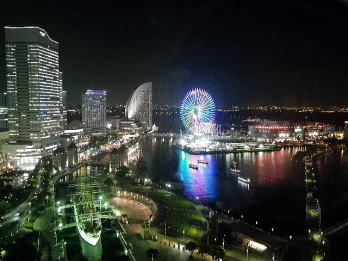 Captain taxis the boat to casting positions, while the two of us take turns casting to any smallest obstructions.

Even its ladder is many times bigger than ourselves though!!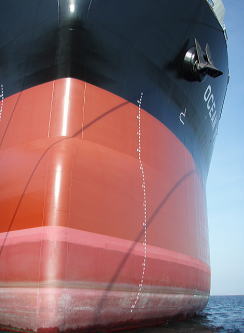 '10 Yokohama in Autumn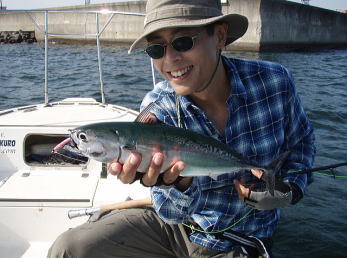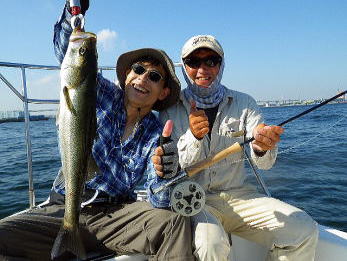 A nice fish for me relieved the hard working captain, Okamoto-san.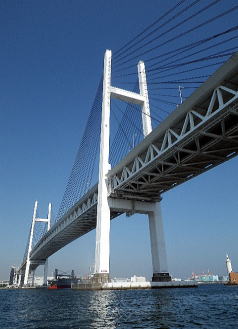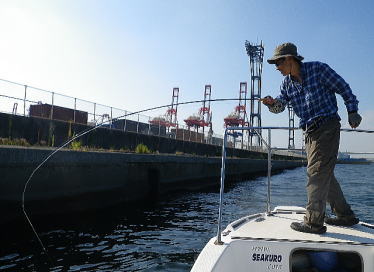 The water in the bay was much less murkier than normal due probably to the settled weather. Fish were rather shy, demanding some hard work - making each fish a reward, to put it into a positive sense.