Abashiri became famous for & synonym to its formidable gaol build back in 1890. The shivering cold and harsh treatment was feared even by the worst criminals of the time.
Deers are numerous. So numerous that they are now doing harm to the environment - they eat up the barks of the beech trees.

This problem has become evident after Shiretoko received the proclamation of UNESCO's world natural heritage site - which now prohibits all culling activities within. The local authorities are now being pushed to revisit the protocol as more and more dead trees are left by these cuddly creatures.
We drove on to Shiretoko, the north eastern corner of H'kaido.
In its 100 years of history there have only been two persons who managed to escape.

One of the two, Yoshie Shiratori did the feat in an amazing, even artistic manner. His motto - there's nothing humans made that humans cannot break. His life was a solo fight against the authority. Historians has only to wonder what a great person he would have made, had he been able to live his life in a different context.
The sad fact was that many of the inmates were political prisoners. The government sent them over here which was effectively an labour camp with no exit. They were forced to work to death, and after death, dumped by the roadside. Some of their remains are excavated for a more proper funeral decades later but most still sleeps on by the road that they build for their lives.
Shiretoko's stream are teeming with great number of Oshorokoma char. Even a total beginner can catch a few of them on a dry fly - too easy!
Great banquet back in Abashiri. Boiled crab are the delicacy of the Ohkotsuku ocean.
-
Next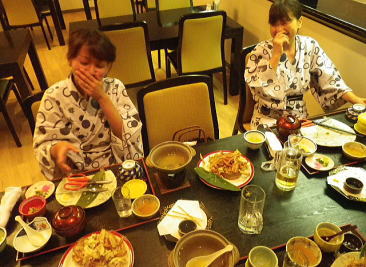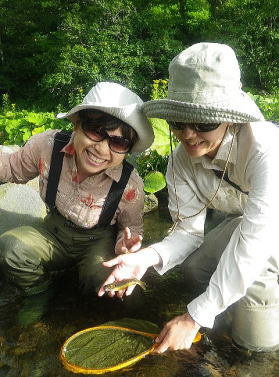 Horobetsu river is one of our favourite. We donned up Sayuri's mum in a pair of waders, gave 3 minutes' casting lesson and let her give it a go.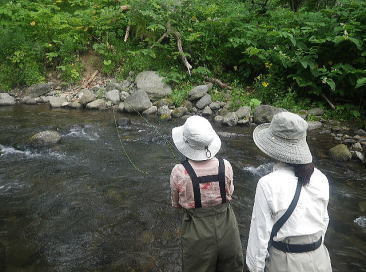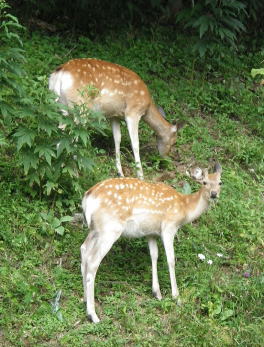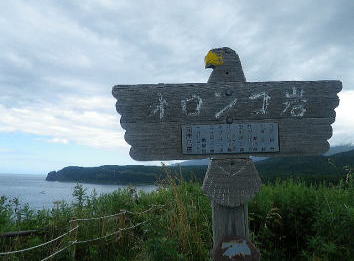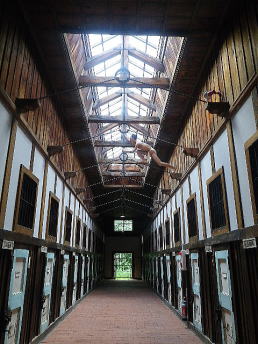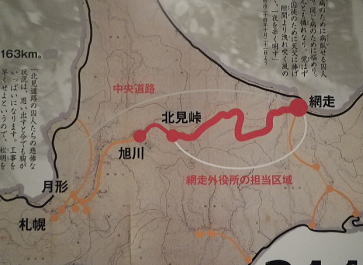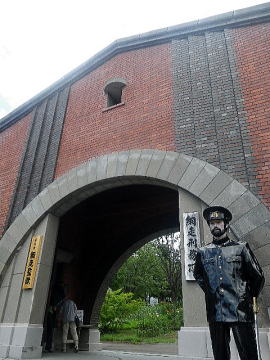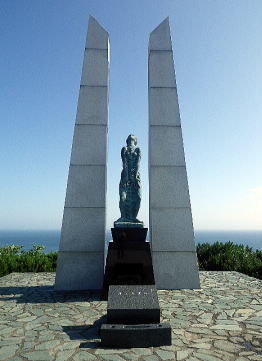 We continued our way north to Wakkanai, the northern most town.

Next day saw us in a perfect blue sky. We visited ''the gate of ice and snow'', expressing a sorrow of those killed in or driven away from Karafuto by the Soviet army in the aftermath of WWII.
Some 30kms east of the cape lies the Sarufutsu marshland - a home to the legendary Japanese Taimen.

Many a drama unfolds here in its tidal brackwater stretch during the seasons. But now in the high summer there only were calm water with no hint of a fish.
Cape Soya, the northern most point of Japan.
We visited the township's tiny little museum that houses variety of interesting items left by the early settlers.

An overnight stay in Monbetsu.

There runs a famous river Shokotsu, where the very first C&R stretch in Japan was proclaimed back in 1995. But as we visited this time the river was running too low too warm to yield any good fishing. Better luck next time.
A statue of Taro, a hardy Karafuto dog that served in Japan's Antarctica expedition.can be visited on a hilltop nearby.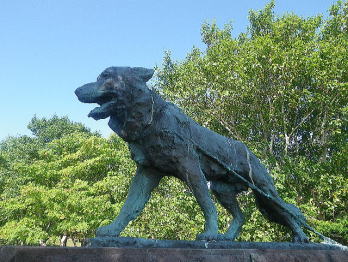 Those who survived the tragedy did try to hold on, but they too were eventually driven away one after another by the harsh environment and fear of the ever present bears.

What's left in the now deserted settlement are only the modest huts where the attack took place, rebuilt by the volunteers in the memory of those perished.
The thing that left an indelible mark on the village's history was the bear attack that took place in the nearby settlement of Sankebetsu in December 1915.

6 persons were killed and eaten, or 7 if counting the fetus still in her mother's womb. It is widely regarded as the most heinous bear accident in Hokkaido's history. Or that of the whole Japan for that matter.
Leaving Asahikawa, we traveled next north to Tomamae, a nondescript fisherman's village on the shore of the Japan sea.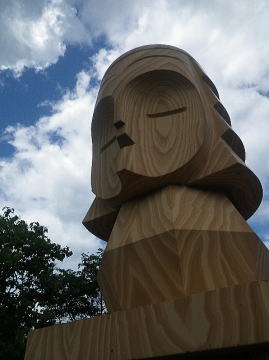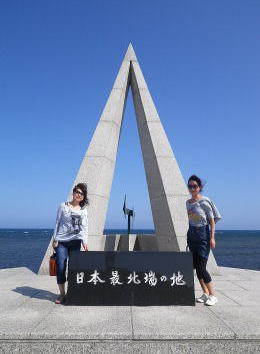 Next we visited Abashiri.

The wooden statue of Nipopo, a talisman of Ainu people, is the symbol of the town.


'11 H'kaido in Summer - 2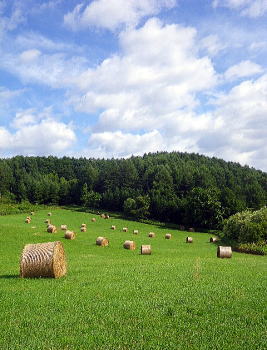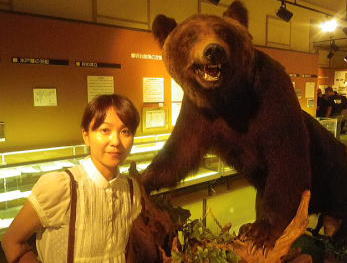 Even in modern day's Hokkaido, fatal bear accidents are taking place at a pace of one every couple of years. A small yet undeniable risk that is.

Meanwhile, some 400 bears are being killed as pest every year. This year 2011, when the wild nuts did not grow well, more bears ventured down to the lowland human domain - resulting in a record carnage of 758 bears shot dead. A sobering fact we should be aware of.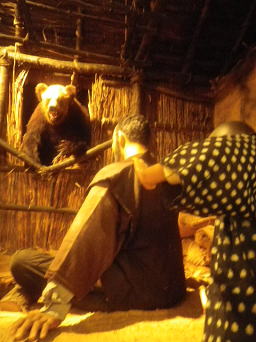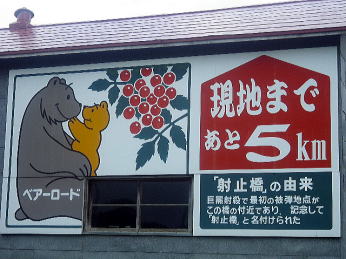 With a mixed feeling we visited Sankebetsu. The road is now named ''bear road'' with signposts telling a detailed account of the incident.