A good male pink for me too.
At this time of the year in mid August, most fish are still fresh and full of stamina. They rarely jump (which is a shame) but they do make crisp runs.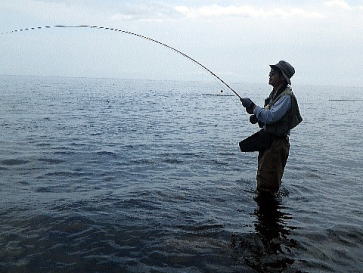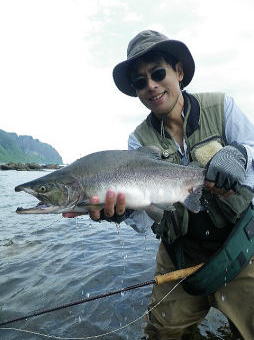 Sayuri's second fish was a perfect ''silver bullet'' that makes Shiretoko in summer so dear to us flyfishers in Japan.
Sayuri's mum must have witnessed an unexpected talent in her daughter.
-
Next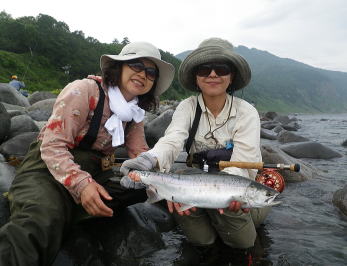 A handsome Karafuto masu, or Pink Salmon.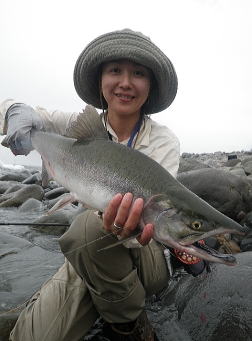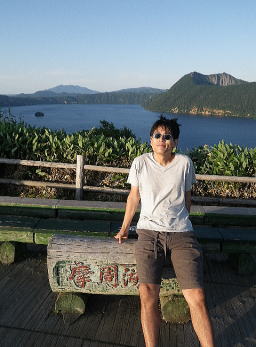 Good 4 hours it took us to climb down.

On the drive back to Abashiri, we dropped in at the Lake Mashu look out.
Parking the car at Aidomari, we continued our way on foot to the tip of Shiretoko.

And it is here we were greeted by our good old friend ''Kuro'' the watch dog.
After a night resting in Abashiri, we took the road again to Shiretoko.

Yamazaki farm in Shari may look shabby outside, but its food stall is a must visit for bikers and cyclists - unbelievably tasty fruits, pumpkin cakes and more.
Akan has 2 mountains- ''He'' & 'She'' Akans in a pair. Because we had climbed up the female on our previous visit in '10, we headed this time for the male, i.e. Mt. Oakan.
Being a watch dog is a boring business. Lazing around on the beach Kuro needs to alleviate the boredom checking out all the passers-by.

But Kuro, haven't you gained some weight since?
Pointer on the pic to see him one year earlier.
The lake is known for its (almost) constant presence of thick fog. But occasionally you get lucky without one.

The mountain on the far side of the lake is Kamui nupuri, sacred peak of Ainu people.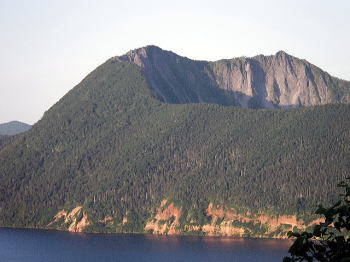 Over and beyond the 8th post, the terrain becomes rugged. Now we are above the tree line and all that we see there are alpine type vegetation.
The trail started its steep ascent soon after leaving the lake. And it was a long walk up especially for a complete beginner Sayuri's mum.
Most of Hokkaido's mountains are habitat of Grizzly bears. But as long as basic care is taken, such as wearing a bear bell, close encounter is rare.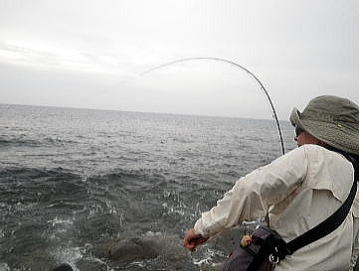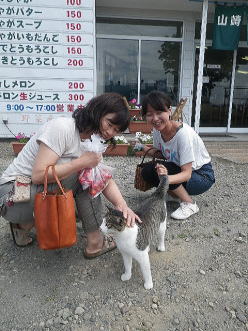 We only had 3 hours to fish this afternoon, but within a few minutes into the game, Sayuri's rod was full bent.


'11 H'kaido in Summer - 3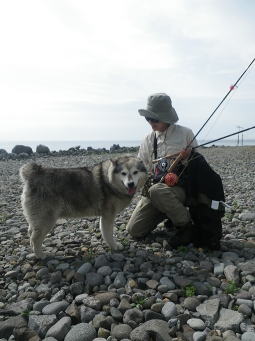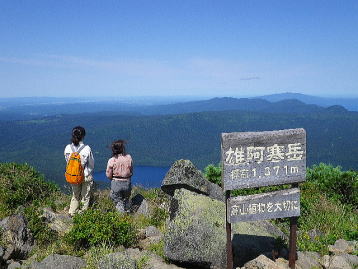 Good 5 hours trek took us to the summit.

The sun was warm. But there's that sharp chill in the breeze, reminding us this is a harsh environment for us humans.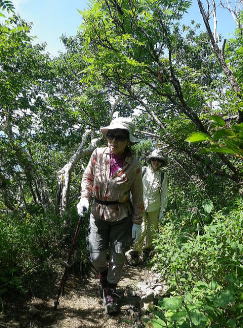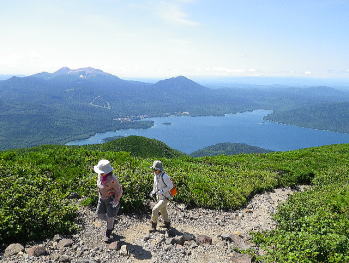 Once passing the fifth post (many of Japanese mountain trails are marked with 1 to 10 posts), the view of the lake below opened up, while the cool breeze from the west cheering us up.