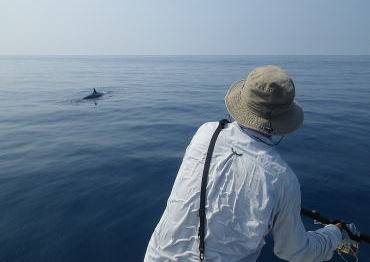 Suspecting some good fish cruising by, I attempted to cast at whales a la Manta Ray fishing down in Weipa. But the scary thought of foul hooking Mr. Big somehow made my cast a tad too short.
-
Next
A pair of whales cruised around, gorging on the hapless small baitfish rounded up by other predators.
The most impressive visitor of the day was this whale, about 16m length according to the captain's estimate.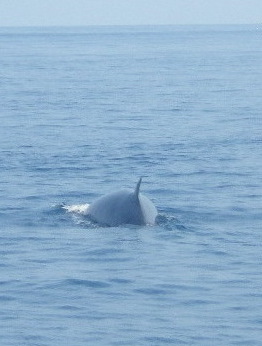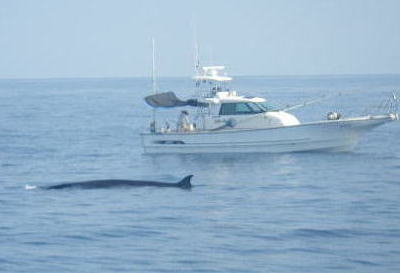 After some half an hour's cruise in the open water, we noticed ourselves approaching a congregation of battle ships.
Those blue water speedsters seldom stay feeding at any given spot. Hitting them with the limited reach of fly was a challenge. An opportunistic angler as I am, went simply spinning.
And in no time, we noticed the nearby water boil - with feeding yellow fin around 2-3kg on average, but up to 20kg!!
Unlike ''game fishing boat'', professional fisherman's boat can go fish any 'Uke' the buoy - because they build those chain of Ukes for themselves.

The very first Uke produced a couple of bites.
Amidst small yellow fins, I finally got a thumper that lunged deep. Though it turned out another Mahi after all.
This big structure is the famous ''Kuro boku'', a powerful fish attracting device floating in the open blue water. With a couple miles long super strong wire, the float is pegged into the ocean floor some 700meters below.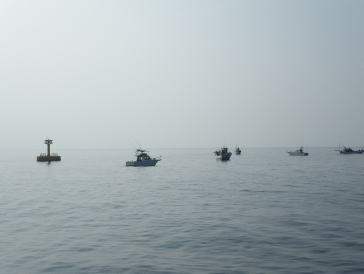 It's a great sight to behold - a dozen Mahi, all lit up in excitement torpedo toward the fly swimming 10m, sometimes 20m away.

No denying the average size tends to go smaller compared to a lure, but the direct feel of strip strike and the whrrrring sound of the disc drag is a pleasure of flyfishing.
The activity was super high. At every buoy we moved on, Mahis kept shooting at my flies with such vigor.

Sayuri was also receiving happy punishment, so was my fishing pal, Lord of GT.
After a good night sleep we headed down for our second session out.

For this day we chartered another boat ''Yasumaru'', owned and operated by a professional commercial fisherman.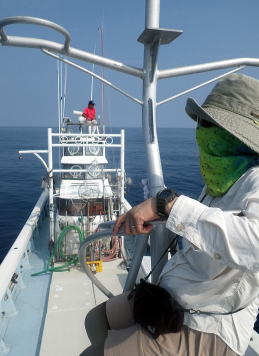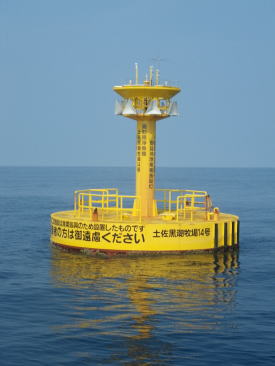 Having had completely enough, Sayuri found herself a cozy space up on the flying bridge observing the secular going of the world in style.

And a caring husband as I am did not blame her, particularly when she was 7 months pregnant.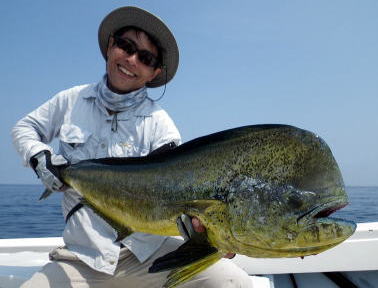 Pacific in Summer '12 - 2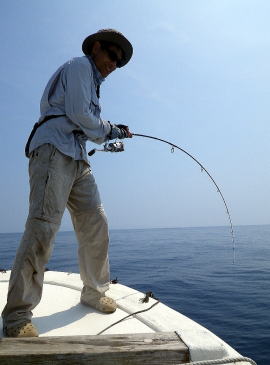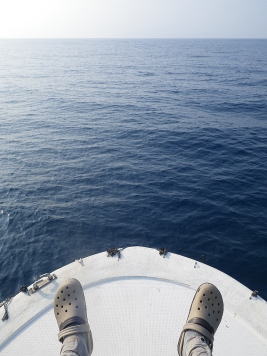 I hauled up 15 Mahis in the morning session - a most heated Mahi session I had ever had.

Noticing our enthusiasm waned off a little bit, the captain suggested we go check out the big buoy farther off shore.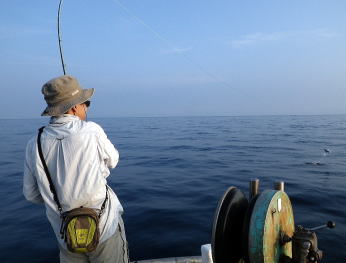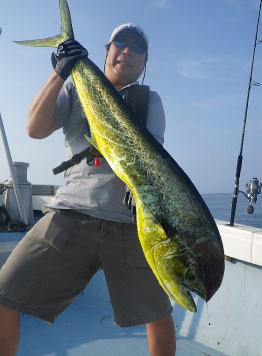 For the Lord GT, Mahi fishing is like a child's play. But the red hot top water actions are surely enough to satisfy anglers of every pursuit.