Hyper charged by this phenomenal success, I went paddling in my kayak next day to fish in the same areas by myself, ready to latch on to a big Buri willing to tow my inflatable Kayak around.
The very same location exactly 24hours later, all I could find was a dead calm water with no sign of life. I couldn't believe it. All the fish - those eating and being eaten had disappeared completely. Well, fishing is such I know that. But No, I just couldn't believe it!
-
Back
Sayuri meanwhile nailed down a fine Sawara, shark mackerel of 83cms. On this day we witnessed numerous giant Sawaras well over a meter rocketing out of the water crashing the baits. An impressive sight we do not normally expect in the peaceful Seto inland sea.
The shallow water only 7meters deeep was a soup of baitfish. Sometimes, fishing is easy.
I was working a 9cm pencil bait when a powerful shock run through my arms. The sheer speed of the run was not that of breams or seabass. I carefully controlled the pressure on the 10lb fine leader and managed to haul up a Buri, blue runner of 78cm / 6kg.
I had 4 more bites of Blue runners, catching three. When the fish hesitate to smack on the top water offerings, shallow running minnow provided a solution.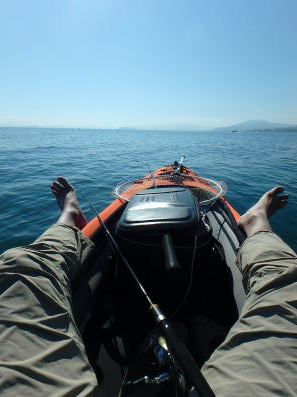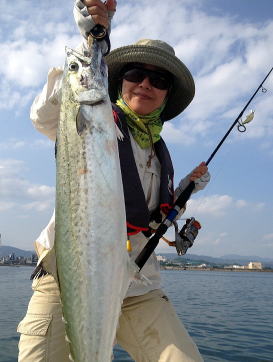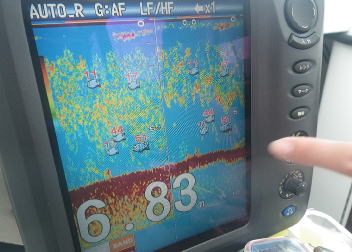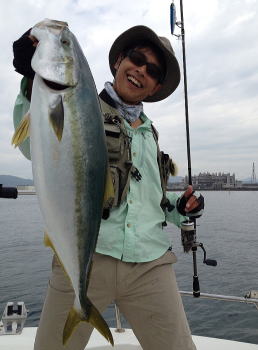 A friend of mine tried casting a rather big floating minnow to see if there were any other game around, and sure enough, a big snapper grabbed the 12cm plastic bait for a super exciting tug of war. The 65cm trophy snapper was tagged and safely released.
As the boat arrived, we noticed constant signs of baitfish being chased and chomped down. Small to medium seabass were in feeding frenzy.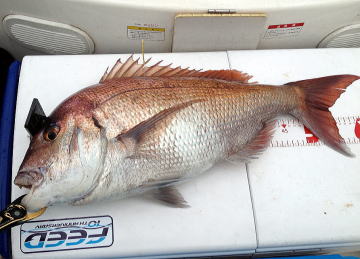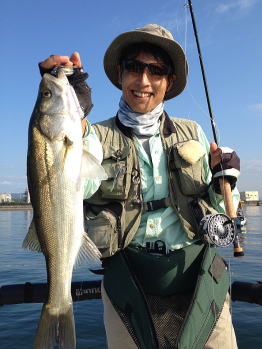 After dark we went fishing for Akame (meaning ''red eye''), a giant perch that live in the rivers in Kohchi. They look identical to Nile Perch, grow to 130cm, the most elusive, sought after game in Japan.

Sayuri and I took turns drifting big deceivers in the current with not a nibble - a norm just like hundreds other nights that Captain Negi spends guiding here. As the tide almost hits the bottom, there were signs of panicking bait. I was rewarded with this consolation prize, a trophy seabass though the eyes not red..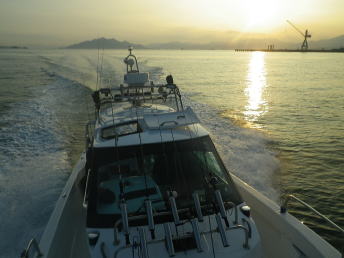 Sept. 27, we again chartered
Feed
to sample some games of Hiroshima in autumn. This time, top water games off the coast of Iwakuni.
We fished again in
Hisyo
and apart from the omini present Mahis, we caught and released several bonitos and small yellow fins.
One great surprise was a sailfish that took Sayuri's popper. The small hook kept the fish on for two spectacular tailwarlks, but the powerful headshake right underneath the boat threw the hook in the end.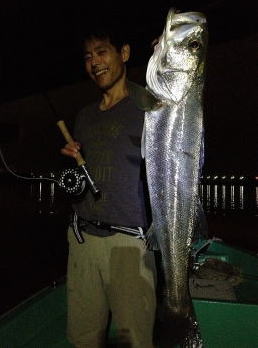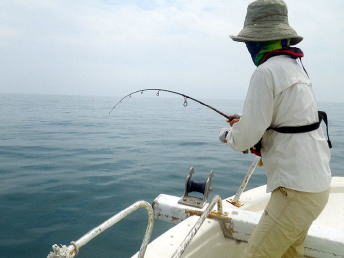 Aug. 13 we went fishing again to Kohchi, for a second round of Mahi mahi of the year.
Near the port of Tei, you see the statue of
the marooned Chohei
. As a young shipmate in late 18th century he experienced a shipwreck and cast away to an island in the south eastern end of our territory. He had to survive 13 long years there to develop a plan of escape, and returned back to his native land in a boat he crafted out of driftwoods.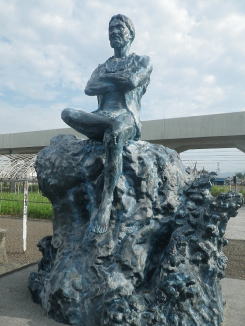 I too managed a good fish of 65cm. Snappers change colours as they mature - male gains brown copper tint while females turn into bright orange. They need 15years to attain this size. Important to release these adults to ensure conservation of the great sport.
It was a big male Mahi that took his xtra large deceiver. After thrilling game that lasted some 15minutes, he deserved holding this trophy fish in his (sore) arms.
Joined us this time was Capt. Okamoto, my fishing friend and owner operator of gameboat in Yokohama, Seakuro. He had visited Kohchi many times to fish for Akame, a close kin of Nile perch but never for Mahi mahi before.

He did well stubbornly sticking to his fly outfit - something not easy to do while others are catching fish after fish on spinning, but his patience paid off.
March 19. The air was warming up as the spring approached. In a middle of megalo polis there still are anglers hunting for Seabass from the bridges and promenades. I went fishing in Yokohama, with Capt. Okamoto in his game boat
Seakuro
.
I too managed to catch this fine fish on a fly. Lure fishing offers multiple advantages in inducing the fish to bite, but once fish are hooked, it seems much easier to catch fish on a fly. Flylines are thicker and produces much stronger line drag. Fish tend to keep running till they exhaust themselves..
July 26, Went fishing for Mahi in Kohchi. Not as many or as large a fish this year. That said, enough entertainment in the big bowl.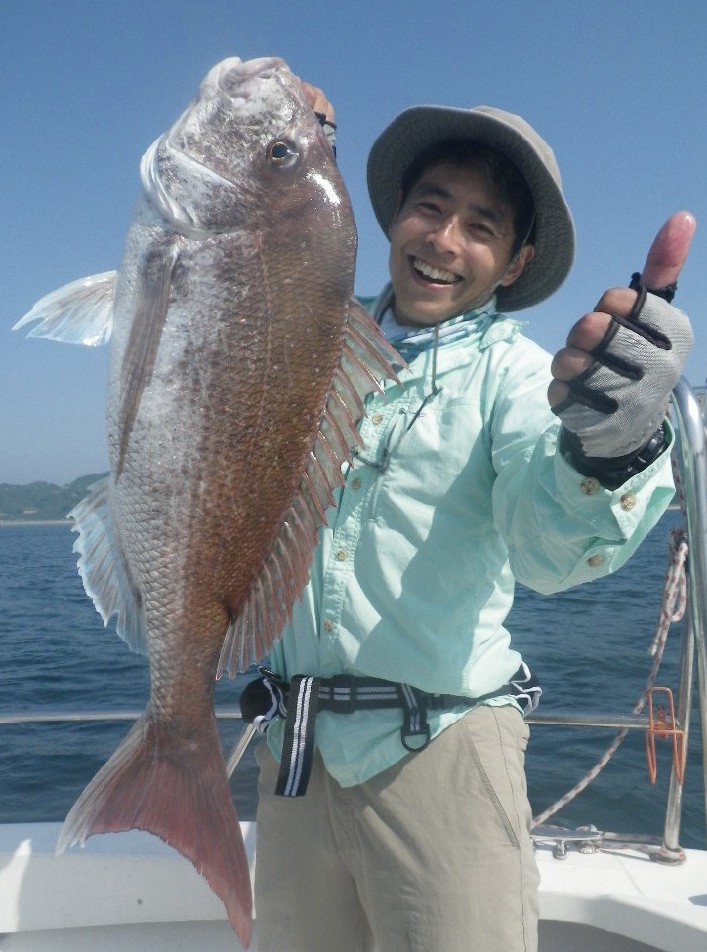 Back in Hiroshima in mid May, the snapper season opened up. We chartered a boat to explore the inland sea closer to Ehime.
Sandworms are among the less known creatures of the sea, but in every spring, they come wriggling out of their den to spawn right on the surface. This makes a super easy, irresistible meal for all the fish seabass included. Rretrieving floating minnow slowly, it was literally one cast one fish. Average around 50cm but, for once, quantity makes up for the lack of quality.
Feb. 23, went first boat game of the year.
Air temp was 7c while the sea was 6.
Game boat
Feed
, took us to the illuminated structures in Kure. I managed to catch Mebaru up to 28cms as well as seabass in 60cm class.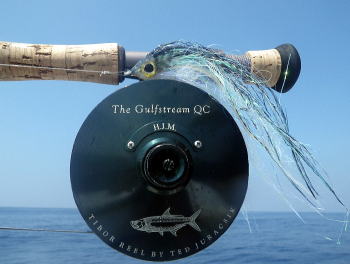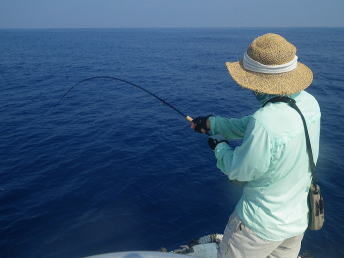 There aren't too many occasions to cast such giant fly as this, but all efforts and imagination you invest at the tying desk will be rewarded eventually on one fine day.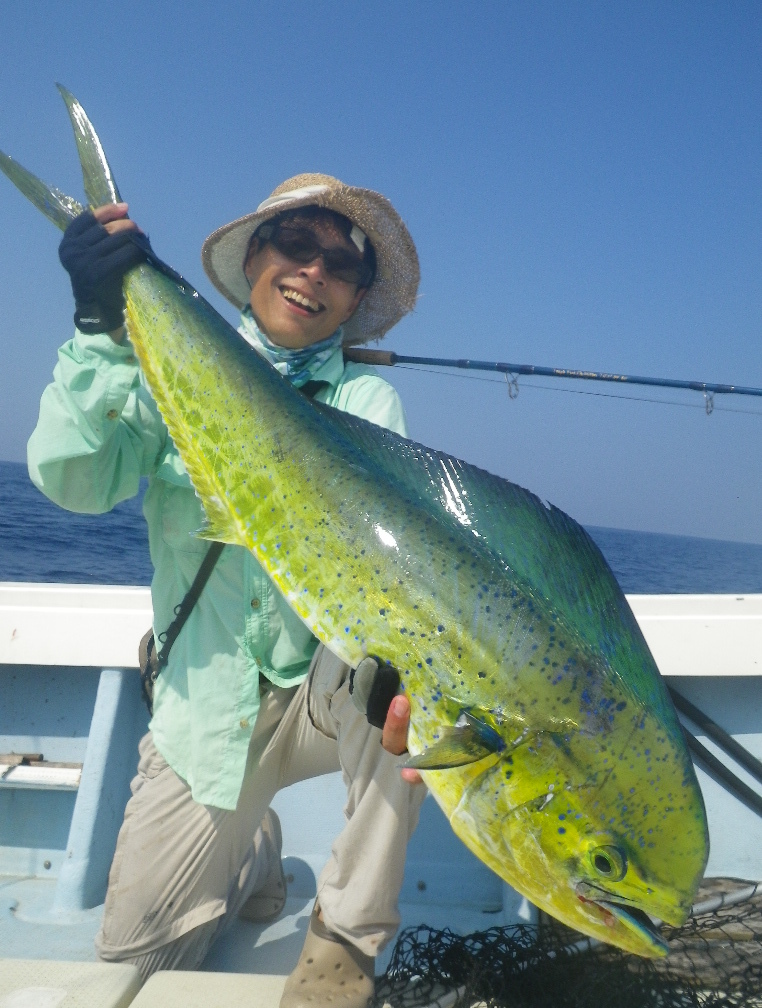 Boat games of the seasons in '14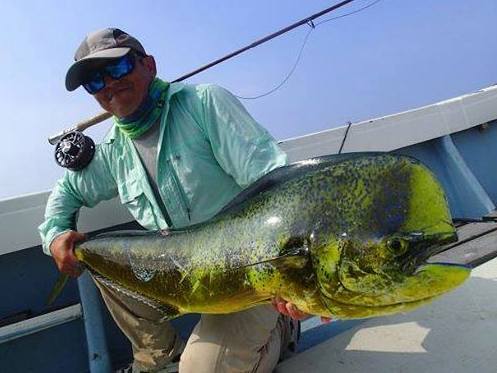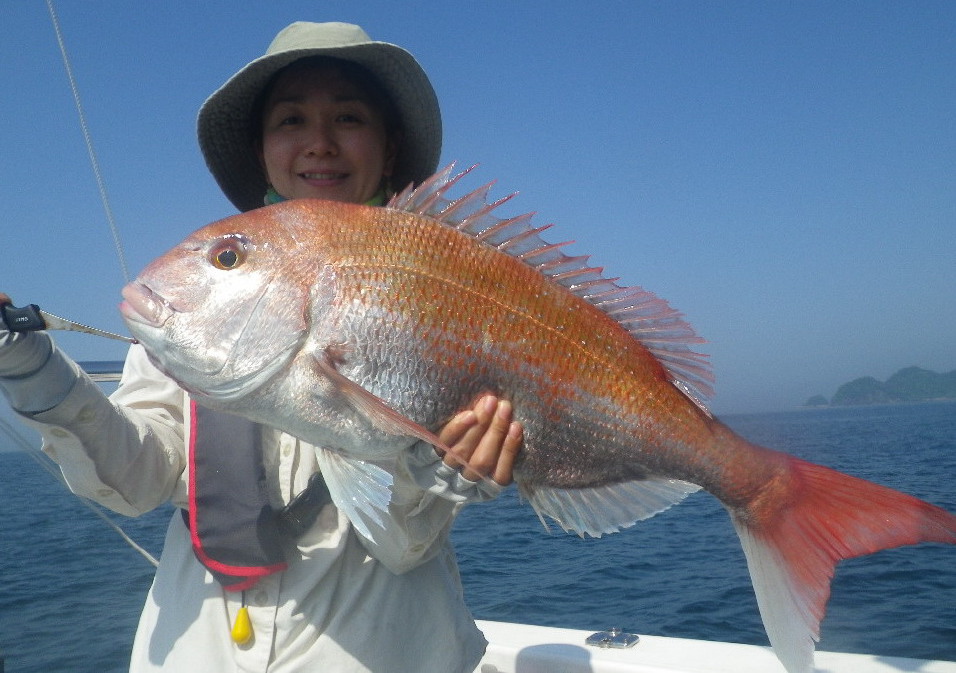 End May, second round of snapper game.
This time Sayuri my wife came along.

We did not catch many but it was a quality game this day - Sayuri fared well catching a 63cm trophy and some in 50 & 40cm class. A very thrilling game on a ultra fine tackle.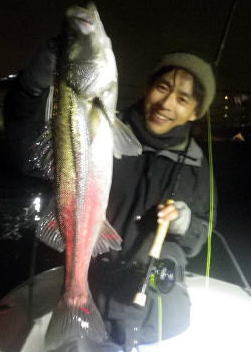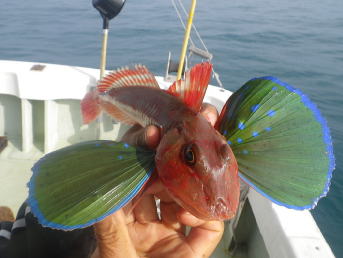 End April we drove back to Shikoku to spend the holidays with my family. We went fishing in the game boat
Hisyo
. Our annual event to fish with Capt. Nanbu for summer Mahi, but this time it was still too early for that.
We fished for some bottom dwellers instead - catching rock fish and funny faces like this.