Salzburg hosts hundreds of festivals - with the summer music festival as its most prominent example.
On the autumn day as we visited, the Marktplatz was filled with happy folks.
Music, dancing, ice cream parlors and sausage stands were everywhere. People chatting over giant glasses of local brew. Salzburgers sure know how to celebrate!
-
Back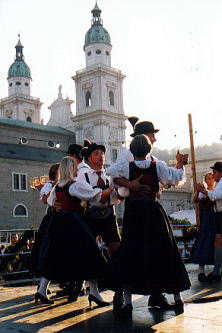 Wolfgang Amadeus Mozart was one of them. In the heart of the downtown Salzburg stands his birth house.
Meaning 'Castle of salt', Salzburg has been known since 3000 years ago as a place that yields salt. Celtic people once shipped the salt to neighboring regions bringing in wealth, and the foundation of this city.

After the reign of the Roman empire, the area was given to bishops, under whose patronship the area flourished as a cultural capital of Europe, producing many artists and musicians.