Zugspitze is by no means the tallest of the alpine mountains. However, its steep rugged faces, and the solid presence in the pastoral landscape left a very strong impression on both of us.
At dusk, Zugspitze changed its colour minute by minute. As the last lay of the sun faded away, and as the day and the night merged into one, we noticed the moon coming out on the Sonnenspitze. We sat there on the balcony, spellbound, without a word.
-
Back
And then we walked over to the other side, to honor the heighest point of Germany, our 'Wahlheimat', or second homeland.

On the heighest point of Germany, 2,964m above sea, proudly stands a gold plated cross, overlooking the finest alpine view.

The cloudless sky gave us a sense of space, or even that of the "outerspace". We could even recognize the peak of Grossglockner, the tallest mountain of Austria some 200kms away. It was such a divine scene we felt as if stepping into the territory of higher being!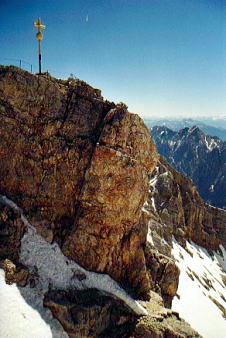 Now, one of the great thing about Germany is, you're never far from a beer garden. Leaving the humbling feeling aside, we had to acknowledge the great smell of grilled sausages around and a irresistible temptation of icy cold draft beer. Yes, we love beer!! No, I mean, we love Germany!!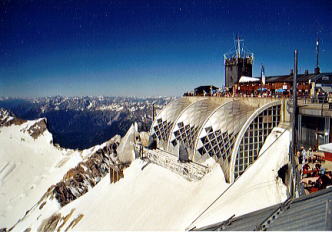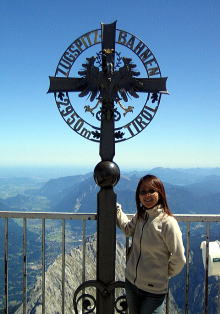 The summit also forms a national border of the two nations, and you can pay a visit to the two signposts, each honouring their respective countries. Having climbed up from the Tirolean side, we first went to the one for Austria.

To be honest, it is a tough climb - the rocky cliffs standing up almost upright! You need to be fit, and know the routes well.

But there's a care-free alternative. Hop onto the cable car - either from German side or from Austrian side. As you treat your eyes with magnificent views around, the modern cheating device will carry you to the top.

There's a price to pay. At 60 euro p.p., it's not the cheapest excursion for anyone's budget. But so long as you are blessed with nice weather, you won't regret the investment!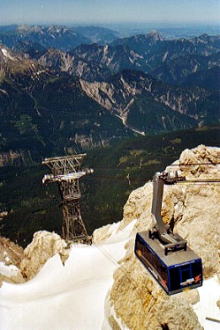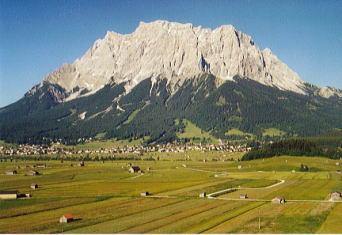 After 5 years in Germany, if we may claim missing one thing, it's mountains. In the northern plains of the old continent the meandering Rhein river is just about the only landmark. For us, who grew up in the mountainous Japan, feels something missing!

But once you drive down to Bayern, the southern most state of Germany, it's a different story. Though not quite as high as Alps itself, there are numerous peaks on the border with Austria. On one sunny summer day, we climbed up to the top of Zugspitze, the tallest peak of Germany.