And this is Luisa, who single-handedly took great care of us. Still a young girl and despite in an isolated location, the parade of culinary fair that marched out of her tiny kitchen was simply amazing. Trained by her mother, she stands in the kitchen even before the sun rise and prepares every one of the dishes beautifully.

When I said to her that one day she would make a great wife, Luisa chuckled saying she's already a great mother. Oh. . I see, why she shouldn't?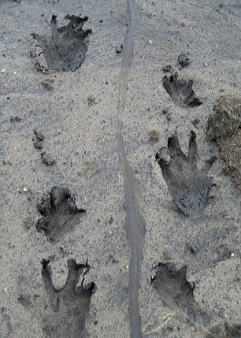 There are 3 rooms with double occupancy, with a max capacity of 6 guests. The lodge is still young but seems already popular with anglers, owing to the increased awareness of Ibera marshlands these days.
Unlike downstream, the water in this area is much clearer, making it more susceptible to fishing pressure. If possible at all, you should plan your visit in the less busy seasons.
The website of the lodge is
here
.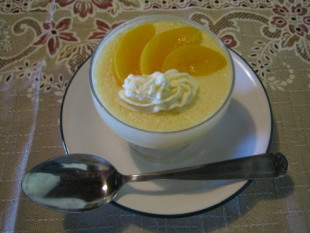 The lodge stands in a small corner of a grassy pasture, with the tiny woods as its only cover. It is a peaceful pastoral landscape with numerous cow, sheep, horses, and they will see you off or welcome home every time you walk to he boat ramp and then back.
Adding a touch of wilderness, quite impressive footsteps of Caiman, called Yacare in Argentine, can be spotted along the bank. They sometimes roam about at night, looking for unwary animals. Vida salvaje, what a wild life!!
-
Back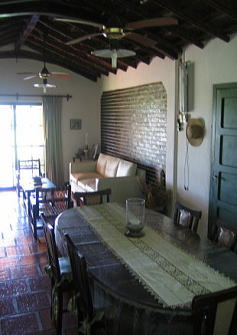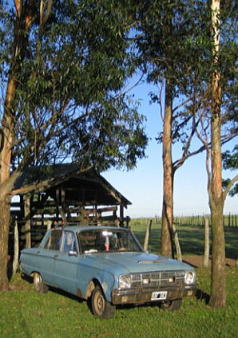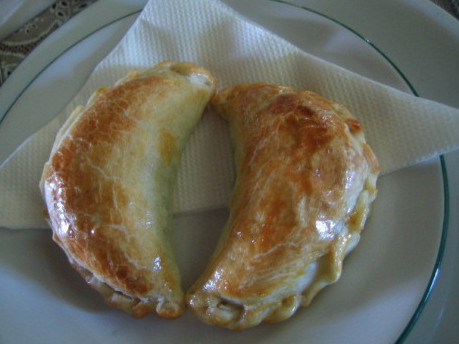 Lighting up the grassy gardens are arrays of tropical flowers. With colorful birds happily chirping, the resort set-up is complete.

Also here stood an archaic automobile as if out of a museum-display. Again well maintained and fighting fit. These cars must be very very happily wed.
The Sanchez family has its roots in Spanish immigrants who crossed the Atlantic in early 18th century. For several hundred years the ancestral families lived in Uruguay, before moving to this region as the estancias were developed. Don Sanchez is a hard working family man. Always on the move, he jumps around his 3 farmlands supervising the operations, while talking to his family in town on the radio phone.
After an hour's drive we entered the first gate of his estancia. Greeted by the curious cow and the gauchos on horsebacks, we passed through two more gates, to reach the riverside, the upper beat of Corrientes.

The lodge we arrived was modest in size but perfectly kept. The rooms are air conditioned and scrupulously clean, and there comes a glass of welcome drink.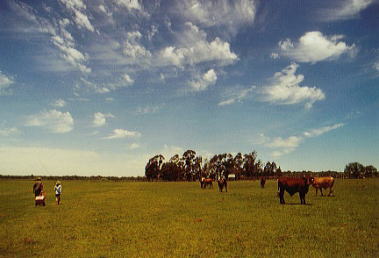 To the river La Plata, where people once rushed in search of silver, now come anglers to vie for gold. Estancia El Dorado caters to those of us modern day prospectors.

Stepping out of a bus in the nearby town of Mercedes, we were greeted by the lodge owner Senor Sanchez. His estancia lies 70kms again to the north west of the town.