Though 'a smallest' quarter' he said, in the estancia were endless meadows with numerous hills, where two thousand cows glaze around. And not to be forgotten, the magical Corrientes river flowing through.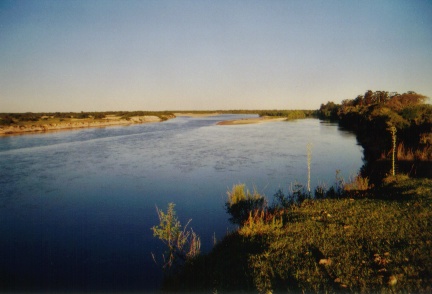 More visitors to this establishments come for non-fishing activities such as horse riding, pigeon hunting, etc. With such a great location and hospitality, spending a week just lazing around is quite easy to imagine.

The lodge has 3 guest rooms, each accommodating two persons. Apart from the hunting season in winter, there aren't that many guests. You may have this mansion all to yourselves as we did!!
The ray of the afternoon sun are punishing, but the room remains cool and pleasant, thanks to the white washed thick stone walls.

After several glasses of red wine over the Argentinean-style leisurely lunch, a lazy snooze in a shady room was a sheer pleasure.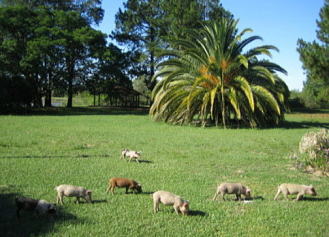 Here, royal banquet is an everyday matter. Leave all your worldly worries behind, eat and drink to your heart's content!!
If you want to see how fit you are for la vida de vacaciones, go knock on the door of La Pelada. For details, contact the heaven's rep on the earth,
Prince Augusto & Co
.
-
Back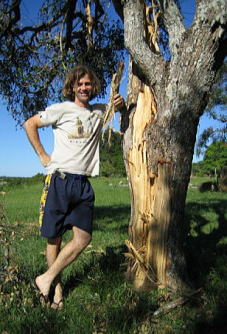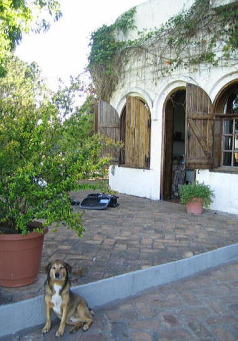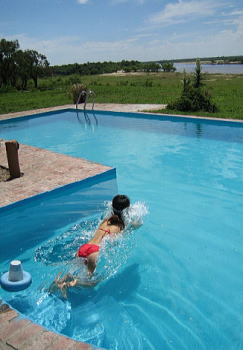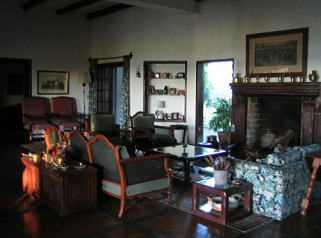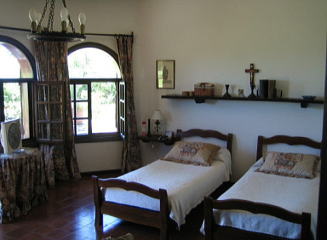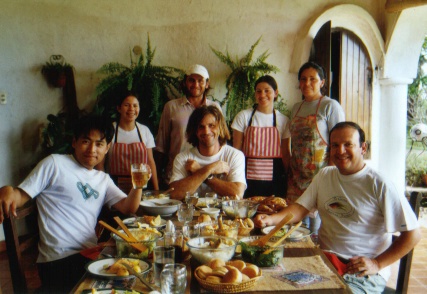 We the people of proletarian class cannot stay in paradise forever. But if it's a transient dream, well, why not indulge in a veeery sweet dream?

Colourful flowers brighten up the garden, even
a swimming pool, commanding a fine river view, is begging us to jump in.
The Rohner family who own the estancia trace back their roots to German immigrants who crossed Atlantic in the early 19th century. When the previous master - or 'Don' as they are respectfully called - passed away, the huge property left behind was split into four pieces and given to his four children. The smallest brother inherited the smallest quarter, which was not much more than a barren field back then. So he gave it a mocking name 'la pelada', meaning 'the bald'. It was the very first chapter of what was to become one of the famed dorado fisheries now 30 some years later.
So here stands the handsome lodge manager a.k.a young prince Augusto. Wearing no air of pretense but a rather tattered T-shirt, the discerning young Don lives a life that most of us can only dream of - the holiday life.

When there're guests he entertains himself by entertaining them. When no guests around, he enjoys playing tennis or flirting with girls. Or even both at the same time!! La vida de vacaciones, he is an advocate and a living proof life indeed can be fun.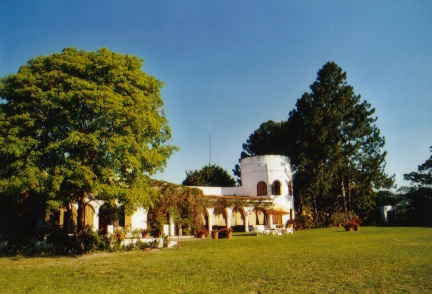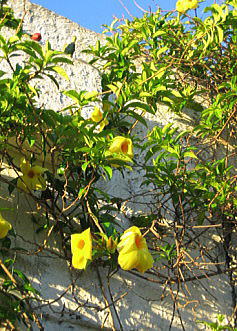 Fishing lodge 'Estancia La Pelada' is situated some 60 kms north of Esquina, and this last bit of the bumpy ride is to welcome the guest with a hint of the adventure lying ahead.

The house in fact was an stately mansion. But surrounded by grand wild nature, the lodge may seem dwarfed like a match box on a hill top.