So we ended up teasing lucky pikes and perches that somehow escaped the annual genocide. Fishingwise it was a lot less than what we hoped to be honest.
Russians are great outdoorsmen, they drive into rugged wilderness in trucks, boats or even choppers - nothing against that. But the whole thing comes down to the lack of conservation mind. Many of them simply take advantage of the nature as if inexhaustible gift.

As we glided on, Alexey proudly explained to us he had caught a 3kg pike over that bend, 5kg trophy in that pool, etc. I didn't have to ask but I did, only to receive the obvious answer 'Well? I ate it''. He advised us that we should have come earlier in May or June right after the ice break. That's when the folks go for killing - in the word's truest meaning.
In a stretch with rocky riffle, we stopped the raft and tried flyfishing. There were quite a few reactions to my dry flies, but again only small greylings in the 10-15cm class showed up.

While I was shaking head, Alexey was delighted, saying Greyling was a delicacy. He made a cord out of some grass, to keep poor little baby greylings like a necklace. After killing 5 or 6 poor little fish I suggested he had had enough.

Working surface lures on the grassy edges, we received some heart stopping strikes. Here in the moving water fish seemed more active than in the lake, offering enough actions to keep us entertained.

But they were generally small, average length being 50cm, only up to around 70cm. Considering the remoteness of the location and lack of access except by a boat, the size fell short of our expectation.
But the rafting trip in the Karelian forest was still enjoyable as a family trip - in a pristine environment that are not available in Moscow - thanks particularly to the simple fact that even Alexey did his job.
-
Next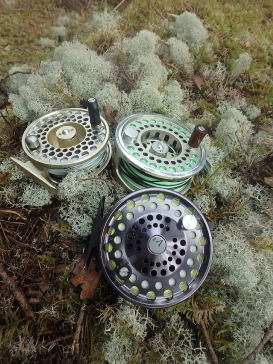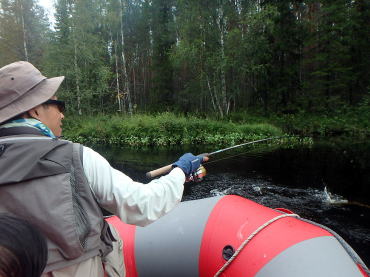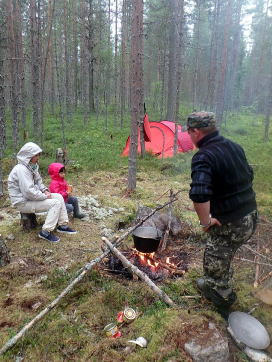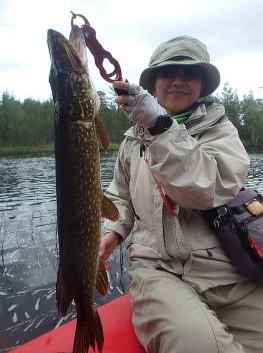 Leytna was a small stream with a width of the 10-15meters. At places the current ran fast over shallow gravels, while at other places slowly gliding in deep gutters.

Alternating fishing rod for paddle every now and then, it was an enjoyable ride, thanks to the fact even Alexey did his job.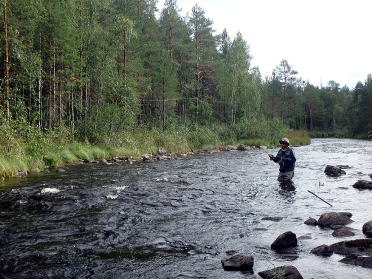 Alexey suggested to start the day trolling big swim bait. In mid August the water is warm. Rather than hitting the shallow edges, it was effective to troll in the deep - was his diagnosis. Surely not my cup of tea but I followed his advice as a token of respect.

Half an hour passed without a single bite. Then another half an hour. . . Trolling became not just boring but painful.
Second day fishing. For a change of air we arranged a rafting trip to a small river nearby - Leytna. We were to raft down the length of some 30kms spending a night camping along the way.

A ride in a UAZ 4x4 was a special treat to give it a true Russian outdoor touch.
Such is often the case in Russia - a complete lack of professionalism. A sad legacy of Soviet era perhaps. Some of those so called ''guide'' are little more than a boatman.

We went back to the lodge not impressed at all. I must admit that I was not in a mood to smile back at the death mask of a trophy pike on the wall.
The best I could think of was a family trip to Karelia, in the north western part of Russia. It is easily accessible from Moscow - one comfortable night in a sleeper train carried us to Petrozavotsk on the shore of lake Onega.
Our guide was again Alexey. His love of fishing was obvious, in that he began flicking his spinning rod even as the rest of us prepare to launch the raft carrying stuff from the van.

''Stop it Alexey'' I said to him, only to hear a question back 'Why?'. That was the very limit of my tolerance so I shouted back out loud ''Alexey, this is not your vacation but ours. This is your job as a professional guide. Stop fishing. Pack up your tackle. No, don't put it in the boat, leave it in the truck. NOW!!''

Finally making out what it's about, he chucked away his toys and we started our trip - as a guide and a family of paying guests.

So I had to persuade him to change the menu to casting. There are weedy edges at places, which shouts ''pike here''.

As I started covering them I noticed something I did not expect. Alexey began casting lures over and beyond my fly casting reach. He did catch two modest pikes - only after tangling with our lines more than once.

To make things worse, winds began picking up shortly past noon. He was quick to call it a day, adding that fish were not biting anyway. He was kind enough to offer us his two dead pikes drying at his feet, which we cordially declined.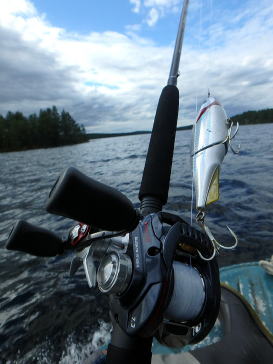 After sleeping a night in Petrozavotsk, we hopped on to a train again to continue our way farther north.
Half a day later we arrived in Veromosk,, and traveled by car to lake Shuezero, where we planned 4 days of fishing stay.
The lodge
on the lake was well appointed, complete with its own chapel even.
Petrozavotsk is a stepping off point for Kizi island, some 70kms far and reachable by speedboat.

Kizi is a popular tourist destination famous for its traditional churches and pastoral landscape. Among them, the most picturesque is Preopragenskaya cathedral, built without a single nail back in 1714 and is considered as one of the world's mystery and art of carpentry.
Summer in Russia is very short. As soon as the few precious balmy days of July are over you smell that subtle yet unmistakable scent of Autumn.

Contrary to the expectation of many including myself, there are not a lot of flyfishing options in this part of Russia. Many of the salmon rivers up north have peaked out by now, and in the lowland the water tends to be too warm for trout. Unless you venture far out to Siberia or Kamchatka, August is a rather less interesting month.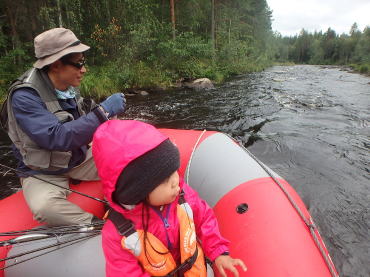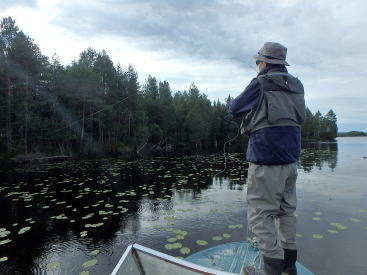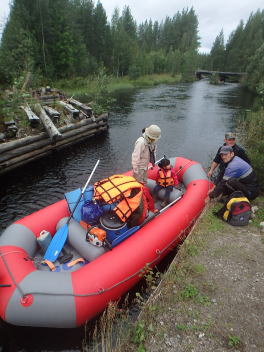 Karelia in Aug '16 - 1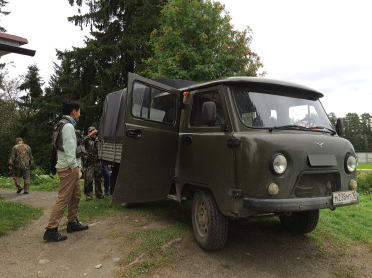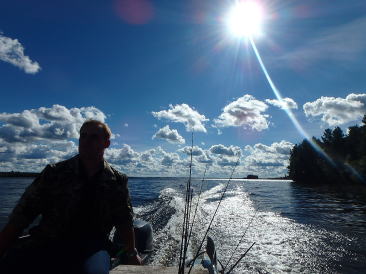 Having slept well, we went out for fishing in a boat, with a local guide Alexey.

Shuezero lake is 10kms long, 4-5kms wide, with many small islands dotting around.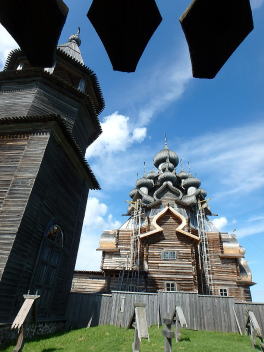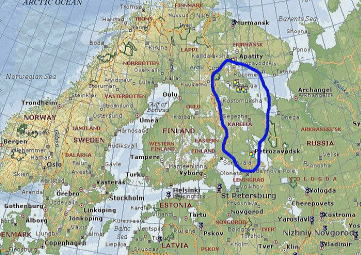 Kareria is a region that makes border with Finland. Due to its relative ease of access, many people from Moscow and St. Pete spend their summer holidays here - in the land of thousand lakes and sprawling forest.