And holiday at home

Few fish in the shallow at the height of the summer. But with floattubes, you can sneak up to the sweet spots off the breakline.
A fun sport on a light spinning tackle.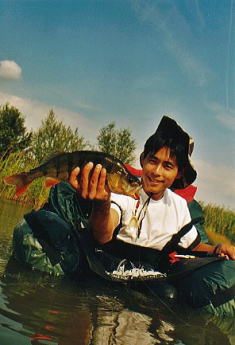 December
Spey casting practice in Rhein, in the middle of Duesseldorf's city center.
Wish you all a great passing of the years, a.k.a. einen Guten Rutch!
-
Next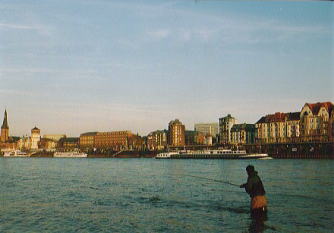 October
Just before the season's close, I had a fortune to land my personal best - 64cm.
I saw him rise, gave it a gentle strike, the fish was on and all that followed for the next 5minutes . . . ! Flyfishing at its best!
-
TT NL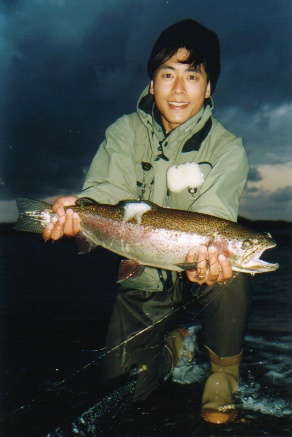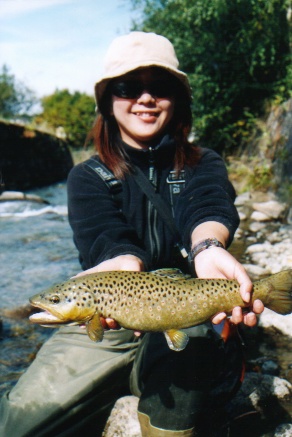 September
10 days' intensive fishing in Austrian alps.
The water's low and its clarity high, we had a superb dry fly fishing day after day. Handsome trout up to 47cm offered excellent sport.
-
TT Austria
August
Steelhead fever in Oostvoornsemeer.
Heatwave having passed, the surface temp. still high at around 20c. However, hot day seems to make fishing in the morning & evening quite productive.
How many lakes elsewhere in the world can you see such big fish swirl at your fly? Sayuri did well with this handsome lunker, 66cm, that took her floating muddler shortly before the sunrise. What a fish!
-
TT NL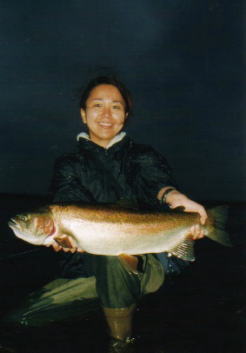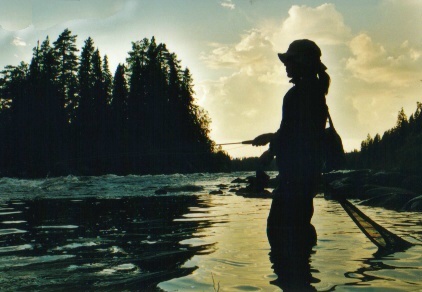 July

After months of embarassing silence, I did it!
A succession of 4 handsome fish bent my rod. While Sayuri, this time rather modestly, caught a 57cm meanwhile.

An unusually sucessful outing.
(Better stay away for a while . .)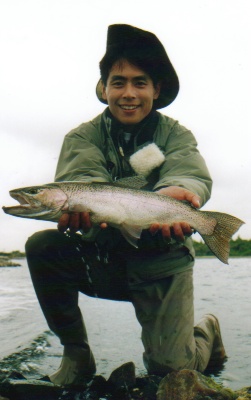 June
Visited Austria again - this time a little bit further west, Niederthai in Tirol.
Impressing were not only the landscape, but also the size of the fish there!!
-
TT Austria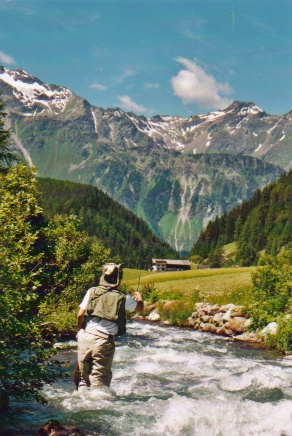 Late May
3rd trip to Austria. As if to welcome our return, even some of the bigger fish were accommodating. Lots of 30's, even some 40's took our dry flies.
Fighting a 30cm fish on #3 rod is every bit as thrilling as 50cm on #5 rod. Can never get enough of it!
-
TT Austria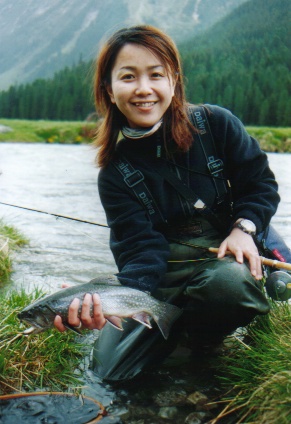 May 24

Deep in the Canadian north, or in the myriads of Scandinavian lakes. Even in the Irish lakes dubbed as big Pike capital, there was a hurdle I couldn't go beyond - 1m. It was to be reached here, funnily enough, at our door step.

On a dismal rainy afternoon, the monster grabbed the little spinner I was casting forfish half his size. Pure luck? Yep, exactly what I've been missing!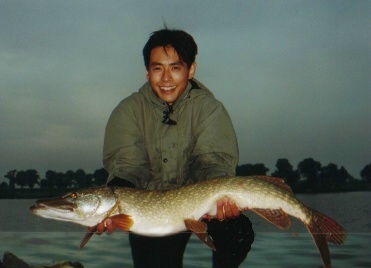 May 10
Dryfly fishing in
La Strange
, a reservoir in Belgium.
But holy trout! What have you eaten!?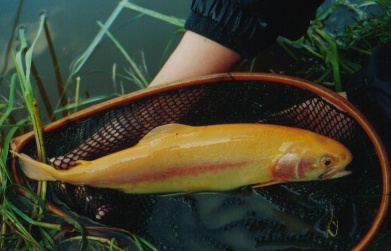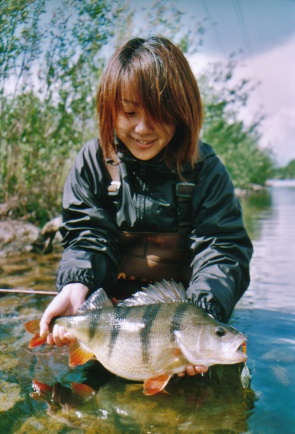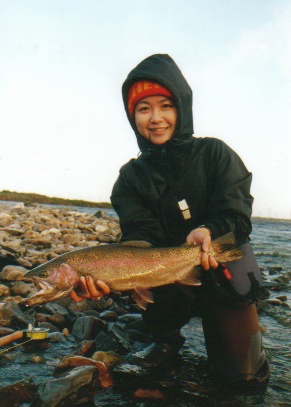 May 1

Monster perch in a Dutch lake!!

We got lucky with two big ones at 48 & 46cm, and even a few pike came as a bonus!!

May 3,4
Again a stormy day in Lake O.
Sayuri took the best of it, landing two nice steelheads!!
-
TT NL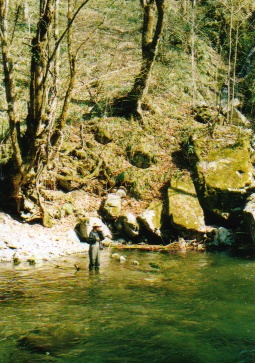 Apr. 16

Paid an annual visit to our home country, Japan, and of course, to our home rivers.

Due to the altitude and the shady topography, it was a tad early for dry fly fishing, and we only managed to catch 4 small Amego each.

Nonetheless, it was a most satisfying, almost an inspirational afternoon.
March 29/30
Yet another (risky) visit to Oostvoornsemeer.
The water had warmed up to 12degrees, giving an extra boost to our optimism. Despite that, most of the trout were in a spawning mood and didn't fancy entertaining us.
Eventuarlly, Sayuri scored a point on behalf of her poor performing husband. Life is treating me harshly not only in the office but, alas, by the water also.
-
TT NL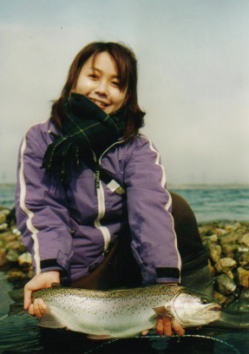 Mar. 8
A quick trip to
La Strange
.
The water was still cold at 8 degrees and fishing wasn't hot. We barely managed two trout each.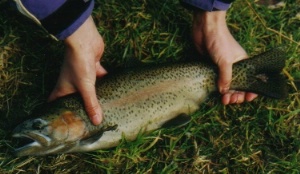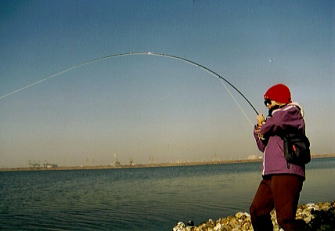 Feb. 22/23

The year's first scouting to Oostvoorne Meer.
Early in the season, warm sunshine could help fish not just the fishermen.

'There!!' Sayuri's rod was bent in half, and the reel was, with a sweet scream, paying it out generously.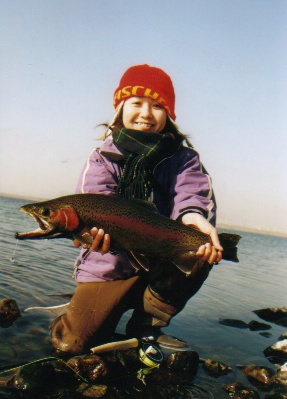 The fish dived slow and deep, which led to a long bout lasting good 15minutes. Sayuri was patient, and eventually managed to lay the fish, a handsome cock rainbow, gently ashore.
Well done! What a great start of the year!
-
TT NL

- 2003-