End of the year
Visited Christmas island, Rep. of Kiribati.
Not all the hypes are untrue - the promised land of ''bonefishing'' did live up to our expectations!
to
TT Kiribati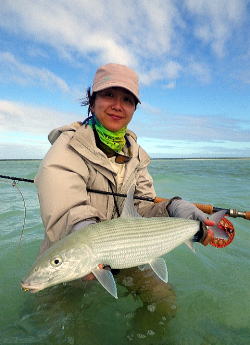 -
Next
December

Yet another trip to the man made lake in Chugoku range. Not an easy day by all means but Sayuri again saved our day!!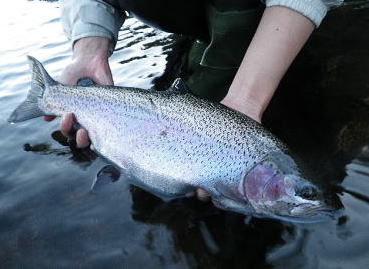 November

Hamada region facing the sea of Japan offers plenty of shore angling venues. Had a great day out fishing for squid.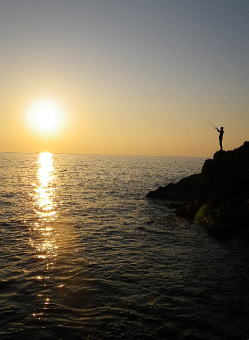 November

In a little known lake in the middle of Chugoku mountains. A tense moment with a solid wild rainbow shan't be easily forgotten.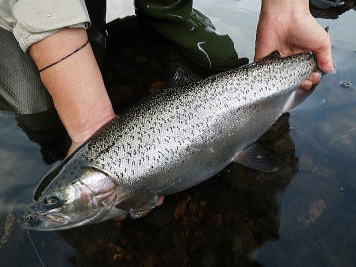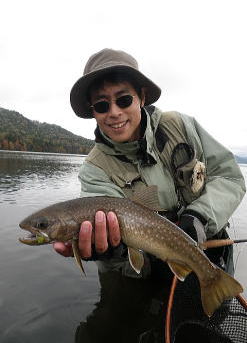 For a different type of challenge we had to check out the nearby stillwater fisheries too. Much smaller fish for harder work, but just as rewarding only in different ways.
In Amemasu fishing C&R is becoming common practice than ever before. Thanks to which, more of bigger fish are returning to our northern rivers.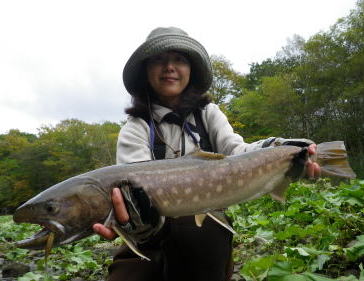 October

Our annual visit to East Hokkaido in autumn.
This time we went mainly for the region's highly acclaimed sea run Amemasu (white spotted char).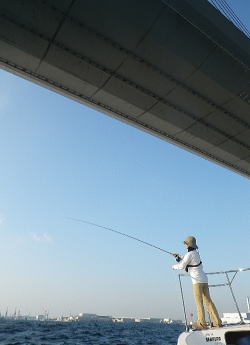 A fair prize - a solid seabass of 72cm - taken on a floating anchovy imitation..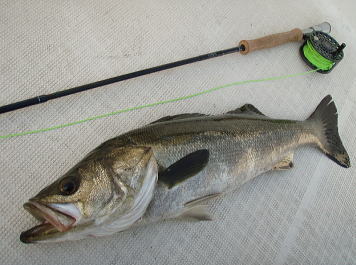 September

Seabass fishing in Yokohama's metropolitan waterways. Here casting to a foot of the ''bay bridge''.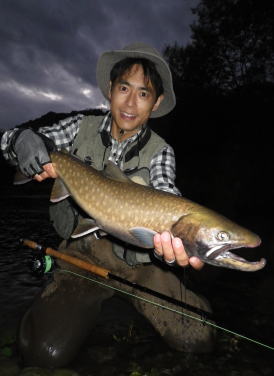 August

Aug. 31 marks the end of stream fishing season in Hiroshima. Until we meet again in spring '11.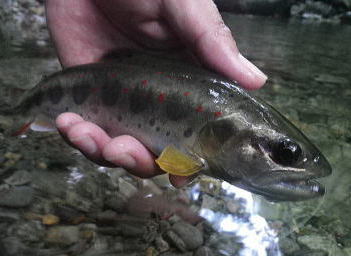 Sayuri got lucky with the first run of Sake, Chum salmon in the far north east.
to
TT Japan
A good sized river residing Amemasu, Dolly Varden in Abashiri river.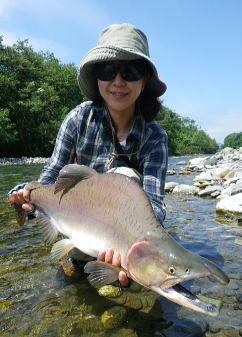 End April

Activity level of insects and that of trout rose as the water warmed up.
The season's first Nakijaku, i.e. ''near 12incher'' took my #14 caddis.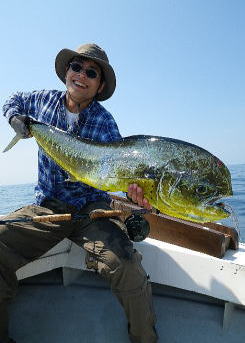 August

Summer holidays in Hokkaido.
A nice wild rainbow in the backcountry rivers of Tokachi.
Big game fishing in the Pacific is now in full swing. A fine day off the coast of Kohchi.
to
TT Japan
The third Nakijaku of the season. But again, not quite there yet!!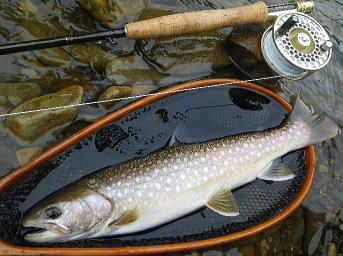 Some nice Karafutomasu, Pink salmon to play with.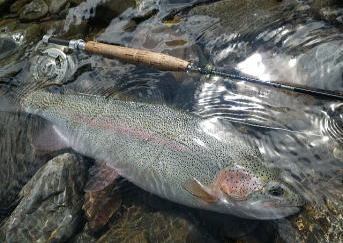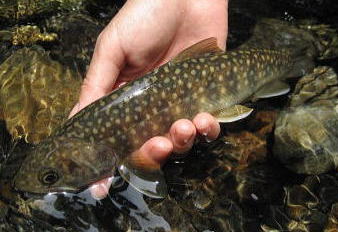 Gogi chars are plentiful and eager to entertain us.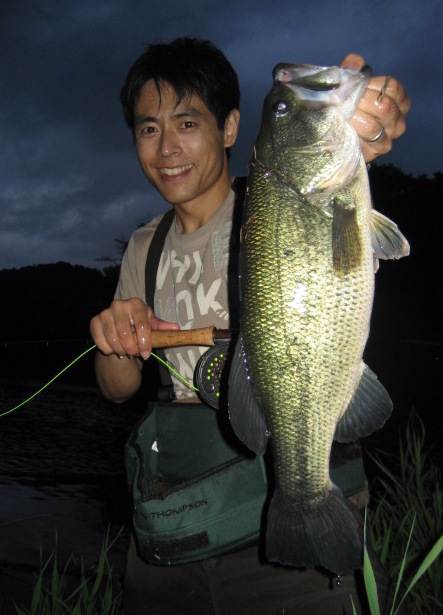 The reservoirs are filled with good supply of fresh rain water. Even those wary big largemouths are coming up to grab a surface offering or two.
June

Visited Lake Akan, in the far north east of Hokkaido in pursuit of the legendary dryfly game for Amemasu, white spotted char.
The streams in the north Hiroshma is in its prime condition.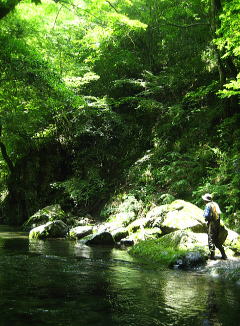 July

The 2nd ''Nakijaku'', i.e. ''nearly 12incher'' of the season (but not quite!!)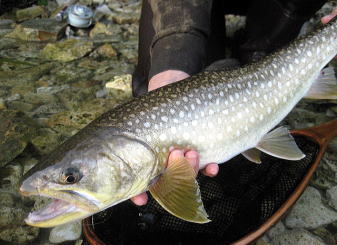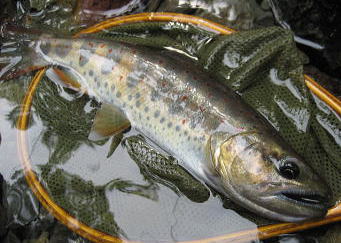 May

High season for dry fly fishing.
Fun weekends casting to Amego and Gogi in their prime condition.
The three fishing days gave us a mixture of the sun, clouds and tropical showers.
When the sun came out, the beauty of the tropical water was simply stunning.
GW holidays

A small trip to Miyakojima, an island in the southern most region of Japan.

Plenty of actions jigging in the reef as well as flyfishing in the Payao (FAD).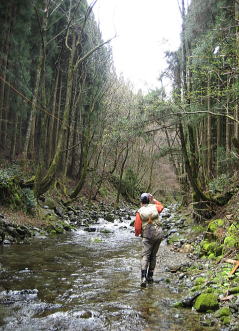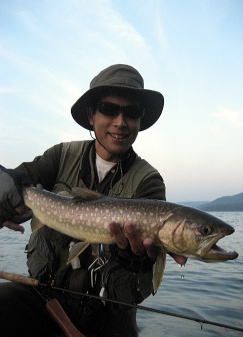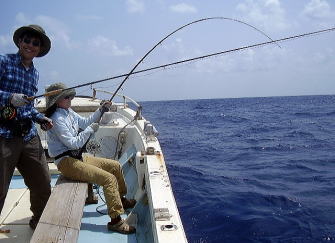 Yellow fin tuna were mostly small in the range of 1-2kg, but the first run of Mahi Mahi were all in the heavy weight class, giving our rods & arms a good workouts.
to
TT Japan
A very close kin of North America's Dolly Varden, many of our Amemasu migrates to the sea. But the stock here in Akan spend their entire lives in the fresh water lake. Their muscular body is a testament to the lake's productivity.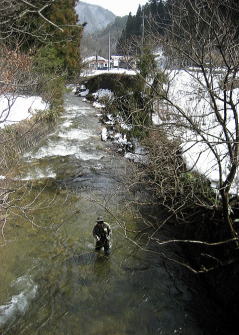 The first Gogi char of the year showed up too.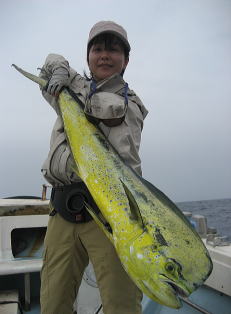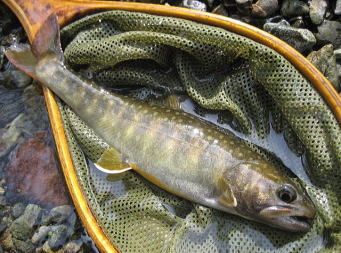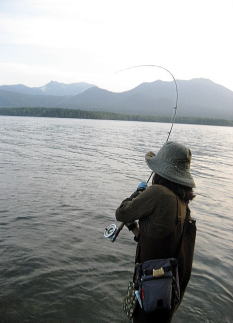 Being wary creature by nature, not very often they venture into the casting range. But when monkagerou, the largest of mayflies in Japan hatch in late June, even the wariest can not remain wary enough!
to
TT Japan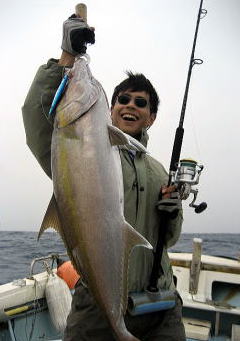 End March

Quite reluctantly, we made one more patrol to the snowy domain in search of Satsukimasu (a sea run strain of Amego trout), allegedly best fished during this time of the year. As was expected, no fish fancied my clumsy streamer. Sayuri's fast retrieved spoon paid the minimum dividend though.
Beg. April

Streams of Yoshiwa village opened up.
In the lower stretches where the valley
is wide open there were little snow left, making our going much more pleasant.
Mid April

A friend of mine since my time in Europe came to join me to fish the Hiroshima north. His adept LL fishing method proved its worth here in such a small stream too.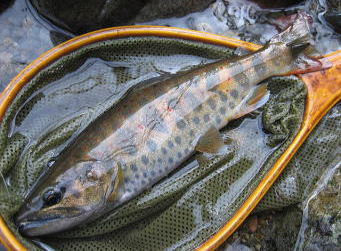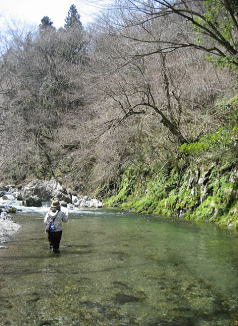 Beg. March
Sandankyo season set in. Unusual for us, we ventured out to the snow covered icy stream, only to confirm no fish biting yet.
to
TT Japan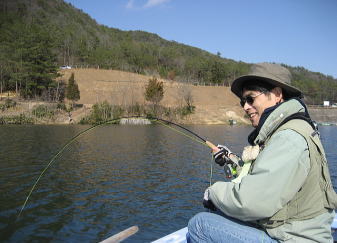 Moving on to the Canterbury Highland, another nerve testing stand off with fly savvy brownies. A non-chalant standard adams #14 turned out to be his nemesis!
to
TT NZ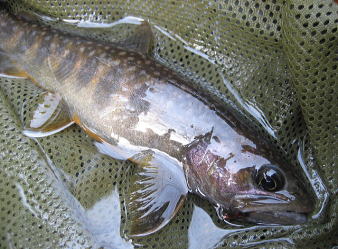 January

Sight fishing for wary brownies in the Westland of the NZ south. A nice fish for each of us to kick start the new year.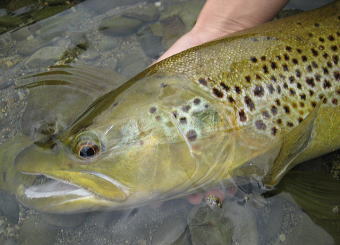 February

As a warming up session for the new season coming up soon, we made an outing to the Takamiya fishing lake.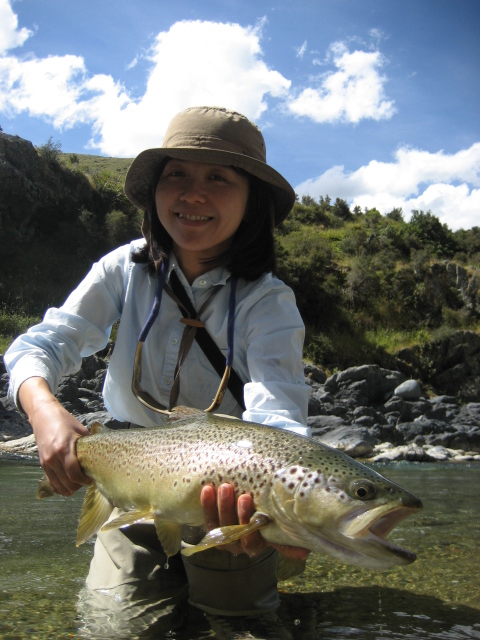 - 2010 -