Above: brook and brown, both 41cm.
Below: brook, 42cm. As if to reflect the cloudless sky, the body was tinted in emerald blue.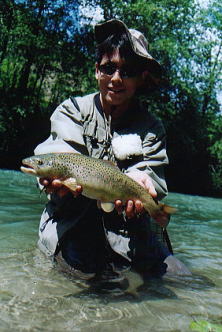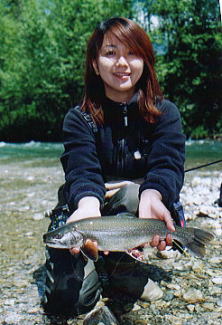 The confluence with Salzach offers wide open space. There we fished with muddler and zonker patters. We only managed to catch small to medium fish there, but trophy fish up to 10 pound are reported here regularly (particularly after rain).
A river of absolute top class!
-
Back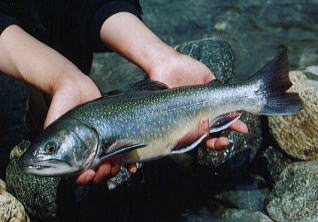 Due to the river's lower elevation, trout here apparently enjoy richer diet for longer part of the year. In addition there are regular entries of even bigger fish from Salzach. A monster greyling of 62cm was once caught in this river.

And here again, big ant pattern worked miracles. Blunt presentation to fishy pockets produced numerous big fat trout around 40cm! Simply awesome.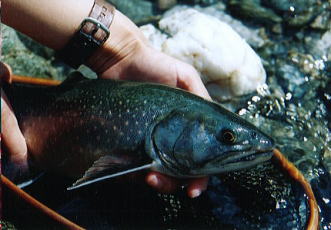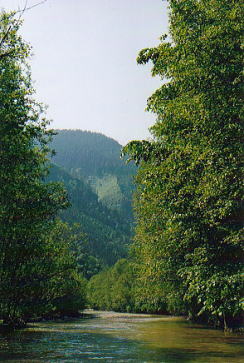 The 1st Visit - May '03

Driving out the village of Mittersill east to the direction of Zell am See, a popular tourist resort, you will soon see the sigh for the village of Uttendorf on your right. Get off the road, cross the bridge over Salzach, and turn right immediately thereafter into the narrow road on the river's embankment. In some 300 meters you will come to a point where the Stubach runs into Salzach, and here you can park and start fishing.

Unlike many other rivers in the area, Stubach in its lower beat is quite big. Ranging from 10 to 20 meters in width, it flows gently through the lush woods and the meadow field. Due to the trees that grow on both sides, fishing from the bank is limited. Thankfully, wading is easy on the sandy bottom. Stand in the centre of the current and cast to the shady pockets underneath the overgrowth is the way to go.