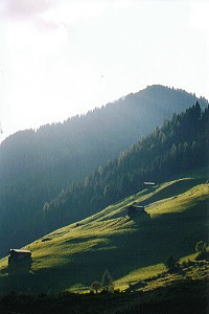 In the flat runs, the stream was quite shallow at around 40cm deep. There were some deeper pools along the way but not many were deeper than 1meter. The river bed was mostly gravel and very easy to wade, too.

The water temperature around noon was 9c. Activity was pretty high. Thanks to the gentle flow, fishing with #14 fly was most comfortable. In some pools trout were rising eagerly to small midges. That was when #16 bivisible had a role to play.

7 out of 10 fish were rainbows, with the rest brownies. The ave size was modest at 25cm. Ah, as we headed out of the hotel, we were suggested to bring fish over 30cm to the kitchen. Well, could that be why?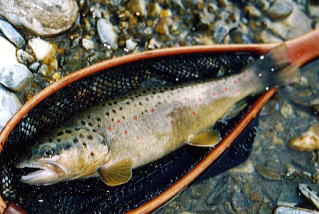 The river has its source in the glacier bearing white peak, where you can enjoy sking even at the height of the summer. That means the river becomes silty when the temperature is high, but in late September when we visited, there was no more snow melt and we could enjoy clear water the whole day.

We were advised to try the stretch a few miles up stream, near the settlement of Juns. In comparison to the upper most part of the river, near the ski resort of Hintertux, the water there was much calmer and easier to fish.
Tuxbach is a small stream by any standard. Although we didn't see any trophy fish, the river is densely populated with visible holding fish. I suspect most must be stocked fish but that said, ones around 30cm were having quite nice fins and behaving like wild ones. It's not a bad deal to soak up the air of Tirol in a carefree manner.
This one is a nice plump 31cm. She could perhaps go to the hotel kitchen but, giving credit to its lovely fins, we suspended the sentence till she takes our fly next time.
-
Back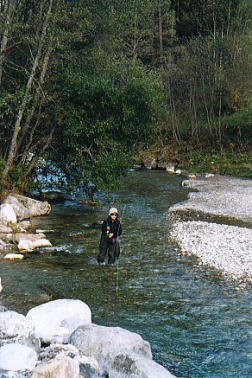 Sept '03

In the heart of Tirol lies the valley of Tuxetal. The river Tuxbach runs through the valley, carrying the snowmelt from the Brenner mountains, bordering with Italy.

The guesthouse in the village of Lanersbach is named quite appropriately as Forelle, meaning Trout. Around this area, the river runs gently meandering through meadow fields in a typical Tirol landscape.