Despite the temperature, the water was rich in life. Quite a few cased caddis were found in the gravel of the river.
-
below the waterfall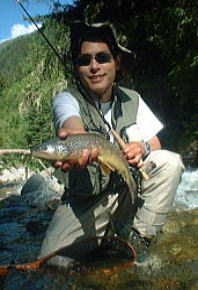 Fish on! The 38cm fine brown trout took Sayuri's black foam ant.
The town of Umhausen has banks, shops and restaurants. You can do most of the chores if need be.

But as I touch upon in the 'hotels' chapter, Falknerhof hotel is recommending us to pack up a self made sandwich from the breakfast buffet. (What a generous offer!)

Having this by the river may well be the tastiest option for us the river lovers.

The 1st visit - May '03

We started fishing in the upper reach, above the village of Niederthai.

The wanderer's path has a locked gate to prevent cows from running (walking?) away. The hotel will lend you the key; you open it, drive in, and you close it. The stretch of the river, continuing some 10kms, is all yours.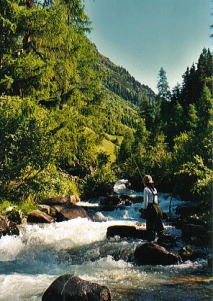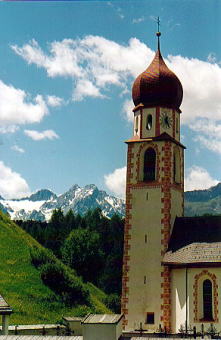 It is a small river with 3-5meters's width, but due to the steep slope, water runs quite fast. The water in June was still at 6c. If you look up to the snowy peaks on the skyline, you'll know why its so cold and so fresh.

On the other hand, they say the river remains clear regardless of the snowmelt, to offer stable fishing through the season.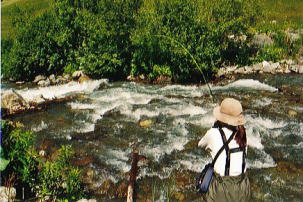 The river has its origin in the surrounding 3,000meter peaks. After passing by the tiny village of Niederthai at 1550m above sea, it plummets into the valley as the Tirol's largest water fall (150m tall), Stuibenfall. Simply awesome.
The rugged scenery and turbulent water calms down as it runs into the meadow field, and continues its way right through the village of Umhausen (1036m.a.s.). Finally, the stream joins the roaring water of OetztalerAche.
Hotel Falknerhof
has fishing rights over the entire length of Horlachbach, down to the confluence with Oetztaler Ache, and the guest can drive & fish anywhere they feel like.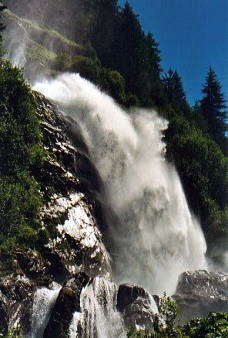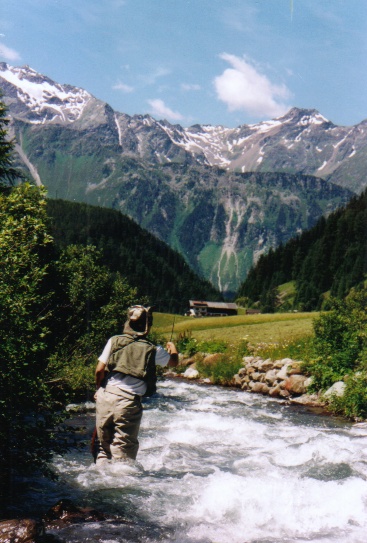 Entering Austria from Fuessen, home to the famous Schloss NeuSchwanstein, pleasant 2hours' drive on a country road takes you to Oetztal, or Oetz valley, in the state of Tirol.

Get off A3 at the turn off to Oetz, continue south along the river. You'll see many small streams running, or sometimes falling into Oetztaler Ache, and this river, Horlachbach is one of them.

The stream runs through picturesque landscape true to the typical image of Tirol. It's one of those places you'd lament for not being able to fish every day.